Review: Sony Ericsson TM506
Form Basics Extras Video Wrap Up Comments 47
Is It Your Type? Body The Three S's
Sep 8, 2008, 1:00 PM by Eric M. Zeman
Sony Ericsson and T-Mobile have teamed up for the first time in four years to offer the 3G-equipped TM506. It is capable in many departments, but falls short in others.
Advertisements article continues below...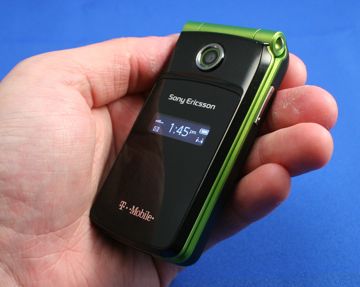 For Sony Ericsson lovers who happen to be T-Mobile customers, there's good reason to cheer. The TM506 marks the first SE handset on the T-Mobile network in years, and it supports T-Mobile's 3G network, to boot. The good news is that it is a solid clamshell that offers a decent range of features. But there are a few things holding it back.
Why is it that Sony Ericssion will make a 1700 AWS 3G phone for T-Mobile...and they won't make CDMA?
Sony has been out of the CDMA game for a few years now... WHY? T-Mobile is the ONLY GSM carrier out there using AWS 1700... so if they make a phone that supports it... they are making it for ONLY
T-Mobile... and that is a limited user base to sell phones to. Yet... for years they have dogged CDMA technology for years because of it's "limited user base" (compared to GSM)... yet they could be selling phones to Verizon, Sprint, Alltel, Metro, Cricket, Virgin.... who probably cover 80 million people alone. I don't get it.
Someone else would probably have this down better than me, but since nobody else is answering, I'll offer my vague (and possibly incorrect) recollections.

Ericsson had a big fight with Qualcomm a while back.

There is also a big long story about ...
(continues)
3G Plans and Tethering
This phone sounds like everything I have been looking for except for the outdoor viewing weakness..Will you be able to get it with a new activation with the $6 web plan or only on the $20 plan?..also, in checking with the Sony website, will you be able to tether your laptop for basic surfing using bluetooth or their software suite?

Leo
One can get it with either the T-Zones ($5) or the Total Internet ($20, which is added after the device hath been activated). For now it tethers with either Bluetooth or a (not included) USB cable; and is only allowed with the Total Internet package. ...
(continues)
Thanks for the updates..

Leo