Hands On with the Honor View20
Article Comments
Jan 8, 2019, 7:09 PM by Rich Brome @rbrome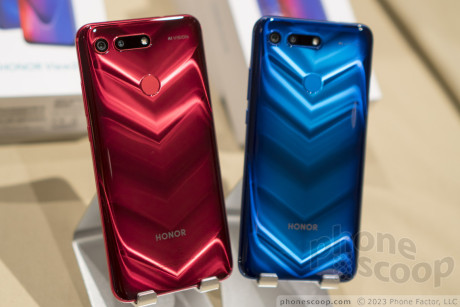 The good news is that the eye-catching Honor View20 seems like a great phone. The bad news is that it's not clear it will come in a version that will work remotely well on US networks. The back has an eye-catching design. The front has a huge 6.4-inch edge-to-edge screen with a "pin-hole punch" instead of a notch. Inside is a top-end Kirin 980 processor and super hi-res cameras front and back. It has zillions of other features, including a laser 3D scanner. We checked it out.
Advertisements article continues below...
Honor is a brand of Huawei, which is all but banned from selling phones the US in any serious way. The government is concerned that Chinese spies may have found ways to embed undetectable spying tech deep inside Huawei hardware. These concerns have been been public enough to tarnish the Huawei brand here. But Honor is a separate brand, and it targets younger consumers that are unlikely to be valuable spying targets.
So I would think there would be renewed push on the Honor side in the US, to replace the business lost on the Huawei side. Apparently not, because the specs for the otherwise-impressive Honor View20 don't include critical US frequency bands like LTE in band 12. When pressed, an Honor spokesperson said they didn't have info on any US version to share.
That's a damn shame, because this phone is gorgeous. The back has a unique pattern that's extremely eye-catching. The front has a massive display with a hole-punch design that they claim is smaller than the camera hold on this year's Samsung phones.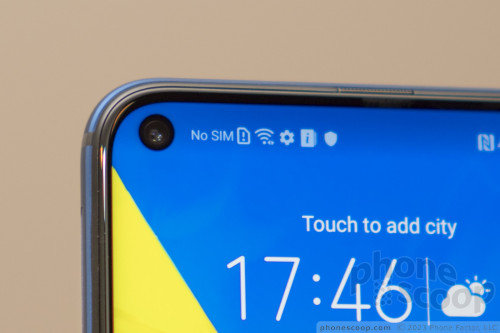 The sides have a nice matte texture to the metal that contrasts nicely with the glossy front and back. The side keys are thin and sharp, but work well.
There is a headphone jack (yay!) and even infrared emitters on top for controlling your TV, etc.
The phone is definitely jumbo-size. It's a bit too big for my small hands to grip comfortably. It reminds me of the Honor 8, their first phone with this style of micro-etched shimmering pattern on the back.
Honor 8 vs View20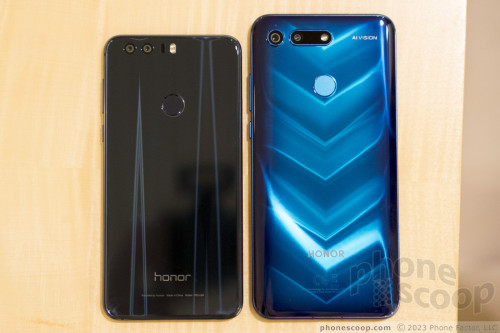 Honor 8 vs View20
The Honor 8 was a perfect size. This is not.
The specs are top-notch, including a Kirin 980 chip made with a 7nm process. I've always found high-end Kirin chips like this to be extremely fast, with amazing battery life. It's a big, high-powered display, though, so it's good there's a large 4,000 mAh battery. It comes with 6 or 8 GB of storage.
The cameras are bonkers. The main camera is 48 megapixel, and the front is 25 megapixel. Both are Sony sensors.
There's also a 3D laser depth camera on the back, that can completely map a room. There a ton of great uses for this technology, but Huawei's initial software for it is underwhelming. It can map a body and use that data to make someone look thinner in a photo. To me that's creepy, although I'm sure plenty of people would use it. If you prefer not to fake your weight loss, it can also use the 3D data to measure portion size in the calorie counter app.
More interesting is the software they promise in a later update, which will fully 3D-scan an object and export it in a file format that you can send to 3D printers. That's pretty neat.
There are a lot of thoughtful touches throughout, like the triple WiFi antennas. This is for when you hold the phone in landscape to watch a video or play a game. That's probably when you need good data speed the most, and yet holding the phone that way often blocks some of the WiFi signal. So the View20 will automatically switch to one of the extra antennas for the best WiFi signal. Sweet!
No one should be surprised that it also has AR effects for the selfie camera.
No messages