Review: Palm Phone for Verizon Wireless
Article Comments
Nov 9, 2018, 12:00 PM by Eric M. Zeman @zeman_e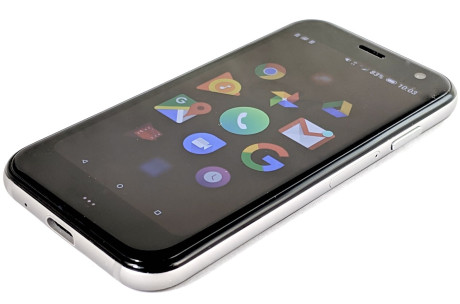 A California startup hopes a bit of nostalgia for one of the pioneers in the smartphone space will drive sales of its new device, the Palm Phone. Verizon sells this tiny telephone as an accessory for your main device. Is it worth paying for two phones so you can put your main device down on the weekends? Find out in Phone Scoop's in-depth review.
AD article continues below...
Hardware
Is It Your Type?
The Palm phone is an accessory, not a primary device. It's for people who want to curb their smartphone addiction on weekends, vacations, etc., without completely disconnecting. It offers most of the features of a full-fledged smartphone in a form factor the size of credit card.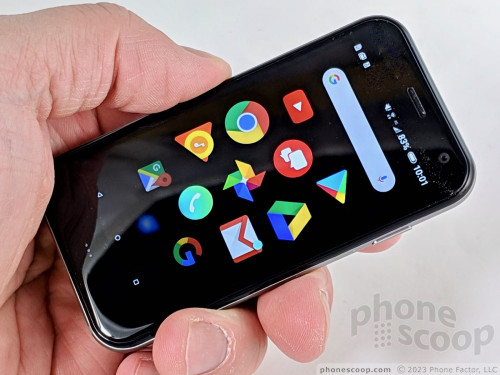 Preamble
This Palm is not the Palm of old. The old Palm died, wholly and utterly, crushed by Apple and Google. It was bought by HP, kept afloat for about a year, and later sold off in pieces. WebOS went to LG, while the Palm brand hopped over to TCL, and later to a totally different California startup called, believe it or not, Palm.
The new Palm's vision is to "bring people out of their tech and into their lives." The company hopes you'll put your main device down and instead carry around the diminutive Palm, which quite intentionally does less.
Does it succeed in that goal? Sort of.
Body
When I showed the Palm phone to my daughter she promptly lost her mind. She snatched it from my hand and jumped up and down excitedly shrieking about how cute it is. This lasted for nearly 10 minutes. She asked if it was a small version of the iPhone X. I can see why she'd think so. She immediately wanted to know if should could use it instead of her larger phone. The answer to that is no, but not because I'm a mean dad. There's no doubt the Palm phone appeals to someone, even if that someone is perhaps younger than the intended market.
The one thing that stands out most about the Palm is just how tiny it is. The phone measures 3.8 inches tall and 1.99 inches wide. When compared side-by-side with a regular modern smartphone, it looks like a toy. Phones used to be this size, though they were often two or three times as thick as the Palm's 7.4mm depth.
The size makes it a delightful device to carry in your pocket when compared to today's platter-sized slabs, and it disappears into your palm when holding it.
But when you need to use it, it's actually too small. The ergonomics aren't great. There's not enough to hold on to when you want to touch the screen, forcing you to crook your thumb at an odd angle. I don't think I've ever lost grip on a phone so much in my entire life. It's also incredibly easy to lose the Palm inside a backpack.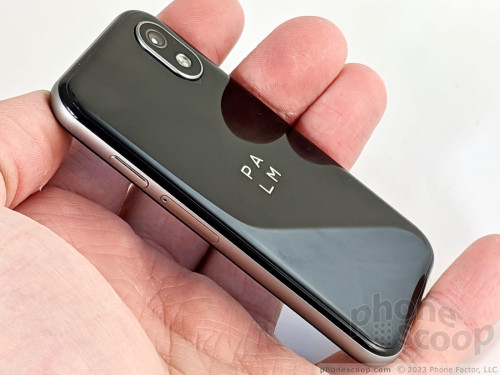 The Palm is black with either titanium or gold accents. It has two Gorilla Glass panels that sandwich an aluminum frame. The glass is curved on both sides, giving the silhouette a uniform appearance. I like that the glass and metal surfaces are perfectly smooth. It really does look like a teensy iPhone X.
All of the materials feel good and I have no reservations about the quality of the phone. The metal and glass pieces appear to be fitted together tightly. Believe it or not, the Palm is rated IP68 for protection against dust and water. It can handle a 30-minute dunk in up to ~5 feet of water. It's not rugged, however, and I have no idea if accessory makers will design cases for it.
The phone's face is pitch black glass. The only thing that stands out visually is the slit for the earpiece. In the right light you might see the user-facing camera or the outline of the display itself. For such a small phone, I was hoping the bezels would be thinner.
There are almost no hardware controls at all. A power / screen lock button is tucked into the right edge of the phone. It's a cinch to locate and it offers excellent travel and feedback.
Button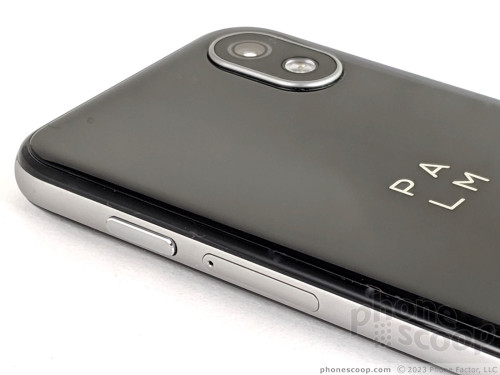 Button
A tray for the SIM card is below the screen lock button. Even though there's a pin hole to remove the tray, it's not user-accessible. In fact, the user manual warns against attempting to remove the tray lest you damage the phone. That's not great design.
The USB-C port is on the bottom edge. That's it. There are no other buttons, like, you know, volume controls. There's no headphone jack, either.
The rear panel is all glass, save for the camera module. The module is in the upper right corner, which is atypical for a phone. The module is a raised oval with a large lens opening and LED flash paired together within. A titanium or gold rim calls it out visually. Palm's logo is emblazoned in chrome. As you might suspect, there's no removing the rear glass nor the battery.
Camera Module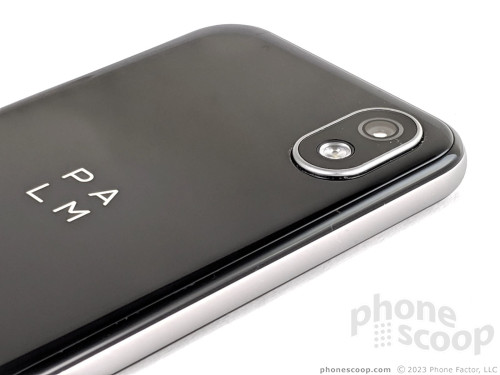 Camera Module
This phone is so small I don't know what to do with it, which is part of the point. The size means you're not going to want to play games, watch videos, or engage in any of the visual/social digital activities that so often take us out of the moment.
Screen
Palm put a pretty killer screen in the Palm phone. It measures just 3.3 inches across the diagonal, but it manages to offer HD (1,280 by 720) resolution. That gives the LCD panel a ridiculous pixel density of 445ppi. One odd thing I noticed: the default size setting for text and icons is really tiny. I had to increase the font size all the way in order to effectively read my text on the screen. In other words, it's great to have so many pixels, but the size will likely lead to legibility problems for people with poor close-up vision.
The display puts out plenty of light. It looks fantastic indoors, and remains visible outdoors under bright natural light. Colors look good to me and viewing angles are excellent.
Signal
The Palm phone stands on its own, except for when it doesn't. It connects directly to Verizon's LTE network but — like an LTE smartwatch — still requires a primary device on the account. The Palm is a phone for your phone, and yet it can be used independently from your main phone. Using Verizon's network technology, you sync your main phone number to the Palm phone for calling and messaging purposes. This is what makes it possible to leave your main phone at home while you run errands and tote the Palm without fearing for missed calls and texts.
I did run into syncing issues early in the review process, which kneecapped the Palm's ability to make calls or send messages. I fear that this may pop up for people who activate the Palm phone at home, or away from a Verizon store.
I compared the Palm phone's signal strength indicator to the partner phone's signal strength in a number of places and the Palm always showed a much weaker and less-consistent connection to the network. Too often It took two tries to get calls patched through successfully, and the phone was more prone to dropping calls in a moving car than other Verizon phones.
On the data side, I saw max download speeds surpass 55Mbps, which is more than enough for Instagram, browsing the web, and streaming YouTube or Spotify. Despite the good speed numbers (under ideal network conditions), the phone's data connection was inconsistent. Under poor network conditions it slowed down noticeably.
Speed Test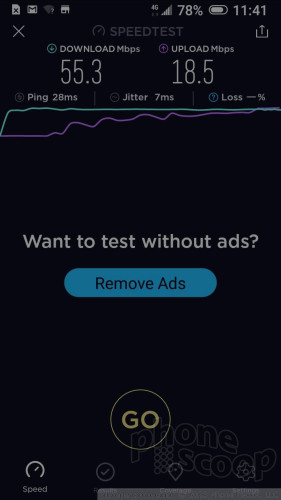 Speed Test
Sound
The Palm runs on Verizon's LTE network and cannot connect to Verizon's legacy CDMA voice network. That means calls are all technically VoLTE.
Call quality is a mixed bag at best. The earpiece produces just enough sound for quiet spaces like a small room with the door closed. With the volume set all the way up (controlled via the Quick Settings shade), you might be able to eke out calls in a moving car or coffee shop, but just barely. Clarity suffers from distortion. Moreover, voices coming through the earpiece sound a bit robotic. Those I spoke to said I sounded "far away."
The speakerphone, which is just the earpiece on steroids, is worse. It's way too quiet, which forces you to crank the volume all the way up. This has the effect of turning calls into a distorted mess. This thing definitely can't handle group conference calls.
Ringers and alerts are loud enough; the vibrate alert is anemic.
Battery
In a word, pathetic. Palm didn't design the phone to run all day, and it doesn't. Palm explains that there are two basic use cases for the phone and each delivers wildly different battery life.
The first use case is Life Mode. This mode simply puts everything (and I mean everything) to sleep when the phone is not in use. When you pick it up, it will wake so you can make calls or send texts. In this mode, Palm says people can expect a day of battery life. Perhaps. I got the phone to push through about 19 hours on a charge in Life Mode, which is and isn't "a day." Even in Life Mode, the Palm requires charging more than once per 24 hours. That's annoying as hell.
The other mode is essentially what most people would consider "normal" — meaning all the radios are up and running, notifications are popping up, and you're checking for emails, messages, and such. In this mode, the battery might last 7 hours. That's just barely enough to make it through dinner and a movie, or a good party, and it's definitely not enough to cover a day at the beach or weekend afternoon attending a football game.
As far as controlling power consumption is concerned, refer to Life Mode above. That's your best bet. The Android battery saver tool is available as well, and it makes modest gains if you are aggressive about using it to turn off radios, limit location, and snuff out notifications.
There's no wireless charging. The Palm takes 30 minutes to charge 50% and 68 minutes to charge 100%. These charge times were pretty consistent.
Bluetooth, GPS, NFC, WiFi
Palm did okay with the phone's secondary radios, though I'd say there's room for improvement.
The phone includes Bluetooth 4.2 Low Energy for connecting to headphones, speakers, and car systems. It connected to headsets and speakers no problem, but was fussy with my car. Connections were acceptable, though they dropped out more often than I've seen on other phones lately. Calls were passable at best, and music came across flat and lifeless when streamed to headphones.
The GPS radio, on the other hand, did its job well. The Palm pinpointed me accurately and swiftly enough that I didn't become impatient. The phone was a little slow when it came to panning around Google Maps and keeping up with real-time navigation.
There is no NFC radio.
The WiFi performed excellently.
Software
Lock Screen
Believe it or not, this little guy has what I'd call a stock Android lock screen. It covers the basics and then some.
Lock Screen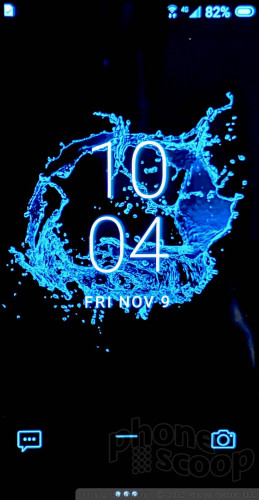 Lock Screen
The Palm supports an ambient display that will show you the time, date, and incoming notifications if you wish. It sits dark most of the time, but will flash this information when you get an email or similar. There's an option to leave it off.
You have to press the button on the right side to actually wake the phone from slumber. This reveals the full lock screen, which includes wallpaper, and shortcuts to the messaging app and camera. You can't adjust anything other than the wallpaper. I'm glad you can access the notification shade from the lock screen.
I'm stunned that a phone this small supports facial recognition where some modern flagships don't. Like most facial recognition tools, you have to train the Palm to learn your face. You can have it scan your face twice for improved performance. It works pretty well. The Palm unlocked itself pretty much as soon as I picked it up and brought it close to my face. Palm warns, however, that it can be fooled by a photo or even someone who looks similar to you. Eep.
There is no fingerprint reader, but the facial recognition is fast enough I don't think you need it. You can also opt for PIN, pattern, password if you prefer.
Home Screens
About the only thing that's non-standard in the user interface is the actual home screen. Everything else — settings, Quick settings, Google Feed — behave just as they do on every other Android phone. They're just smaller on the Palm.
Home Screen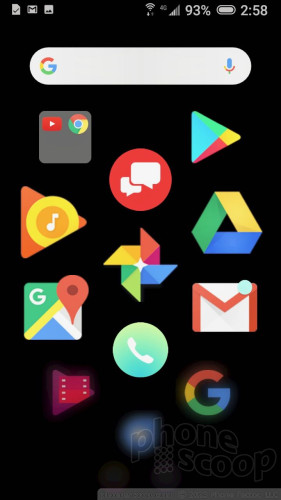 Home Screen
Where the typical Android home screen includes additional home screen panels, widgets, a dock, and perhaps an app drawer, the Palm simply puts everything on a single home screen. It's arranged in a vertical carousel that you can flick through to find your apps. I really like the animation of the carousel as it rotates upward. You can arrange apps in the carousel however you wish, and it even supports folders.
Palm built a clever shortcut into the carousel that I appreciate: a really quick flick upwards takes you down to what I'll call a crease in the carousel. The settings and tools for customizing the home screen are anchored here. It means you don't have to move the settings icon to the top of the carousel, which you might wish to reserve for other apps. Below the crease, Verizon has anchored its own apps for managing your account and other Verizon services.
Settings Below Carousel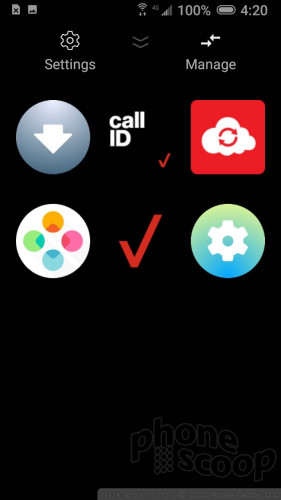 Settings Below Carousel
A search bar sits at the top of the home screen, above the carousel. You can change the size of the search bar, but not its position. The Quick Settings / notification shade drops down from the top of the screen and includes a standard set of controls. There is a slider here for adjusting volume. You have to pull the Quick Settings menu down all the way (twice, effectively) to find the brightness slider. The screenshot tool is also buried here.
Quick Settings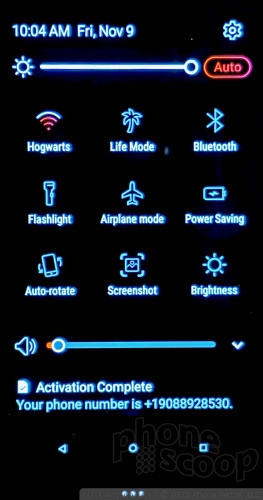 Quick Settings
The Google Feed is available as a separate panel to the left of the home screen. It feels crammed.
Google Feed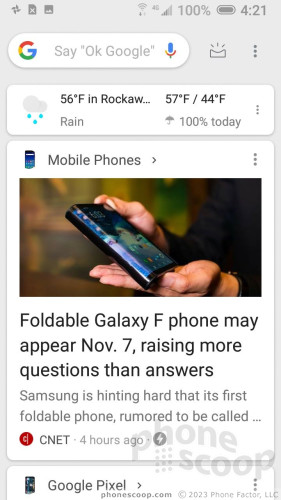 Google Feed
The settings menu is packed densely, and the volume of information necessitates small fonts (even if you've set the fonts to their largest size). It's probably easier to use the search bar at the top to find what you want.
Settings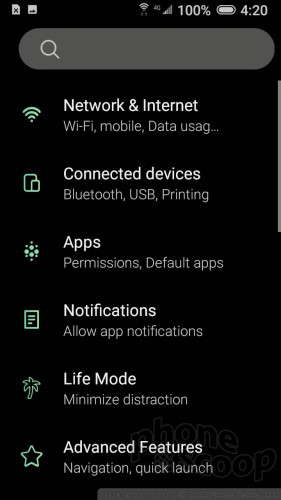 Settings
You have a couple of choices for general navigation. By default, the phone places three small dots at the very bottom of the display. One tap takes you back a screen, two taps take you to the home screen, and a long press opens the app-switcher. The single- and double-tap actions work inconsistently at best, and sometimes not at all, which left me pecking at the screen heatedly. Alternately, you can opt to force Android's three software icons (back, home, app-switcher) to appear at the bottom of the screen. These buttons are ridiculously small, but work more consistently.
In a gesture (heh, get it?) to the Palm of old, you can open a small square window at the bottom of the screen that lets you draw letters; real letters, mind you, not Palm Graffiti. Drawing the letter "S" for example will quickly search the phone for all apps that start with S. Getting the gesture window to open requires swiping up on a small software bar so thin it's hardly visible. It's not easy to open. I'm pretty sure the only reason this feature exists is to serve as a tip of the hat to Palm's legacy. Also, if you've loaded so many apps onto the Palm that you can't find them quickly via the home screen app carousel, you're missing the entire point of this phone.
Gesture Box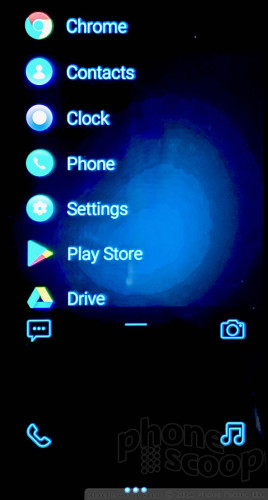 Gesture Box
As far as performance, well, the Palm isn't quite where it needs to be. It has an octa-core Qualcomm Snapdragon 435 processor with 3 GB of memory, a combo that merrily powers many mid-range devices. Here, it just doesn't get the job done. The home screen feels spry, but nearly everything else is slow. My biggest frustration is the phone's poor ability to respond to touch input.
Camera
The camera app is pretty straightforward. You can press the screen lock button and fumble with the shortcut at the bottom of the screen. It takes a moment longer than it should to react. Deep in the settings menu you can opt to open the camera with a double-press of the screen lock button. This is the fastest way to open the app.
Camera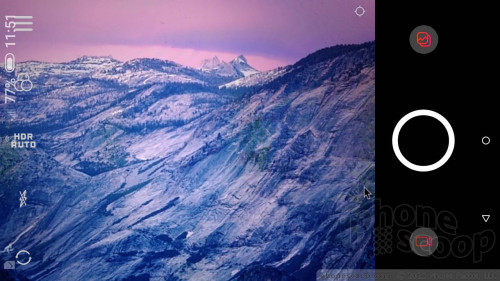 Camera
The layout is as basic as it gets. The on-screen controls include filters, HDR, flash, and settings. I'm glad the HDR and flash can be set to "auto".
Shooting modes include auto, video, manual, panorama, collage, light trace, and beauty. The auto, video, and pano modes are more or less like every other. Point the camera, shoot the picture.
The manual mode lets you control focal length (near or far), white balance, exposure, shutter speed, and ISO. The shutter speed ranges from one-quarter of a second to 1/8000 of a second. You can adjust any or all of these.
Light trace is on board specifically to record streaky lights at night. It sets a long shutter time, so it's best if you have a tripod or equivalent. The collage tool should be pretty familiar, it lets you take a quick series of shots and it then instantly arranges them into a square. The beauty mode is for selfies and lets you smear over your wrinkles and moles.
While the app is laid out plainly, it's just too slow. It's slow to react to screen presses, and slow to open/close windows and switch modes. It also takes too long to focus, shoot, and save pictures before it lets you take another photo.
Photos/Video
Be sure to check the settings before you do anything. The default resolutions are all cranked down for whatever reason.
The phone has a 12-megapixel camera with LED flash.
It's pretty rough. Photos I took outdoors under the sun weren't too bad apart from some grain. Indoor shots are just a noisy mess, with lots of underexposure. Few of the photos were truly sharp. White balance looked decent.
The selfie cam, which has an 8-megapixel sensor and its own beauty mode, is worse. Nearly every picture is saturated with grain and underexposed.
The phone can capture up to 1080p video with the main camera and 720p video with the selfie camera. Neither is very good. You'll get passable results that meet the basics of recording a scene or event, but you're not going to impress anyone.
Stick to your main phone for capturing media.
Wrap-Up
I don't know why the hell anyone would buy this phone. The value proposition just isn't there. Verizon sells the device for $350 (!!!) and requires you to add $10 per month to your existing smartphone plan. (It's billed like a smartwatch.) Palm and Verizon are essentially asking you to pay even more for what ends up doing much less.
The Palm phone does serve as a cute alternate device that's probably easier to carry around than your main phone. If you adhere to the idea of Life Mode — wherein the phone is basically dead unless you actively need to make a call — then it's possible you can find solace and serenity. You can achieve much the same thing (without spending another $350) by taking a more aggressive stance with your existing phone's Screen Time or Digital Wellbeing tools.
The Palm phone is diminutive and has a great screen. It's fairly tough and waterproof.
But battery life is absolutely horrific, call quality is mediocre, and the network connection doesn't give me the confidence I want. The camera is slow and takes hazy pictures.
I do like what Palm did with the home screen and its app carousel, but that's no reason to spend $350 on a phone for your phone. At Verizon, $350 buys you a new iPhone 6s, while $240 buys you the very good Moto G6. The point is, you can get a lot more for $350 if you look elsewhere. And you should.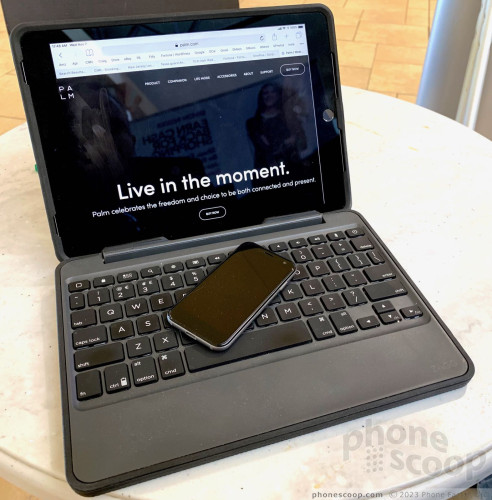 No messages