Review: Samsung Galaxy A6 for Sprint
Hardware Software Wrap-Up Comments
Lock Screen
The lock screen is a decent space. The A6 offers Samsung's version of the Always On display concept. The clock, date, battery percentage, and notifications are always visible. Notifications can range from simple badges to the full text of incoming messages. Samsung offers plenty of ways to tweak the Always On display, including different clock styles and swipeable widgets.
Pressing the screen lock button on the right brings up your wallpaper, full notifications, access to the Quick Settings menu, and lock screen shortcuts. Only two shortcuts are available on the lock screen and you can configure which they are.
AD article continues below...
As far as security is concerned, the rear-mounted fingerprint reader is your best bet. It's the quickest and most consistent. The reader requires you to swipe your finger down the reader to register prints, which works much faster during initial setup than pressing and lifting and pressing and lifting that most other phones make you do. Once your print is set you can just tap the reader. If you use the fingerprint reader as your primary method for unlocking the phone, you'll find it is fast and accurate.
The A6 has a basic facial recognition tool, but it's not anywhere near the same thing as Samsung's Intelligent Scan on the company's high-end phones. It's just a basic tool; it's not that fast and it's not terribly secure. Stick with the fingerprint reader.
Home Screens
The A6 has the same basic experience as Samsung's Galaxy S series phones. The Galaxy A6 ships with Android 8 Oreo and "Samsung Experience 9.0." It offers a respectable set of tools for tweaking the software experience.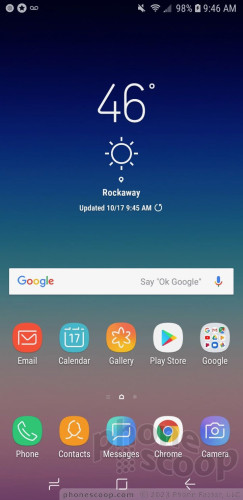 There's no app drawer button out of the box. Instead, swipe the home screen up or down and the app drawer will appear. Samsung's solution is elegant, though you can add the app drawer button back if you want.
The app drawer itself can be arranged however you wish; it's alphabetical by default. Samsung allows you to hide unwanted apps, which is something I appreciate on this bloatware-filled phone.
The Quick Settings panel has a clean design that I like. The main settings menu also uses clean colors and a bright background. Samsung has added tons of options for controlling the phone's behavior above and beyond standard Android.
For example: themes. Only one is pre-installed, but you can download more. Themes change your entire visual experience, from the wallpapers to the icons to the fonts and colors.
You can spend forever tweaking small things, such as the number of apps that appear on home screen panels, how big the fonts are, and which fonts appear.
The A6 includes an Easy Mode, which is meant for people who may be new to smartphones, or for those who have bad eyesight.
And of course there's Bixby, Samsung's intelligent assistant. Samsung didn't hardwire a button to Bixby as it did with the S9 and Note9, but it's lurking there as the left-most home screen panel. You'll get the best results if you create a Samsung account and give it all sorts of permissions.
The Galaxy A6 ships with a 1.6 GHz octa-core Exynos processor from Samsung with 3 GB of RAM and 32 GB of storage. It's a fine CPU for this mid-range phone. I didn't encounter any performance issues while I used the device.
Camera
To launch the camera app, it's fastest to double-press the screen lock button. The camera snaps open in a blink.
You swipe back and forth to access the various shooting modes. Swipe up and down to switch to the selfie camera. The camera has separate picture and video buttons, which makes it easy to snap photos when shooting video.
The A6 camera modes include auto, pro, panorama, continuous shot, HDR, night, sports, and sound & shot. You can edit the order of these, if you wish, and even add a shortcut to your favorite shooting mode to the home screen.
The pro mode is very limited. It lets you tweak exposure, ISO, and white balance. That's it; no control over the shutter speed for long exposures. Bummer.
There's no portrait mode with the main camara, which seems like a huge omission these days.
Three modes are available in the selfie camera. The first is selfie focus and is basically for portrait-style shots where you are in focus and the background is blurred. You need to hold the phone at arm's length to get this to work well. There's also a user-facing AR Emoji mode so you can apply stickers to yourself.
Last, the camera includes Bixby Vision for both the main and selfie shooters. There's a huge impediment here: Bixby Vision requires you to sign-in to your Samsung account, or create one if you haven't already. That's just all sorts of lame. If you care to do that, Bixby Vision can read/translate text in real time, read QR/barcodes, and help you shop with location-based suggestions. I don't recall the sign-in action being a necessity on other Samsung phones.
The camera app functions well enough. I didn't notice any slow-downs or other issues.
Photos/Video
The Galaxy A6 takes shockingly good photos. I have to admit, I don't have the highest expectations from today's mid-range phones. I don't expect them to be bad, but the A6 surprised me.
The lone 16-megapixel camera on the rear has a aperture of f/1.7, which really helps with low-light shots. The A6 delivers crisp, colorful images that are properly exposed and have spot-on white balance. The pictures I captured on a sunny day look fantastic. Everything about them is right. I have no complaints whatsoever.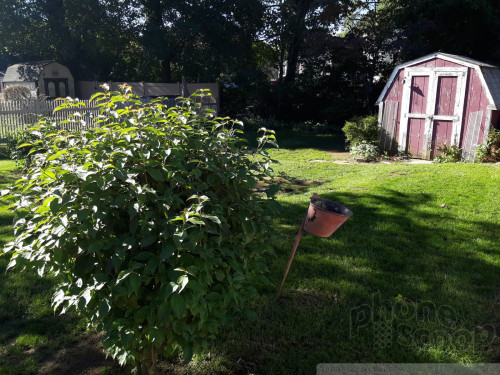 The selfie camera also has a 16-megapixel sensor with an aperture of f/1.9. That's very good for a selfie cam, as many typically offer apertures between 2.0 - 2.4. This means the selfie camera is really good in low-light, without the flash. The selfie camera produces very good selfies. They are generally sharp, bright, and colorful. I did notice some odd behavior from the portrait mode, but that's not uncommon for a single-lens bokeh feature.
The phone can capture full HD video from either camera. The footage I took looked very good. I was pleased with exposure, color, and focus. Most everything looked really good. You'd hardly believe this is a mid-range phone.