Review: Palm Treo 800w
Article Comments 3
Aug 15, 2008, 2:36 PM by Stewart Wolpin
Palm updates the Windows version of the Treo with the 800w. It is slightly more compact than previous Treos, yet manages to pack in more functionality. But do more features make for a better Treo?
AD article continues below...
Form
Is It Your Type?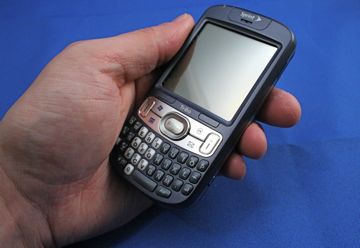 Some cellphone upgrades are all addition, some are addition by subtraction. Palm's Treo 800w from Sprint is a little of both compared to the 700w/wx, which it replaces. It also gives Sprint a more state-of-the-art Treo and Sprint subscribers a reasonable alternative to the Samsung Instinct. The additions are Microsoft Windows Mobile 6.1, a higher-resolution touchscreen, a 2.0 MP camera, startling A-GPS capabilities, threaded messaging and WiFi. What it subtracts is the 700w's annoying stub antenna, a couple of silly millimeters on each side and 1.4 ounces to give it a slimmer, trimmer shape and feel, a headphone jack, and more than an hour of talk time compared to both its predecessor and its own specs. The question is, do these plusses and minuses add up?
Body
Sleeker, slimmer than its predecessors, the 800w looks more modern in this iPhone age and lies lighter in any pocket, shirt, shorts, slacks or jacket. But its slightly thinner profile – .01 inches shorter, not including the 700w's stub antenna, .02 inches slimmer side-to-side, .17 inches thinner front-to-back – slightly reduces the space between the keys. Palm also has rearranged the navigation keys, but not in a good way.
Below the 800w's 2.5-inch 320 x 320 pixel screen are two completely flush and identically-colored soft keys that blend nearly invisibly into the phone's gray surface. Directly below these are the silver Windows Start menu key (on the left) and the "ok" key (on the right), also flush with the 800w's surface. These silver action keys and the nearly invisible soft menu keys are around 1/32d of an inch apart. Throughout my review period I often hit the Start or "ok" button when I meant to hit one the soft keys, and vice versa.
Below the Windows Start button is a calendar button, below the "ok" button an email button, found on other non-Sprint Treos but new compared to the 700w. The same size/shaped flush keys also could lead to miss-hits.
The 800w's keyboard is a hair more tightly packed than on other Treos. These squeezed keys require a bit more care and dexterity while typing than on the 700w. In addition, the key backlighting is far less bright than the 700w and other Treos. You don't miss the brighter backlighting on the alpha keys, but the dialpad could use the help in bright room or sunlight to help quickly differentiate the numbers from their dull white background. I had to turn the brightness up all the way, which of course also overly-lit the screen, to get the keys even close to the brightness of the keys on other Treos.
Next to the speaker/ringer mute button on the top rim of the phone is a handy new direct WiFi activation button; on the right side are the infrared eye and the covered microSD slot that requires a sharp finger nail to pry open.
The left side volume toggle keys are slightly raised but the space between the "up" and "down" keys are more difficult to discern by feel than the more distinctly shaped and wider-spaced volume keys on previous Treos. The "action" key below the volume toggles defaults to voice memo recording but can be re-assigned.
Palm has replaced the 700w's proprietary power plug and 2.5mm jack with a single industry standard microUSB jack. This single jack solution is both good news and bad – you can use any microUSB power charger, but now you're restricted to connecting only microUSB headphones. Personally, I'd rather have a separate 3.5mm jack and access to a wider choice of headphones.
On the rear of the 800w is the 2 MP camera lens adjacent to a self-portrait dot mirror and the unfortunately-placed speaker. I understand from a space efficiency point-of-view why phone makers place speakers on the rear of a phone, but from a usage point-of-view, it make no sense whatsoever, as I'll explain later.
The 3 S's
Screen
At 320 x 320 pixels, the 800w's 2.5-inch screen displays crisper and higher contrast images, videos and fonts with deeper colors than its predecessor, which has a 240 x 240 pixel screen.
As with all Windows Mobile devices, you can switch on ClearType to create smoother, more readable fonts; I don't know why ClearType is not the default setting, or why it isn't the only option, since it is make everything far easier to read. You also can enlarge the size of the font on the home screen menus including numbers being dialed, email and text messaging, but not in the Start Menu, on the icon Program and applications pages, CallerID or the dial pad, which offers pretty big buttons and numbers already. At its highest setting, the largest type setting makes text around twice the size and bolder than the default setting; why anyone would want text size smaller than the default is beyond me.
Signal
I live on the edge of Sprint's EV-DO coverage area; for instance, I get far better signal outside my northern Manhattan apartment building than inside my apartment. However, while I get only one or two bars of EV-DO signal on the Sprint Samsung Instinct, I could rely on three to a full five bars on the 800w, depending where in my apartment I wandered. While this bar difference didn't affect voice connections – I experienced only dropped call while making test calls at home and none wandering around Manhattan – data rates varied wildly as the phone dropped out of EV-DO into 1XRTT and back again depending where I wandered at home.
As with more 3G phones, it sometimes takes a minute or so to re-establish a network connection once out of a tunnel or some other long-term disconnection. The 800w was no different.
The 800w's WiFi signal was more robust and not as balky as the EV-DO alternative. It had the same range from my wireless router as an iPhone 3G.
To help you avoid drilling through menus to activate WiFi, you can turn it on and off by holding down the WiFi button on the top rim of the phone.
Sound
Unfortunately, call quality was about as consistent as my EV-DO signal. Overall voice tonal quality was above average, clear and crisp with plenty of volume, but marred by more cell warble than I expected, although this could be more the fault of local Sprint coverage than the phone.
Speakerphone volume was high and quality as clean as you could expect from a cellphone speaker, but co-conversationalists reported that I sounded as if I was talking in water. The speakerphone was full duplex, however, and had no trouble handling simultaneous conversation.
The rear placement of the speakerphone additionally strained aural comprehension. Cupping your palm around the speakerphone drastically improves the sound, but the whole idea of a speakerphone is to enable you to put the phone down on a tabletop. Placing the phone on its rear, however, covers the speaker and muffles your caller. Placing the phone front down blocks the microphone. And the rounded bottom rim of the 800w means you can't place it standing on end.
Listening to music via the speaker is more pleasurable since you are not faced with the same phone placement issues. Music sound, although mono, was loud and clean, enough to provide an adequate entertainment alternative when no other music source is available.
Ringtone and vibrate are loud and violent. I could feel the phone buzz and hear it ring in my pocket while indoors. On a noisy Manhattan street, I could rely only on the buzz to let me know a call was coming in.
Battery
Palm rates the 800w at 4.5 hours of talk time, compared with 4.7 hours on the 700w. But in our unscientific tests, with both Bluetooth and WiFi off, we never got more than 4.1 hours, and that only when the phone lapsed into a less taxing 1XRTT connection.
In multiple tests with full EV-DO connections, we got no more than three hours of consecutive talk time, results both shocking and disappointing. This is the worst disparity between a phone's rated talk time and actual results I've ever run across.
When conversation is combined with the 800w's other power-sapping attributes such as Web surfing, emailing or GPS, I find it hard to believe you'll get more than a couple of hours of talk and, if you're an active user, a nearly dead phone by mid-day.
You also get short-sheeted on standby time. Palm rates the 800w for 200 hours (8.3 days) of standby, compared to the 300 hours (12.5 days) rated for the 700w. Considering how off the talk time rating is, I can't imagine an unused 800w will remain operational uncharged for any more than around five or six days.
Basics
Menus
Windows Mobile 6.1 by and large operates identically to previous versions, such as the Windows Mobile 5.0 on the 700w. For instance, one of Windows Mobile's continued limitations is constraining the Start menu to just seven items.
To give you more access to functions and features from the Today home screen menu, Windows Mobile 6.1 adds left-right scrolling through functions (such as left-right scrolling through your varying email accounts from a single "email" line) without even pulling up the Start menu.
One problem. The Treo 800w doesn't include this new Windows Mobile 6.1 home page. I assumed I'd be able to download or choose it from the variety of options inside Windows Mobile's many options. We were told Microsoft would require the new home screen to be available as an option on all 6.1 devices out of the box. But if the new home page configuration is there to choose or download on the 800w, I couldn't find it.
However, accessing the 800w's varied business functions and applications such as the calendar, messaging, email, contacts and Live Search are easy to get from the home screen. Getting to your contacts, however, is a problem. The only way to get to the list, say if you want to find an address to give someone else, other than to remember the Calendar/Option key combo, is to scroll to the dial form on the home Today page and click on Menu. Either way, it's unnecessarily awkward, but this is more a Windows Mobile issue than an 800w issue.
Accessing the 800w's multimedia features wasn't as easy. All multimedia options – the camera, Windows Media Player, Sprint TV – are accessible only via multi-clicking/tapping through Start menu > Programs rather than via a direct access key. You could reprogram the left side action key to activate any of these functions, or add one of them to the Start menu as long as you eliminate an existing menu choice. In lieu of this customization, the default arrangement makes it difficult to quickly access the entertainment options on the 800w.
Calls/Contacts
You can access your contact list from the right soft menu on the Today home screen.
But you don't need to pull up and scroll through this menu and scroll through you contacts to find who you're looking for, or even navigate your Speed Dial options. You can just start typing the name of your contact on the Today home screen and the corresponding contacts are displayed.
Getting my contacts into the phone was a problem, however. When I first hooked the 800w to my Vista laptop, I was prompted to sync my multimedia via Windows Media Player. This was not only welcome, but it was then quick and painless to load songs into the 800w.
Oddly, given the 800w is a business device, I got no such prompt to sync Outlook. In order to sync with Outlook, I had to install the Windows Mobile Device Center application from the accompanying CD. Why I should have to separately install this necessary and integral application, and why it is not included in Windows Mobile or Windows XP or Vista is a mystery. But the first thing I was prompted to do with this business device was to sync with Windows Media Player. Bizarre.
Once I installed Windows Mobile Device Center, all my contacts, calendar and email flowed into the 800w in a few seconds.
Messaging
The Treo 800w includes SMS and MMS but not video messaging; I suspect Palm and/or Windows figured you'd email any clips you record. Windows Mobile 6.1 adds threaded SMS messaging, which isn't as pretty as on the iPhone but is a significant improvement for frequent texters. POP3, IMAP and Microsoft Exchange Server email are supported by the 800w.
Entering my user name and password to access my AOL account took only around 30 seconds. It took me a couple of attempts after inputting all the SMTP settings for my personal domain to successfully access my IMAP email. I was not able to send email from the 800w on this IMAP account, however. I'm sure I could have figured it out – eventually – but I lacked the time and the patience.
The 800w does not include instant messaging; when you click on the Instant Messaging icon in the Program menu you are prompted to download the OZPocketPC package, which contains AIM, Yahoo and Windows Live Messaging. Again, why these aren't included and why you're forced to download a separate program to install IM apps makes no sense to me.
Touch
Although the 800w comes with a stylus, you won't need it much except for maybe tapping the onscreen QWERTY keypad. Between the scrollable Today home page, the navigation array, the Start button and menu, and direct function access keys, you'll find yourself navigating one-handed around the phone and its menus via the physical keys more than you'll use your second hand to tap-tap-tap the touchscreen to get around, even when Web surfing.
Extras
Music
Windows Media Player is included, but that doesn't make this a music phone. Once the player launched, on-screen touch music controls – play/pause, rewind, fast forward, etc. – are tiny and difficult to manipulate with your finger. There are no corresponding physical control keys.
Absence of physical music control keys is a handicap once you start moving into other applications while music is playing. If you want to pause or skip, you have to circle back around though the Start menu to the Windows Media Player to get to the music controls.
If the Sprint Music Store is offered on this phone, I couldn't find it.
The 800w includes a generous 256 MB of memory, 170 MB user assignable for your files; the 700w only included on 128 MB, and just 60 MB for your use. The side microSD slot can accommodate up to 8 GB of additional flash memory.
There is no 3.5mm or even 2.5mm headphone jack. Either use the crummy free microUSB terminated earbuds or buy a separate microUSB-3.5mm adapter to use headphones of your choice.
Camera
There is no direct button to access the camera unless you create one, either by re-programming the side action key or by placing Camera in the Start menu. Otherwise you have to click through the Start>Program menus to find the camera icon.
The camera shutter release is quick, which ensures crisp pictures unblurred by hand-clicking-the-shutter motion. But the processor is a bit slow; you'll have to wait two seconds or so for the processed picture to appear on screen. The 800w automatically saves photos, but you still have to press the "camera" soft key to take your next shot.
You get five resolution settings from 1600 x 1200 to 160 x 120 pixels. While the 800w's camera offers only a 2x zoom, the resulting close-up shots are the same size full resolution; many lower-end cameras step down the resolution with each zoom step up. As with any digital zoom, 2x photos taken with the Treo 800w are far more pixilated, with jaggier edges and digital grain.
Among the other 800w camera extras are burst (five quick shots in succession), timer modes and seven levels of brightness. There are no pre-set picture modes. Switching to video entails a quick menu choice. The default setting is for the lower resolution 176 x 144 pixels and the video viewfinder fills only the middle 1.2 inches of the 800w's screen. You have to go through the menu to adjust the video resolution to QVGA (320 x 240) and fill the screen with the viewfinder.
Photos/Video
With its 2.0 MP sensor, the 800w becomes an above average cellphone camera. Pictures indoors and out are bright and sharp, with none of the usual motion blur or processing soft focus often seen on cheaper cellcams. Bright, sunny skies are rendered true robin's egg blue; indoor shots offer far more detail and color than we're used to.
1600 x 1200 pictures send via email are down-rez'ed to VGA by the 800w. The only way to send pictures at the resolution you shot them at would be to transfer to them to your PC first, then use you desktop email program.
Only pictures shot at VGA resolution can be sent via MMS.
QVGA 320 x 240 3GPP2 videos are bright and colorful but heavily pixelated, especially if blown up beyond their normal size. 176 x 144 videos are tiny and watchable only on a cellphone screen.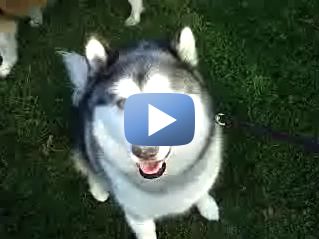 3GPP2 / MPEG-4 format (viewable with QuickTime)
File size: 565 KB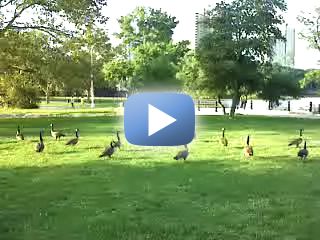 3GPP2 / MPEG-4 format (viewable with QuickTime)
File size: 549 KB
Transferring pictures and video to your PC is as easy as syncing via Windows Mobile Device Center. But the Device Center software doesn't realize you may have already transferred some files. So unless you check the option to erase transferred files from the phone, you'll get multiple copies of every picture and video each time you sync.
Browse/Customize
Browse
Pocket Explorer is almost a full HTML browser. Almost. Many national sites such as The New York Times, CNN and ESPN load not as they would on your desktop but as the mobile version. Many other full sites are rendered with HTML menu links scattered helter-skelter on a page.
As such, Web access speeds varied wildly. Mobile sites snapped speedily into view in around three-to-five seconds, while full HTML sites without a fall-back mobile alternative, such as the New York Daily News and USA Today, took 15-20 seconds.
Oddly, the 800w's WiFi connection didn't speed this up – in fact, switching from EV-DO Rev. A to WiFi actually slowed the Web down. Pages, both mobile and full HTML versions, took about a third longer to load using WiFi compared to EV-DO Rev. A.
This either says a lot about EV-DO Rev. A or not much about the 800w's WiFi implementation. I believe the latter, if side-by-side WiFi speed comparisons with the iPhone 3G are accurate. ESPN's full HTML page loaded three times as fast on the iPhone 3G than ESPN's mobile page did on the 800w. The New York Times mobile page finished loading around five seconds sooner than the full HTML version on the iPhone 3G. The mobile CNN page loaded in two seconds on the iPhone 3G, six seconds on the 800w.
The 800w and/or Windows Mobile suffers one other shortcoming while Web surfing – assurance you're inputting the right passwords. Instead of briefly displaying the letter or number of your password before transforming it into an asterisk, you get only an asterisk. You're left wondering if you input every character correctly until either your page loads or you get an error message.
Customize
Windows Mobile lets you choose from seven design "themes" for the device, select the items that appear on the Today home page, assign one of your photos as the Today page background wallpaper, and choose different Windows Media Player skins. And that's about it as far as customization is concerned. Remember, this is a device designed for the business professional in the grey flannel suit.
Extras
Apps
Windows Mobile is, of course, compatible with all the pocket Microsoft Office applications. Word Mobile, Excel Mobile and PowerPoint Mobile are all included; OneNote Mobile can be added from the included CD.
But the 800w's most fun and useful application is the new A-GPS functionality, which can be used for free through Windows Mobile. Samsung Instinct only offers similar A-GPS functionality through the subscription-based Sprint Navigator. From the Windows Mobile home page, you can type in a generality such as "ATM" or "restaurant" or a more specific point of interest such as "FedEx" or "McDonald's" and, within 10 seconds, you get a list of locations in your immediate vicinity, complete with address, phone number and distance from your current location. Any one of the individual items on the list can be displayed on a zoomable street map or you can get directions. All aspects of this application load unbelievably fast, as fast as they do on the Samsung Instinct.
A number of other fun and useful applications are included such as Sprint TV, the Pocket Express suite of Web-based subscription information services, and the subscription-based Sprint Navigation, which offers turn-by-turn directions. I tried using the free section of Sprint TV, but the menu lists refused to load.
Bluetooth
Turning Bluetooth on and off was simple; it's one of the three connections listed under Wireless Manager in the right soft menu from the home screen.
Pairing the 800w with other Bluetooth devices, even with the often uncooperative Vista, was dead simple. Once synced, files moved quickly and easily into the appropriate folders (document, pictures, etc.) on the PC without my prompting or guidance.
Clock
The Clock settings app lets you choose both your local time zone and a visiting time zone as well as several alarm settings.
You can see the current time only on the home screen, however, and only on the top bar of the home screen, too small to casually check by simply glancing at it, even if you increase the font size. Once in the menus or applications, there's no time displayed on other screens unless you click the "Display the clock on the title bar in all programs" in the Clock settings panel. Again, why isn't this the default mode considering so many people use their phones as their watch?
Wrap-Up
I'm prejudiced. I find Windows Mobile a clunky, over-wrought, inelegant smartphone mobile OS compared to Palm, BlackBerry, even Symbian. But I understand that Windows Mobile has a legion of fans. For Windows Mobile admirers, the addition of the irresistible how-did-I-live-without-it GPS function, a solid 2 MP camera, threaded messaging, and WiFi connectivity, even if it is out-performed by the iPhone 3G's WiFi, bring the Treo into the modern age. For me, OS aside, the short battery life would push me to consider alternatives. But if you're a Sprint subscriber and a Treo fan, the 800w is superior in all other ways to the 700w.
Can Phonescoop ever review anything without constant comparisons to the Iphone?
It is incredibly annoying 🤨 😕