Review: Motorola Moto G6
Hardware Software Wrap-Up Comments 1
May 30, 2018, 1:04 PM by Eric M. Zeman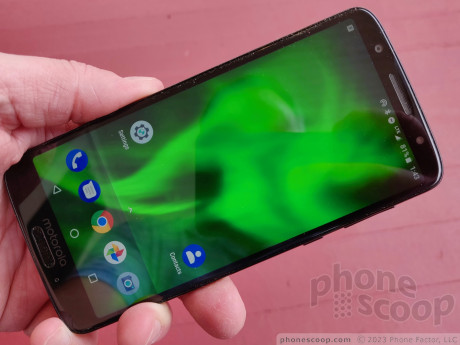 Motorola's G series phones have now reached their sixth generation. The Moto G6 sees Motorola taking the best design ideas from its mid-range X series and bringing them down to its more affordable G series. This Android phone combines good looks and solid performance in a value-priced piece of hardware. Here is Phone Scoop's review of the Motorola Moto G6.
Is It Your Type?
The Moto G6 is an affordable Android phone that merges an appealing design with mid-range specs and Motorola's tasteful software tweaks. This phone is for those who want or need a sub-$300 phone that delivers a lot of bang for the buck.
Body
Motorola's G-branded phones started life as colorful polycarbonate devices with lots of character. Last year's G5 saw the complete erosion of that character with bland, conservative shells. Thankfully Motorola is breathing life back into the G series by ditching last year's look and replacing it with an appealing glass-backed design similar to the X4. This is a win for consumers who appreciate good looking, high-quality hardware.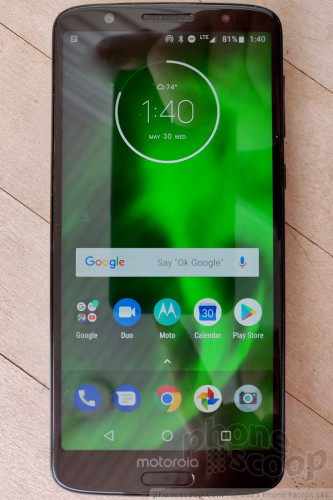 The G6 puts two glass panels on either side of a frame that feels like plastic (but is metal) that runs around the outer edge. The rear panel features steep curves along the side edges where it fits into frame. The frame is thicker at the top and bottom and thinner along the sides to accommodate the curved rear glass. The front is formed by 2.5D curved glass, which means it is rounded off where it meets the frame.
The phone comes in black, dark blue, and "blush" (pinkish). The G6 is the classiest G yet.
Because the phone adopts the 2:1 screen shape, the chassis is tall and narrow. It's well under 3 inches wide, which really helps with hand fit. I was able to hold and use the phone comfortably. Like most modern phones, it's difficult to reach the entire display without adjusting your grip on the phone. This means you'll sometimes find yourself using both hands to operate it. Those with the smallest hands may find it is too much phone for them. Most everyone else should have no problem using the G6. At 8.2mm, it's reasonably slim. It slips into pockets easily and it's light enough that I often forgot it was there.
The materials are good for a phone at this price point. The glass isn't the most luscious I've ever rubbed with my thumb, but it still gives off an air of quality. I wish the frame didn't feel so much like plastic. It is coated in a weird glossy paint that comes across like plastic. It doesn't feel cheap, and yet it doesn't feel particularly strong either. It's not a rugged phone. The chassis is assembled tightly and there are no gaps in any of the seams.
The G6 is not waterproof. Like many Motorola phones, it employs a splash-proof nanocoating on the internal components to prevent short-circuiting should you accidentally splash it. It can handle rain and sweat, but not an afternoon swim in the pool.
The G6 sees Motorola making progress in reducing bezels. With the 2:1 screen shape, Motorola reigned in the side bezels and also slimmed down the forehead and chin. There's still more bezel than I want to see, but at least Motorola is moving in the right direction. You'll spot a fairly large earpiece grille (which doubles as the speakerphone) above the display along with the selfie camera and flash. The phone's fingerprint reader is crammed into the chin below the screen. The reader is indented just a bit and doubles as a "home" button. It works well.
The volume and lock buttons are located on the right edge of the G6. The lock key is small-ish and has a ridged texture to help make it stand out. All of the side keys have a nice profile, and excellent travel and feedback.
The SIM tray is tucked into the top edge and is a bit of a pain. No matter what SIM tool I used, the tray barely pops out of its slot at all. You have to finagle it out with your fingernails. It's one of the fussier SIM trays I've encountered. Granted, most people will only need to interact with it once or twice.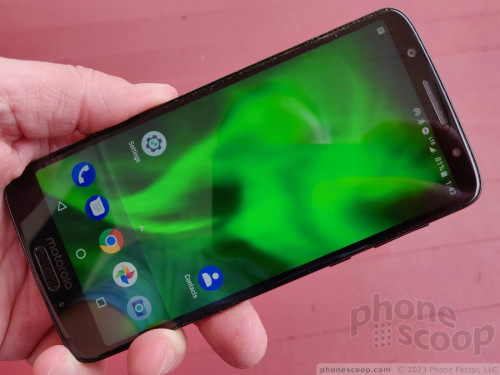 Motorola opted for USB-C on the G6, which is a nice upgrade compared to last year's G5, which had microUSB. The USB-C port is on the bottom edge, along with a 3.5mm headphone jack.
The rear panel is a simple piece of glass from top to bottom. I dig the generous curves along the sides, which help with hand fit. Yucky fingerprints are a bit more visible than I want them to be, though that's par for the course with glass-backed phones.
The camera module cracks me up. Like that of the X4, it's a raised circle that's about the size of a quarter. The two lenses are side by side with a dual-LED flash below. The arrangement looks identical to that of the zany-faced emoji and makes me laugh.
Though the basic appearance and location of the camera module resembles that of the Moto Z series, it is important to note that the G series is not compatible with the Z series' Moto Mods.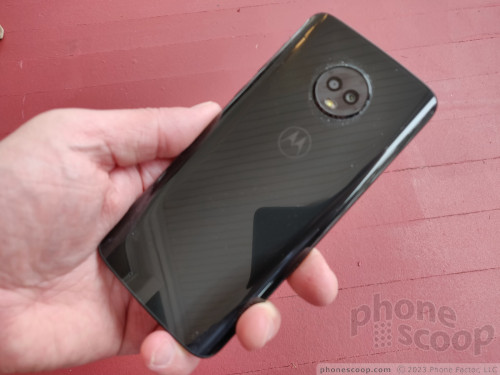 Like many of today's phones, the glass rear panel cannot be removed and thus neither can the battery. It's all sealed up tightly.
The Moto G6 is a big step forward for Motorola's G series. The G6 outguns competing phones in looks, feel, and build quality. LG, Samsung, Blu, Coolpad, and Alcatel have work to do to keep up in this price class.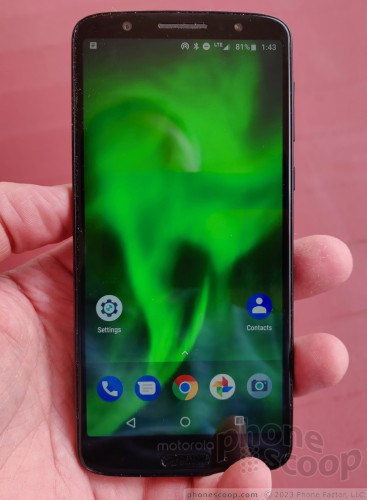 Screen
The Moto G6's screen measures 5.7 inches across the diagonal with full HD+ (2,160 x 1,080) resolution. It's an LCD display with a pixel density of about 424ppi, which means it's nice and sharp. I was pleased with the amount of light the phone puts out. As long as you don't have too many fingerprints gunking up the glass, outdoor viewability is quite good. Colors are accurate. Viewing angles aren't great. The screen dims noticeably when tilted side-to-side. Still, the G6's screen does all it needs to for this price point.
Motorola's software allows you to tweak the display's color profile to suit your own tastes, and like most modern phones you can set the blue light filter (aka, night mode) to go into effect to reduce eye strain.
Signal
The Moto G6 has excellent support for most U.S. wireless networks. You can buy an unlocked version and take advantage of some newer LTE bands deployed by AT&T (29 and 30) and T-Mobile (66). We tested the unlocked device on Verizon's network in and around New York City and came away impressed. (It's officially certified by Verizon for their network, and Verizon will soon sell the phone directly.)
The phone remained on Verizon's 4G network the entire time I tested it. It never dropped down to 3G or lost the signal. It connected all calls on the first dial, and kept calls connected over miles of highway driving. LTE data speeds are limited by the Cat 6 modem, but it still does a respectable job. The phone is more than quick enough for updating email, browsing the web, scrolling through media-rich social networks, and more. You can easily stream standard-definition audio/video from the likes of Spotify and YouTube without stuttering or unwanted pauses. Streaming high-def content led to some buffering in weak signal areas.
The G6 performed about as well on AT&T/T-Mobile. Call connectivity was spottier when used on AT&T, but T-Mobile delivered better LTE speeds when compared to Verizon.
Sound
Sound quality is shockingly below average. I was not impressed with voice clarity through the earpiece or the speakerphone (which are essentially the same thing). I experienced lots of crackling, pops, and other noise during calls no matter which network I tested the phone on. Cranking the volume up is necessary in loud spaces, but it leads to lots of distortion in the earpiece. It's not the best experience. People I spoke to through the phone said I didn't sound very good.
Volume via the speakerphone is acceptable for indoor or in-car calls, but no so much when you're outside or in noisy spaces.
Guess what? Playing music or video through the speaker produces the same snap-crackle-pop experience with lots of distortion at higher volumes. This is a major misstep from Motorola.
Battery
Motorola doesn't fool around when it comes to battery life. The Moto G6 packs a 3,000mAh battery, which is on par with the competition. The lithium ion power cell delivers the goods. The phone consistently pushed from breakfast to bedtime over a week of testing. It wrapped up most days with a respectable remainder of 20-25% capacity, no matter how hard I pushed the phone. I think most people should be able to get through a day with this phone.
The G6 has the basic Android battery saver tool aboard, which can be toggled on manually or set to turn on automatically when the battery reaches 5% or 15%. It helps a little.
The Moto G6 does not support wireless charging but it can handle rapid power-ups with the included wall socket. Motorola calls its charging tech TurboPower. The phone can gain 20%, which is good for several hours of use, in just 15 minutes.
Bluetooth, GPS, NFC, WiFi
The Bluetooth did well enough. I was able to pair it successfully with a speaker for blasting tunes, a PC for passing files, and my car for in-transit calls. The connection remained tight most of the time, but I experience hiccups in reconnecting to previously paired devices. I sometimes had to 'forget" the Bluetooth accessory in question and re-pair. That gets old after a while.
The GPS radio performed up to spec. It handled real-time navigation without stressing the phone too much.
There's no NFC.
The wifi radio did its job well.
For terrestrial radio lovers, it's worth noting that the Moto G6 has an FM radio and it works well as long as you have a pair of wired headphones handy.
Nice Phone and Good Buyback Value
The motorola is coming up with innovative devices that are standing out best in the market. If you want to sell your old phone, you might get a good buyback in the market as well. It is a very nice device that you can look forward to buying it.