Review: Motorola Moto G6
Hardware Software Wrap-Up Comments 1
Lock Screen
Motorola offers one of the better lock screen experiences on Android phones. It's all managed in the Moto App. Moto Display is what Motorola calls its "ambient display." It wakes the screen regularly with incoming notifications if you wish.
The G6 re-introduces a neat trick: the ambient display wakes up whenever you reach for the phone. You can just wave your hand over it and the screen will show you the clock and your notifications. This feature was once found on high-end Moto phones using infrared sensors. Now, using a clever new ultrasonic sensor, they're able to put this same handy feature on more affordable phones.
AD article continues below...
There's also a new set of control gestures for accessing lock-screen information. Touch-and-hold the screen to see the most recent notification, touch and swipe up to see all notifications, touch and swipe down to dismiss notifications, or touch and swipe sideways to ignore them. It doesn't take long to master them.
If you press the screen lock button, the display wakes fully to show the clock, wallpaper, and notifications listed below the clock. There are shortcuts to the Google Assistant and camera on this screen, though these can't be customized.
The G6's fingerprint reader, positioned below the screen, performed very well. It was a breeze to train, and consistent at recognizing fingerprints on the first touch.
The G6 also includes Moto Key, which we first saw last year. This tool lets you use your fingerprint to sign in to apps and web sites. You can even use it to unlock nearby Windows PCs and sign into PC-based apps. It supports just about any mobile app. It's pretty straightforward to set up and use.
Home Screens
The G6 ships with Android 8 Oreo with Motorola's useful adjustments and additions.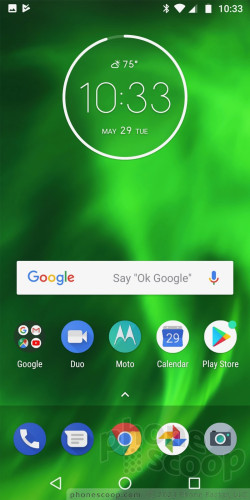 The main home screen panels are simple to adjust and customize with your own apps and shortcuts. The G6 includes a personalized Google feed as the left-most home screen panel. As long as you're signed in to your Google account, this panel shows you local weather, calendar appointments, travel times to work/home, and so on.
The app drawer, notification shade, Quick Settings tool, and main settings screens are all standard Android, and work accordingly. Apps are listed alphabetically in the drawer, with five app suggestions lining the top. The app drawer doesn't support folders, nor does it allow you to hide apps. There are no themes or other fancy interface tricks on board, which is fine as far as I'm concerned.
Moto Actions are hand gestures that serve as shortcuts for certain some tasks. For example, drag three fingers down the display to take a screenshot, make a chop motion with the phone twice to turn on the flashlight, pick it up to stop ringing, and much more. The Voice Assistant is there, too, for your spoken commands. These are all easy to customize via the Moto App.
As for performance, the Moto G6 has a 1.8 GHz Snapdragon 450 processor with 3 GB of RAM and 32 GB of storage. The 450 delivered consistent performance across the board. I didn't see or experience any hiccups or sluggish behavior.
Camera
Motorola's quick wrist-twisting gesture is the best, fastest way to open the G6 camera app. This works whether or not the phone is locked. You may also open the camera from the lock screen shortcut. The app takes one-quarter of a second too long to open as far as I'm concerned.
The camera app is deceptively simple-looking. The controls let you adjust HDR (on, off, auto), flash (on, off, auto), timer, and live photos, as well as turn on manual mode.
The manual mode gives you control over focus, white balance, shutter speed (just up to a quarter-second), ISO, and exposure. Using the dials, you can adjust one at a time or all of them at once. It's relatively easy to put to work.
A selector next to the shutter button lets you access the secondary shooting modes. These include portrait, cutout, spot color, panorama, text scanner, and face filters.
The portrait mode, meant specifically for people, uses depth-of-field data generated by the two lenses to create in-focus and out-of-focus regions within the photo. Your subject has to be close, (within a few feet,) and the background has to be at least several feet further away. The mode is a little slow.
The cutout tool works similarly but does what its name implies. Put something in the viewfinder and make sure there's some distance between it and the background. It will then focus on the subject and completely remove the background (see the photo of my arm). You can then add another photo to the background if you want to have some fun.
We've seen the spot color feature before. You select the color in the viewfinder you want to keep. Once you select the color, everything else in the photo turns black and white. It's great for making subjects pop, like a yellow flower or red piece of fruit.
Face filters are just what the name implies. It includes a narrow area of focus in the viewfinder where it expects you to center on a face. It's best put to use with the selfie camera. It includes options like sunglasses, unicorns, rainbows, and space helmets. It's a cinch to use.
The text scanner is for scanning text, such as restaurant menus and business cards. It's a simple text scanner. It will take text and turn it into a PDF or text file. It doesn't do anything to help you search or translate with that text.
The video camera includes its own tools: slow-motion, time-lapse, and face filters. They work well.
Last, but not least, the G6 includes Google Lens, which performs Google searches based on what you shoot. For example, I took a shot of my PC's keyboard. Not only did the G6 and Google Lens tell me it was in fact a PC keyboard, but that it was an Apple wireless keyboard (accurate) complete with links on where to buy one. Truly, we're living in the retail future (dystopia).
The layout of the camera app is fine for novices and experts alike. The G6's processor and RAM combo seem to fall a little short when it comes to the camera. It's the one app on the phone that runs a touch slow.
Photos/Video
The G6's main camera has a 12-megapixel sensor at f/1.8. (The secondary rear camera is strictly for helping with portrait, cutout, and other advanced modes.)
In general, I was pleased with the G6 as a camera. It's above average when it comes to focus, exposure, and white balance. I really like the various shooting modes, which produce results that are better than what I've seen from other phones in this price range.
The selfie camera has an 8-megapixel sensor with a selfie flash. You can snag selfie panoramas for those times a wide background is necessary, and the face filters are best put to use when having fun with the selfie cam. The portrait mode is not available when taking selfies. (That's a shame, but portrait effects are usually sub-par with a single lens, so it might be for the best.) Images are mostly sharp, exposed properly, and are free from grain and noise.
You can capture video up to full HD with the G6. The results look good. The time-lapse mode lets you speed things up by 4, 8, 16, and 32x, but you can only capture slow-motion at up to 120 frames per second.
The G6 can definitely serve as an everyday shooter, and even well enough for some special occasions.