Nokia Hits High End Hard
Article Comments 2
Feb 12, 2007, 7:07 AM by (staff)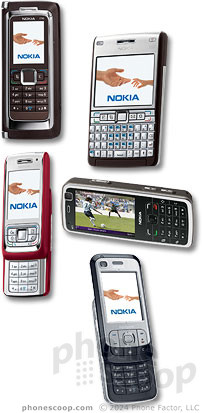 Nokia today announced 5 new high end handsets as well as their first mid-range smartphone with built in GPS. None of the phones are initially bound for a US carrier because they each feature HSDPA 2100, however all are quad-band GSM/EDGE, and may appear on our shores in a modified form later.
E90: Nokia has shed the touch screen Series 80 interface of the communicator, using S60 inside and out. On the outside the E90 feature a standard keypad and S60 navigation keys with a QVGA screen. Once opened, the phone packs a full QWERTY keyboard and 800 x 352 screen. The E90 packs Wi-Fi, Bluetooth, GPS and a 3.2 MP camera into a much small form factor than previous models.
E61i: Upgrades the E61 with a 2 Megapixel camera and a slimmer form factor that is only 11.5 mm thick. These two improvements will put the E61i head to head with Motorola's q9 announced today.
E65: A slim S60 slider for voice-centric business users. Features GSM, HSDPA, Wi-Fi, Bluetooth and a 2 megapixel camera. Also features dedicated keys for conference calls and other types of calling.
N77: This S60 candybar looks similar to the N73 and has similar specs except that the camera is downgraded to a 2 Megapixel model while DVB-H mobile TV reception is added.
6110: A midrange S60 slider with built in GPS navigation and a dedicated key to access Nokia Maps. The 6110 also features a 2 Megapixel camera and Bluetooth.
My Dearest Nokia. . .
I'm quite thankful for your response to my request, as stated here:
https://www.phonescoop.com/phones/m_forum.php?fm=m&f ... »
And I'm so happy to see that the device you've designed for me, the wonderful E90, is the communicator form factor, which I find interesting. While I'm somewhat dismayed at the lack of a touchscreen (ala - 770 or N800), I'm delighted at your decision to drop Series 80/Series 40 for Series 60 on both screens. And you saw fit to include an excellent 3.2 megapixel camera.
What I am sad about, dear Nokia, is your delay in getting this device out. Q2 2007? For Europe? That means it will be at least May or June before I could realistically ordero one! And €750-800? That's a lot of money! Sadly, I...
(continues)
japhy said:
And €750-800? That's a lot of money! Sadly, I'll probably pay it.
Too true. Well worth the money.