Review: iPhone 3G
Form Basics Extras Wrap-Up Comments 54
Music Camera Photos Browse/Customize Extras
Apps
One of the biggest aspects of the 3G iPhone is that it has access to the iPhone Apps Store, and the myriad applications available there. At launch, there were 500 applications available from various publishers, and include games, utilities, social networking tools, photography tools and more.
The Apps Store is accessed from a standard icon on the iPhone's main menu.
When you first load the Apps Store, you get to the main entrance. You can snag the hottest and newest applications with buttons on the top of the screen. The front page has a sample list of about 25 applications.
If one interests you, you tap it. It will bring you to an information page about that application. There is a paragraph explaining what the app is about. Below that is a screen shot, and below that are some user reviews, which rate the app. A couple of things about the App store appear to be less than fully realized. For example, each application lists a download counter. Apps listed in the top 25 showed 0 downloads, which I know is wrong, because I downloaded some of them. Each game also has a rating, but the ratings are not explained.
Always at the bottom of the screen are shortcuts to the featured applications, categories, the top 25, a search function and a place to search for updates to existing applications. These are all pretty self explanatory.
The Apps store is incredibly easy to search and use. It will likely be the best way to get content to a cell phone ... when it is finished. It just seems like some aspects of the Apps Store, and the Apps themselves, some were not 100% thought out and were thrown together half-baked. After spending a few moments checking them out, you can see that many of the apps rate three (out of five) stars or less. This includes some of the most popular apps.
Lastly, when you decide to buy an application, there is a little "buy" button. Press it, and it changes to an "install" button. If you press it again, the application will ask you for your iTunes Music Store password. Once you put that in, the Apps store closes and you jump out to your home screen. The initial impression is that the store app crashed. But you'll notice a new app icon appear on your desktop (wherever there happens to be an open space), and it will then download and install.
Rich and I both experienced crashes of the iPhone when using third-party apps and native Apple apps (such as Safari) as well. This is something that the entire notion of the SDK and iPhone developer program were supposed to help avoid: Bad experiences.
Rich would like to point out that the iPhone crashes more elegantly that other phones, which often just freeze up. With the iPhone, when something crashes, it typically just closes and takes you back to the home screen.
Using EDGE, most apps I tried to download took over a minute. Using 3G, it could be as short as 30 seconds. With WiFi, some apps downloaded and installed in about 10 seconds. So you're not there waiting all day for apps to load.
We think once the App Store and the apps themselves are a bit more finalized and stable, it will be a great way to find and purchase content for the iPhone.
Bluetooth
The iPhone still doesn't have stereo Bluetooth, but it's just as easy as before to pair it with other devices. When you're using the Bluetooth menu, the iPhone is automatically made visible and put in pairing mode. If it senses something, it will tell you. You can pair or ignore. Sound quality is improved when compared to the original iPhone.
GPS
The iPhone has Google Maps on board. Now that it also has GPS, it is much improved as a navigation device. Using it for the first time, the iPhone found my exact address in about one minute. That was with me inside. When I stood outside, it found my location in about 30 seconds. It pegged me to within about 25 feet of where I was standing. Not bad. The iPhone uses a-GPS, meaning there needs to be a network signal for it to work. I drove all over with it. Only the time to first lock varied. It always found me. Google Maps does not have turn-by-turn directions, but being able to have constant GPS updates means that if you get lost, you can quickly remap a new route based on your location information.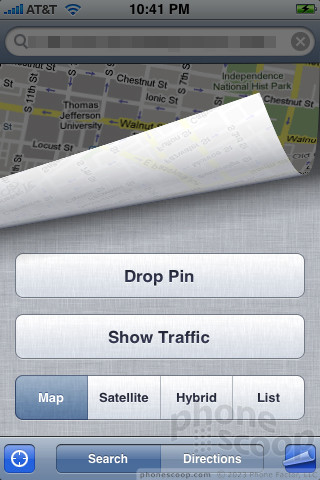 Speaking of location information, there are a lot of applications for the iPhone that want to make use of the GPS data that's available. The phone asks you every so often if it can do this. There doesn't appear to be any unversal way to set the applications to "always allow" the GPS to access the data. Having to check this little screen every 30 minute or so gets old.