Review: iPhone 3G
Form Basics Extras Wrap-Up Comments 54
Music Camera Photos Browse/Customize Extras
Browse
The iPhone's Safari browser is as powerful as ever. It still doesn't include Flash, but it's the closest thing you're going to get to a desktop experience on a mobile phone. The biggest update, of course, is that the iPhone can now access AT&T's HSDPA 3G network...if you have coverage. Be sure to check AT&T's coverage map before you run out and buy the 3G iPhone, if that's your biggest reason.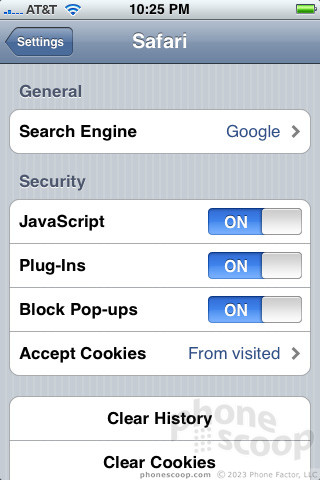 As for browsing, it is definitely faster in 3G zones. Web sites load two to three times faster when you're covered by 3G. According to an Apple spokesperson, under ideal conditions, the iPhone can reach AT&T's limit of 1.4Mbps for phones. Real-world speeds will more likely fall between 500 Kbps and 800 Kbps.
Advertisements article continues below...
With a 3G iPhone and N95 in tow, the iPhone often loaded full HTML pages just as fast as the N95 did with Opera Mini 4.5. Browsing with the touch browser is simply faster on the iPhone overall (even if pages load in the same time), because you don't have to use the D-pad to scroll around pages to get to what you want. With the iPhone, you just touch and go.
But you're going to pay for this faster functionality with lower battery life. This is on par with other phones we've tested. The N95, for example, also loses a full charge in about one day, the same as the 3G iPhone.
Customize
The iPhone lets you do some customization. You can set your own wallpapers, picture IDs, and settings for ringers and notifications. You can completely change up the menu location of all the applications to suit your needs.
As for ringtones, you can download some from the iTunes Music Store for a fee, or, if you use an Apple computer, import a non-protected song to GarageBand. Using a tool in GarageBand, you can select a 10-second clip from the song and create a ringtone with it. This doesn't cost you anything.