Review: Blu Vivo X
Hardware Software Wrap-Up Comments
Mar 30, 2018, 12:30 PM by Eric M. Zeman
Blu's latest phone is the Vivo X, an affordable flagship that boasts a 6-inch screen, 4 cameras, and a massive battery. If you're turned on by unlocked Android phones with 2:1 displays and low price points, the Blu Vivo X is a reasonable piece of hardware. Here is Phone Scoop's in-deopth review.
Advertisements article continues below...
Is It Your Type?
The Blu Vivo X is a budget flagship phone. This unlocked Android device is the first from Blu to adopt the 2:1 aspect ratio for the display and other modern appointments at an affordable price point. For photography fans, it features four cameras for maximum flexibility. If you prefer unlocked devices that support two SIM cards, the Vivo X has some appeal.
Body
The Vivo X is Blu's latest flagship phone. It carries over the better design and build quality of the Vivo series in a phone fit for 2018. It features curved-edge glass on front, a metal chassis wrapping the rear and side edges, and plastic caps on either end. The glass panel is set into a thin plastic frame, which is then itself set into the metal chassis. The forward-facing edge of the frame has a color-matched chamfer cut at a nice angle. You'll spot two grooves on the back that separate the metal panel from the plastic caps. Thankfully the grooves aren't as deep or sharp as they've been on older Blu devices.
The phone is only offered in black. I appreciate the matte finish that covers most of its skin, though Blu seems to be incapable of matching the color of the metal and plastic pieces (on any of its phones.)
This is a big piece of hardware. It's about the same size and shape as the Samsung Galaxy S9+. The Vivo X stands a good 6.3 inches tall and sits more than 3 inches wide. I wish it were thinner and lighter; the 8.4mm thickness and 6.6oz weight don't help in the usability department. People with medium-sized or small hands may find the phone is just too big. There's no question it's a two-handed device. It fits into pockets, but you always know it is there.
Hand Fit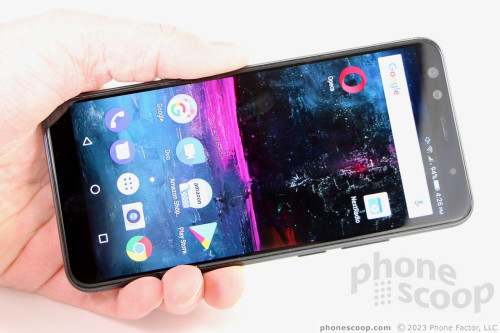 Hand Fit
Materials and build quality are better than most Blu phones I've reviewed, even other Vivo series devices. The top assembly with the curved glass and plastic frame is set into the metal chassis firmly and seamlessly. The joints between the metal and plastic pieces on the rear of the phone are tight. The combination of high(er)-quality glass, metal, and weight give the phone a sense of legitimacy that other Blu device have lacked. It may be a budget phone, but this Blu ain't cheap.
With a 2:1 screen, the phone has an elongated face. Blu could have done a better job minimizing bezels. The forehead and chin measure at least 1cm each, and the side bezels are also fairly noticeable. The front is a solid piece of glass from top to bottom. You won't find any buttons on the chin.
Chin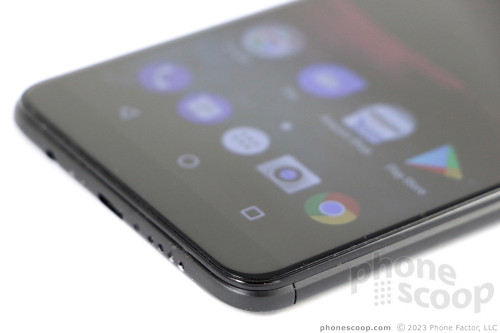 Chin
The only hardware controls are positioned on the right edge of the phone. There, you'll easily find the textured screen lock button and smooth volume toggle. These buttons have excellent travel and feedback.
The card tray is on the left side. The tray supports a SIM card and memory card, or two SIM cards. If you want to use a microSD memory card and SIM card at the same time, you'll need a micro (3FF) SIM card rather than the nano (4FF) SIM card. It's an odd setup.
I wish the Vivo X offered USB-C; instead, it charges via a microUSB port on the bottom. It's accompanied by a 3.5mm headphone jack and holes for the speakerphone. There are no features or controls on the top edge.
The phone has gently rounded corners and the side edges roll around into the slightly curved rear panel. It's solid black, save for the khaki-colored Blu logo painted on back. Blu opted to locate a round fingerprint reader on the rear of the phone. I like that it's indented a bit, which makes it easy to find and use. The camera module protrudes quite a bit from the surface. It holds two lenses and the two-tone LED flash.
Camera Array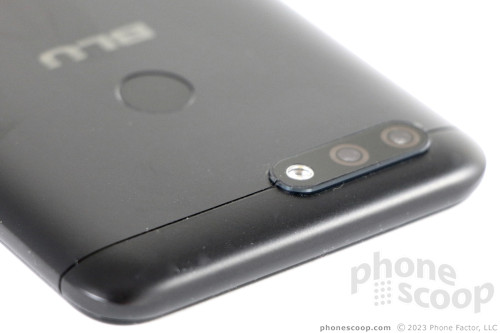 Camera Array
Some Blu phones have offered removable rear panels, but not the Vivo X. The metal chassis is glued together firmly. That means no access to the battery, which is buried inside.
Rear Panel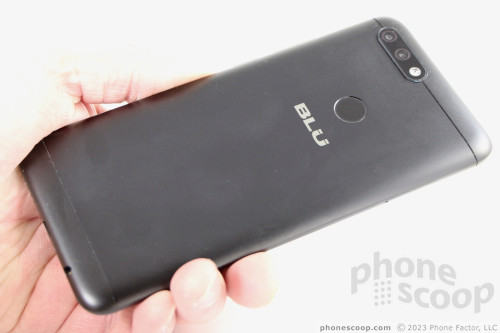 Rear Panel
Blu's Vivo X is a big phone that steps up its game a bit. It's a finer piece of hardware than I've seen from Blu before, and yet it doesn't push past other devices in this price point.
Profile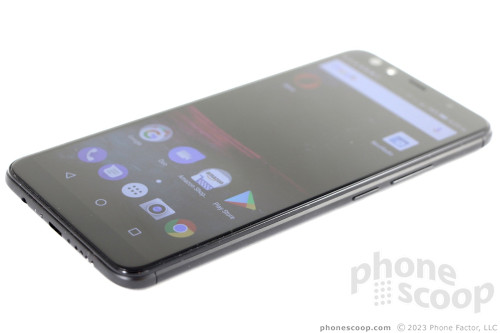 Profile
Screen
A 6-inch LCD screen adorns the front of the phone. It relies on the 2:1 aspect ratio and has 1,440 by 720 pixels ("HD+", but not full HD). It's protected by Gorilla Glass 3. I'd call it a fine screen. I think Blu is walking the razor's edge with respect to resolution here; any display this big would be better off with full HD+ resolution. If you know that you care about pixel density, you might be disappointed; otherwise, you might find it be just fine.
Brightness and color are decent. I was able to use the phone inside without issue. The glass collects more fingerprints than expensive phones, and the grime impedes visibility when under sunny skies. A bit more brightness would help. Blu provides a basic tool for controlling the display's color profile, allowing you to make it more vivid/contrasty.
Viewing angles are good. There's no blue shift on the screen when the phone is tilted and brightness loss is minimal.
The phone features a glove mode, which ensures the screen is responsive when you're wearing gloves. It worked with thinner gloves, but not my thicker ones.
Signal
Blu sells the Vivo X to U.S. consumers unlocked. Like many unlocked phones, it has basic support for U.S. LTE bands. It includes the core bands used by AT&T and T-Mobile (2, 4, 5, 12, and 17). You won't find support for AT&T's bands 29 and 30, nor T-Mobile's bands 66 and 71. Without these bands you might experience poor service when the network is congested. I tested the phone on AT&T's network and found it performed in line with other unlocked phones I've evaluated recently.
The phone had no trouble finding AT&T's LTE service. It remained on 4G throughout the time I spent reviewing it. The majority of calls patched through on the first attempt and the phone didn't drop any calls at highway speeds.
Data speeds were definitely limited. The peak download I saw with the phone was just 10 Mbps. That's pretty slow for a 4G phone. It handled stuff like Twitter and Facebook no problem, but streaming media over LTE meant low-resolution and buffering were the norm.
Sound
I was pleased with voice quality. The earpiece delivers clean, punchy tones that sound very nice. You'll need to keep the volume set up all the way, as the phone isn't the loudest I've tested. You should be able to hear calls well enough in the car and when walking around outdoors. Loud coffee shops might force you to seek quieter spaces. Those I spoke to via the Vivo X said I sounded "just good."
The phone does not support AT&T's WiFi- or LTE-enabled voice services.
The speakerphone is surprisingly loud. You can easily hear calls in a noisy home or office space, or when walking city streets. It will distort a bit when set to high volumes.
Ringers and alerts were more than loud enough to get my attention. The vibrate alert did well.
Battery
A massive 4,010mAh battery is hiding within. That's better than most modern flagship phones. The lower-resolution display and ample power management tools also help. The result is a phone that pushes through more than a full day with ease. On several occasions, I squeezed 1.5 days out of the Vivo X. Most of the time it pushed from breakfast one day to mid-morning the next. It delivers a solid bang for the buck.
The phone supports 5V/2A charging via the included plug, which means it takes about 2.5 hours to charge fully. Blu says this is "rapid", but that's a bit of a stretch by today's standards. There's no wireless charging.
Bluetooth, GPS, NFC, WiFi
Secondary radio performance was mixed. Bluetooth did an acceptable job, but not a great one. The phone struggled to connect with several accessories I have on hand and wouldn't connect to my car at all. Phone calls I took via headsets sounded mediocre, while music I streamed to Bluetooth headphones was just okay.
The GPS radio located me quickly and accurately enough.
There is no NFC.
WiFi connected to my home network with no problem, but was much slower than other phones in terms of downloading apps. Speed tests showed the phone limited to just 30 Mbps on WiFi. It didn't even come close to reaching the maximum speed offered by my home service.
No messages