Review: Sony Xperia XA2 Ultra
Hardware Software Wrap-Up Comments 2
Lock Screen
The XA2 Ultra has a pretty standard lock screen experience. A quick press of the screen lock button wakes the display and reveals the clock, notifications, and two shortcuts: phone and camera. I really appreciate that Sony allows you to select from a standard digital clock, an analog clock, or a stylized Sony clock for the lock screen. All three are readable. As always, you can choose how visible notifications are on the lock screen. You cannot customize the shortcuts.
The biggest improvement here is the addition of a fingerprint reader. Touching it wakes and unlocks the phone fully. The fingerprint reader is easy to train and worked consistently and quickly every time I used it.
Advertisements article continues below...
Home Screens
The Xperia XA2 Ultra runs Android 8 Oreo with Sony's tweaks. Sony has dialed back how intrusive its UX is; in fact, it's almost stock Android.
There are three home screen panels active when you first boot the phone. Two of them are preloaded with a number of apps and shortcuts, and the third is reserved for the Google Assistant. As per the norm, you can manage these pages however you wish. You can adjust the grid size, the icon size, add widgets, and so on.
The app drawer is arranged in side-by-side pages that you swipe left and right. Users can elect to view apps in custom order, most used, alphabetically, or by date. A search tool is always available in the app drawer, which is nice. The app drawer also supports folders.
The settings menu behaves as the stock Android tool does, but has been skinned with a splash of color.
As always, Sony includes themes. These bundle together similar color palettes for the home screen, app drawer, and other aspects of the user interface. Sony offers a few themes of its own, but Xperia XA2 Ultra owners can design their own. That's cool.
The Xperia XA2 Ultra does well in the speed department. It relies on the Qualcomm Snapdragon 630 processor with 4 GB of RAM. This is a fine pairing. The phone performed well while I evaluated it. The XA2 Ultra never felt bogged down or slow, screen transitions were smooth, and apps opened in a snap.
Camera
The quickest way to launch the camera is to press the dedicated camera button. You can also double-press the screen lock button. The camera app opens quickly whether the phone is on or locked.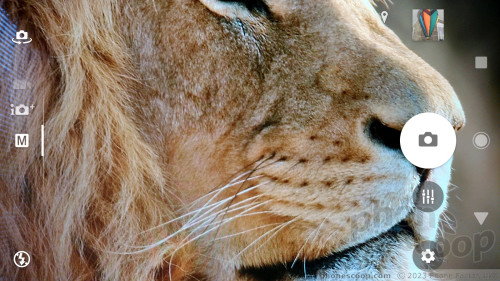 The app is powerful and easy to figure out. By default, the Xperia XA2 Ultra uses Sony's Superior Auto shooting mode. The other basic modes include manual and video. You can access some secondary shooting modes, which include Sony standards: AR effect (put dinosaurs in your pix), Creative Effect (live filters), Sound Photo (takes photos with background sounds), panorama, 4K video, and burst.
According to Sony, HDR is always in "auto" mode when shooting Superior Auto. That means the phone will automatically use HDR if it needs too, but you can't turn it on or off yourself. If you switch to manual mode, you'll discover you can turn HDR on or off at will.
Manual Mode allows you to set white balance, ISO, brightness, shutter speed (but only up to 1 second), and focus. It's relatively easy to use.
The XA2 Ultra doesn't offer bokeh / portrait (blurred background) mode. This is a rarity for a smartphone in 2018 and rather surprising, if I say so.
All the main shooting modes are available to the user-facing selfie camera, which is nice. Moreover, the XA2 Ultra includes a second, wide-angle selfie camera for super wide shots. Good stuff.
Everything about the camera is fast, and that's good.
Photos/Video
Sony gave the XA2 Ultra a 23-megapixel camera. The default setting is 20 megapixels at 16:9. If you want the full pixel count you need to switch to 4:3.
The XA2 Ultra takes very good photos in most settings. I was impressed with the majority of shots I took, which were sharp, colorful, and clean. Focus is almost always perfect. White balance and color representation was typically spot on, with only minor deviances. Daytime shots were mostly free of grain or noise, but low-light shots ramped up the grain to near-annoying levels. Exposure was the only real variable. You'll see the best overall results if you switch to manual mode with HDR set to auto, but even Sony's normal shooting mode did a respectable job. The camera definitely has trouble in low-light. It often underexposed shots that competing phones were able to handle.
The main 16-megapixel user-facing camera takes sharp, clean selfies. Images are colorful and properly exposed. The majority of selfies are free of grain, too, which puts it ahead of many selfie cams. The dedicated selfie flash does a good job in low-light situations.
If you want to take some extra-wide selfies, the secondary 8-megapixel camera helps a lot. It's a great option to have, particularly when you're taking a selfie in close quarters or want to include a large group of people.
The phone shoots video up to 4K Ultra HD resolution. The video I captured with the XA2 Ultra was generally good in terms of focus, exposure, and color. It's solid when it comes to video.
Truly, you can use the XA2 Ultra as an everyday camera and video camera without fear of missing or mangling those vital, spur-of-the-moment shots.