Motorola Leaks 3G Updates To Investors
Article Comments 70
Jan 23, 2007, 3:30 PM by (staff)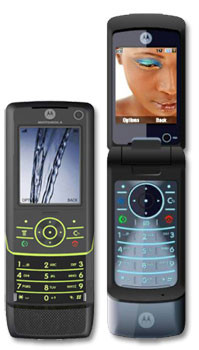 Motorola will be launching 3G versions of a number of popular models as well as introducing the high end SCPL platform this spring, according to a presentation Ron Garriques gave to investors last week. The presentation revealed a 3G KRZR, the K3, as well as a redesigned 3G RIZR called the Z8. In addition the presentation reveals that a GSM/EDGE Q is still on the company's roadmap, and a second generation model, the Q2, will be announced in both HSDPA and EV-DO versions at 3GSM next month. Garriques also mentions the SCPL (scalpel) platform that Motorola has been has talked up for over a year now as a broadband (3G or WiMax) family of handsets.
Moto is just scared!
Moto is just scared because everyone has figured out that their phones are crap. The operating system is a piece of junk and their phones only look pretty. Motorola should just stick to making walkie talkies or something different! They really suck! the iphone also has them running scared too! 🙂
the iphone will not hurt moto production... it is true that moto reception is not the best and that they are very good at making nextel/boost/southern linc walkie talkie phones... but as long as moto can keep up with innovative looks to their devices ...
(continues)
I agree with Mela774. Some of their phones are crap, but then again, every phone manufacturer has a crappy phone somewhere along the line. I've had plenty of Motorolas, as well as phones from other manufacturers, and Motorola had given me the most sol...
(continues)
you crazy ohh the iphone has them scare you moron what this have to do with that remember the iphone its only one phone motorola changed the game of cellphone now every phone have 2be thin so get it 2gether geek iphone its garbage anybody that c...
(continues)
Scalpel??? Cmon now...
Not a fan of that name. Scalpel has a lot of negative associations. When I get a phone, I don't want to think about having knee surgery. Its a more graphic word, and for marketing purposes, I don't think its a good idea.

Now, I know razor can have bad connotations, but it can also have positive ones. When I think scalpel...I ONLY think of surgery or cutting flesh--two things that I don't think should be associated with a phone.

What do you guys think?

Chris
yeah dude, scalpel's freak me out i dont know why. nothing good can come out of that name. i aint buyin the thing!
So doesn anyone know what carrier this phone is headed to? 😳
not for cingular
didnt i read that cingular wasnt interested in video calling and were having carriers remove the external camera >?? if so these phones wont be coming to cingular..
hopefully, moto will keep their MOTOCRAP over away from at&t/cingular. we've had enough of their overpriced, horrible products! 🙂 if the v3i and k1 are $199, what will the 3g devices be? $299 or $399? Pointless for a standard handset (non-PDA)! And t...
(continues)
That doesn't mean they won't simply remove the extra camera for the Cingular version like they did with the V3xx.
imagine the battery life of a wimax scpl
😢 😲
cant wait for those wimax phones to come in 😎
SCPL Series?
So is it not unlike the Samsung Ultra Range?
i agree with you, but the dual antenna might set these apart...who knows?
I wouldn't be surprised if it's the Motorola rendition of the Ultra Series. Samsung really beat them to the punch by matching miniaturization (likely to another extreme with thinner-than-RAZR slimness) with higher end features. I'd bet that this was...
(continues)
SCPL?
Anyone got pics? will this be gsm or cdma or both?
It's a whole platform, kind of like what RAZR became.

SCPL will be a whole family of phones, including clamshells, bars, sliders, spinners, and QWERTY devices.