Review: ZTE Avid 4 for MetroPCS
Hardware Software Wrap-Up Comments
Lock Screen
The Avid 4 has a simple, standard Android lock screen. Press the lock button to wake the display and see the clock and notifications. A basic Active Display tool briefly flashes incoming notifications on the lock screen as they arrive.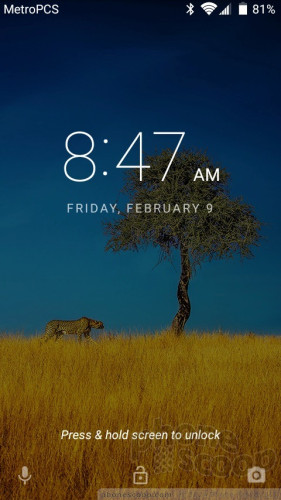 In terms of security, you'll have to be happy with a PIN, password, or pattern; there's no fingerprint reader.
Advertisements article continues below...
Home Screen
The Avid 4 runs Android 7 Nougat with minimal tweaks from ZTE.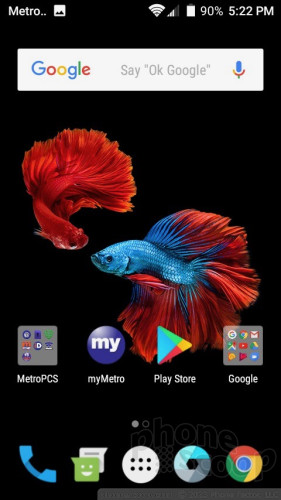 The home screen panels behave just like any other Android handset. Feel free to change up your home screens with wallpapers, app shortcuts, and widgets to suit your preference. MetroPCS did plaster them with branded apps and widgets, but it's not too much work to push them aside.
The app drawer, settings menu, and Quick Settings shade all rely on the standard Android experience. They're easy to sort through and master.
The capacitive keys below the screen are back, home, multitask, but you can swap back and multitask if you're used to the Samsung layout. I like that you can adjust the font and icon sizes, which lets you fit more content on the screen if you wish. The only issue is that the Avid 4 limits you to two icon sizes: (too) small and (too) large. A middle option would be great.
The Avid 4 has a Snapdragon 210 processor clocked at 1.1 GHz with just 2 GB of RAM. This phone is painfully underpowered. It often feels slow or bogged down. Apps are slow to open, screen transitions are gummy, and the phone skips and stutters its way through animations.
Camera
The quickest way to open the camera is to rapidly press the lock button twice. The app opens quickly for this class of phone. You can also open it via the lock screen shortcut. It takes about 1.5 seconds to open.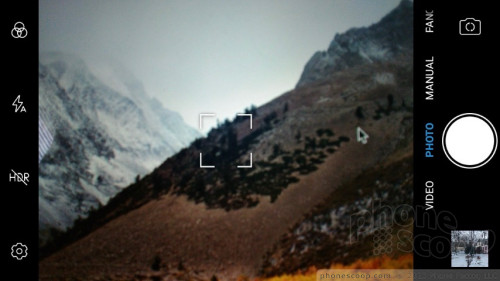 I like that you can set the flash to on, off, or auto, but the HDR function only lets you toggle it on or off (no auto). The Avid 4 has four shooting modes: auto, video, manual, and panorama. Each functions about how you might expect.
The manual mode lets you to take just a little more control. It allows you to adjust white balance, ISO, exposure, and time-lapse intervals. There's no way to adjust focus or shutter speed, which is a total bummer. The manual mode includes a tool to help ensure the shot is level.
The selfie camera includes an adjustable brightness tool to help make up for the lack of a flash. You can also set it to snap a photo automatically when you smile.
The Avid 4's camera is relatively straightforward to use. Most people will figure it out in a minute or so. But I wish it were faster. A lot faster.
Photos/Video
The main camera has an 8-megapixel sensor and it's not very good. Everything is a bit rough.
Focus, exposure, and white balance are inconsistent. At best you'll get two out of three in a single picture, almost never all three together. Shots taken indoors are soft and horrifyingly grainy and the flash does little to help. You can see in the clock and bust below just how bad it is. Outdoor shots had a better chance of looking clean. You'll see clearer photos with better color and exposure, though focus still comes across as somewhat soft. I would not use the Avid 4 as my main/only camera.
The 5-megapixel selfie camera is pretty bad. It produces soft, grainy shots that I'd probably not share with anyone.
Selfie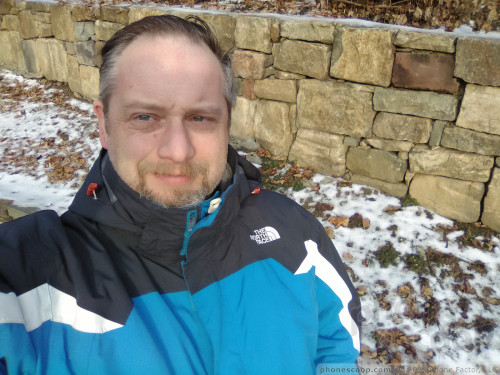 Selfie
The phone captures up to video up to 720p HD and is mixed. I found the stuff I shot outside looked fairly decent. Shooting video indoors is pretty much useless, thanks to grain and poor exposure.