Review: Edifer MP200 Bluetooth Speaker
Article Comments
Dec 14, 2017, 7:00 AM by Eric M. Zeman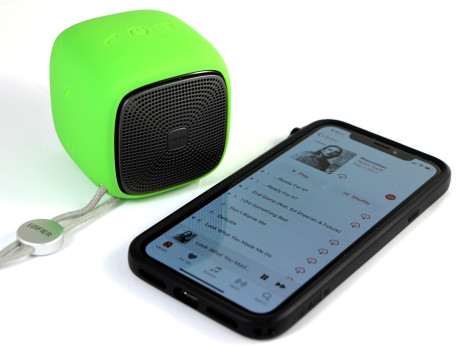 If you want a Bluetooth speaker that's small, portable, powerful, and fun, the Edifer MP200 may fit the bill. This simple compact music maker includes a few unique features that set it apart from other inexpensive offerings. Here is Phone Scoop's review.
Advertisements article continues below...
Background
Bluetooth speakers come in all shapes and sizes, and range in price from a few Hamiltons to a few Benjamins. Edifer has a range of products that cover the gamut from small to large, and cheap to holy-cow-how-much?!?
The MP200 is incredibly affordable at just $35.
Hardware
The Edifer MP200 is one of the smallest Bluetooth speakers I've had the opportunity to review. It is cube-shaped and measures just 2.7 inches on each of its sides. The corners are gently rounded off so there are no sharp edges. The front and rear surfaces have a gray, plastic grille while the rest is wrapped in spongy rubber. You could easily play catch with this thing. The MP200 comes in seven different colors. I rather like the green (my daughter calls it the Mike Wazowski speaker).
Face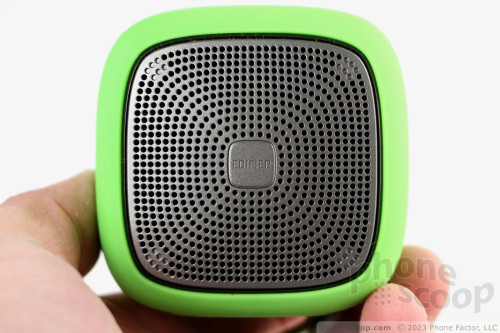 Face
The size makes the MP200 highly portable. You can easily drop it into a backpack, purse, or satchel. The rubber feels rather tough. Edifer doesn't suggest that the MP200 is rugged, though it is rated IP54 for protection against dirt and a light splashing. You can put it next to your hot tub and not worry about a few drops of water landing on it.
Angle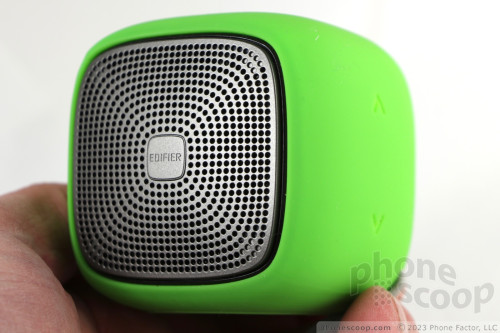 Angle
You'll find basic controls spread around the speaker's surfaces. The power button is located in the center of the top surface. It's flanked by a play/pause button on the right and call answer/end button on the left. All three of these buttons require some pressure to use. The volume up/down buttons are on the left edge of the speaker. They are far apart, so you won't accidentally tap one when you mean to press the other. Oddly, you have to press the play and volume-up key to skip forward a track. This move requires two fingers and is awkward at best.
Top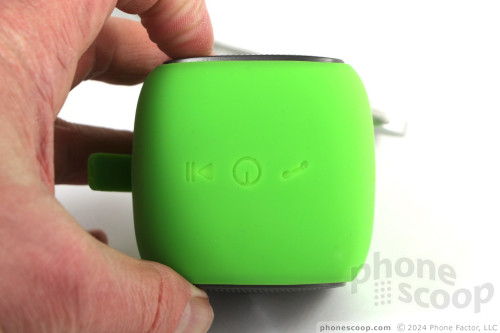 Top
The ports are all on the right side. A large hatch keeps the ports safe from water and dust. Under it, Edifer hid the microUSB charging port and microSD slot. Yes, this puppy takes memory cards. Unfortunately, there's no 3.5mm input jack.
Hatch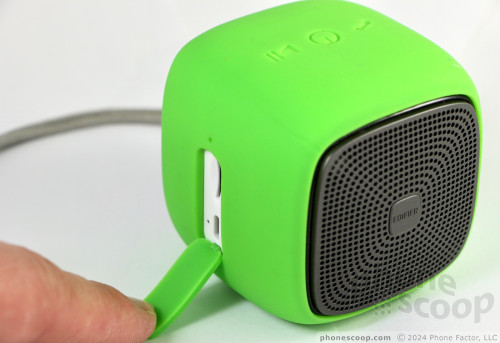 Hatch
A small multi-color LED above the hatch lets you know the speaker's basic status.
A lanyard is attached to the lower front corner of the speaker. This is really helpful if you want to hang the speaker on a nail in your garage, or swing it around like a bola while listening to music.
Front with Lanyard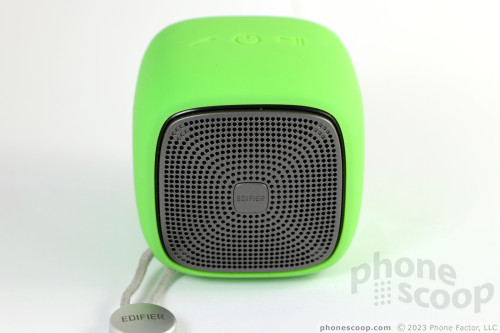 Front with Lanyard
Performance
Pairing your phone with the MP200 is as easy as it gets. Long-press the power button and keep holding until you hear a chime. That means the speaker is in pairing mode. From there, use your phone's menu to pair and connect. I connected the MP200 to a variety of handsets with no issue. It can be paired with up to two devices at a time, such as a tablet and phone, or phone and laptop.
Left Side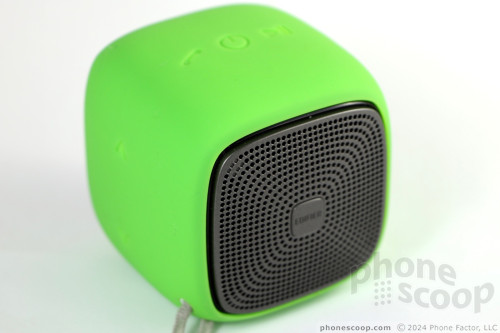 Left Side
The Bluetooth 4.1 radio supports the standard range of 30 feet. Once you step beyond about 35 feet the connection will waver and drop. I appreciate that you can take phone calls through the MP200 if someone rudely interrupts your jam session. A quick press of the dedicated call button pauses music and accepts the call.
The MP200 may have two speaker grilles, but there's only one 2-inch driver inside. It has a somewhat limited frequency response range of 150 Hz to 14,000 Hz. (Many speakers and headphones offer a broader range of 20 Hz to 20,000 Hz.) The MP200 pushes out about 30 dB at 5.5 watts.
Profile
Profile
The MP200 relies on the basic A2DP protocol for streaming music from your phone, which — combined with the frequency response, — means you get a compressed-sounding experience from the speaker. Lows aren't very low, and highs aren't very high. It should sound decent to regular folks who don't have a fine-tuned ear for quality, but audiophiles may be disappointed. My kids thought it sounded great, and maybe that's who this speaker is for.
This little speaker is noisy. The MP200 works well indoors, but not as well outdoors. It produces ample sound to fill a bedroom, kitchen, or living room with music. Making dinner? Fire up your tunes while cooking and enjoy! I wasn't as impressed when using the MP200 outside. The single, front-firing driver means the sound is spread in a more directional nature. Moreover, the wattage wasn't quite enough to push the music as far as I wanted it to as I walked up and down my driveway. It's fine if you're sitting near it at an outdoor table, or poolside, but not for larger outdoor spaces such as a backyard.
The driver is prone to some distortion when pushed to maximum volume. Since there's no app associated with the speaker, you're on your own to tweak how the music sounds via your phone's built-in music app. I was able to make some adjustments to account for the MP200's limitations. Softer music, such as jazz, acoustic, or orchestral selections sounded best. Anything with a lot of bass caused the driver to get a bit flubby.
Right Side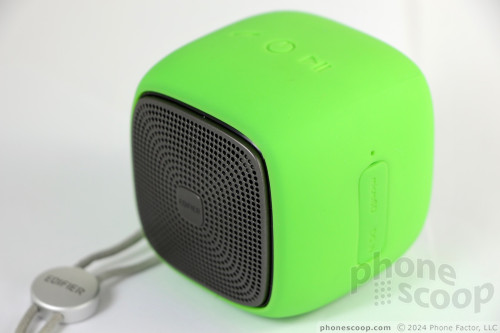 Right Side
You can insert a 32 GB microSD card into the MP200's memory card slot, if you wish, and hit play. At a minimum, it supports AAC and MP3 files. The speaker will them zoom through all the songs in the order they're listed in the card. There's no shuffle mode. I mean, it's a neat way to keep several thousand songs available in the speaker all the time, but with no fine-tuned playback mechanism it can get tedious because you'll hear the same songs in the same order.
Hatch Markings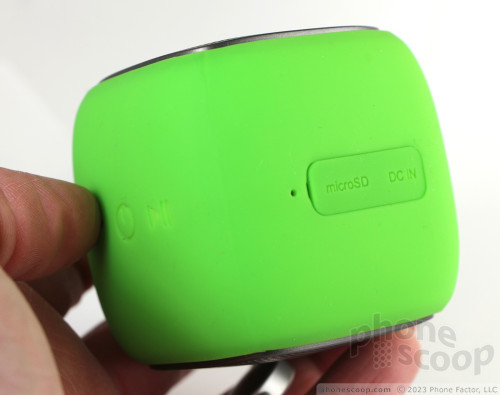 Hatch Markings
The MP200 supports audio input through the USB port. For this, you'll need to plug the speaker into a laptop. It's a curious option I don't recall seeing on any other speaker I've reviewed. It doesn't quite make up for the lack of a 3.5mm input jack, but I suppose it's the next best thing for laptop owners. The benefit here is that the speaker will charge while you listen.
Ports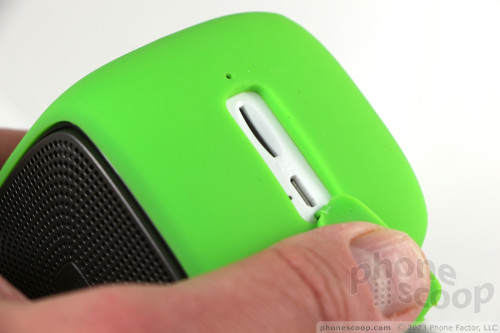 Ports
Last, battery life. Edifer doesn't say how large the internal battery is in mAh, but it does last for the full advertised 12 hours. That means you can rock out for half a day on a single charge. The speaker takes about two hours to charge fully.
Discussion
For $35, it's hard to go wrong with the Edifer MP200. It's limited in features and performance, but that's to be expected at this print point. (It's on sale this month for just $29). I'd suggest the MP200 is best for kids who want to listen to music at home or share it with their friends. Maybe a last minute stocking stuffer is in order. More discerning listeners might want to spend a little more on a more well-rounded product such as the UE WonderBoom.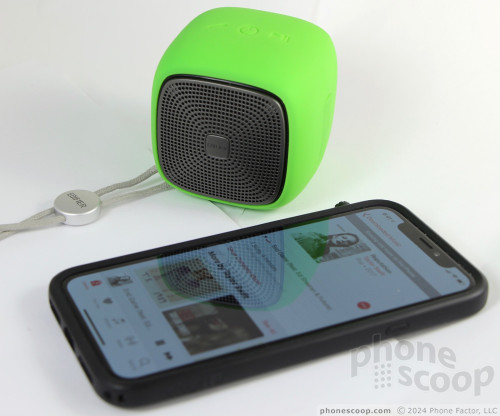 No messages