Review: ZTE Axon M for AT&T
Hardware Software Wrap-Up Comments
The ZTE Axon M is a curious beast of a phone. There's no question ZTE attempted to pull off something ambitious here, and yet I don't think it quite succeeded.
Top and Bottom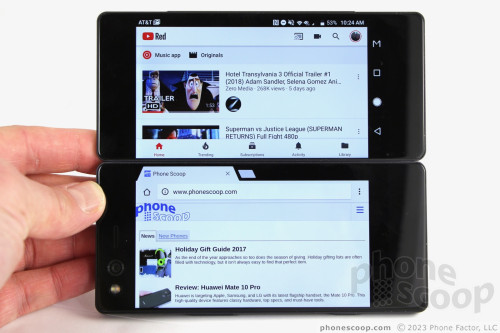 Top and Bottom
The Axon M is quite heavy and bulky. Many may find it's just too much phone, despite ZTE's attempts to keep the footprint in check. I can't find fault in the metal-and-glass materials, though I worry a lot about the longevity of the rear glass. The twin HD displays are fine on their own and do an admirable job of working together with the phone is open. I wish it weren't to awkward to use when its wings are fully extended.
AD article continues below...
ZTE provides all the clues you need to successfully put the two screens to use. Even so, the experience is a bit uneven. Not all apps support the extended modes and the hardware sometimes gets in the way.
I'm glad that most of the software is straightforward Android, but the camera is a disaster thanks to the constant flipping back and forth. I wouldn't mind so much if the phone took stellar pictures. Instead, it does only just well enough.
The biggest hurdle facing the ZTE Axon M is the price. It costs a whopping $730. That's as much as (or more than) appealing flagships from Samsung, LG, and even Apple.
I would only recommend the ZTE Axon M to people who really want something different, or know they'd find the multi-screen experience particularly useful. Otherwise, your money may be best spent elsewhere.