Review: Alcatel Idol 5 for Cricket Wireless
Hardware Software Wrap-Up Comments
Lock Screen
The Idol 5's lock screen strays only a little bit from the stock Android handset. It includes up to five app shortcuts at the bottom of the lock screen, rather than the usual two. You can fully customize which apps appear at the bottom of the screen, which is nice. Alcatel calls these "Func shortcuts" and has a whole UI for adjusting them. You can turn them off completely if you wish. Tap the shortcut you want to open, unlock, and the phone opens the app quickly.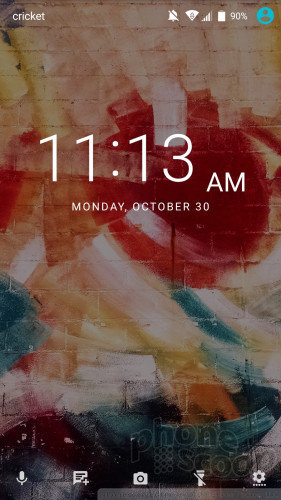 There is no advanced active / ambient display on the Idol 5. You have to wake the screen (pressing the weirdly-located screen lock button on the left edge) to see notifications, which appear below the clock. You can dismiss notifications one at a time from the lock screen, or en masse if you unlock the phone. The clock is really big and easy to see.
Advertisements article continues below...
Security options are limited to PIN, pattern, and password; there's no fingerprint reader. The Idol 5 does support the Android Smart Lock tools, which you can configure to keep the phone unlocked when you're at home, for example.
Last, the Idol 5 supports lockable files and folders. You'll have to use a PIN or password, but it's a nice option to have, if you want to prevent easy access to sensitive stuff.
Home Screens
I appreciate Alcatel's move to adopt the stock Android experience on its most recent smartphones.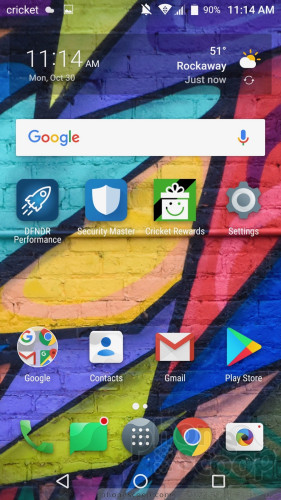 On the Idol 5, home screens, the quick settings shade, app drawer, and settings menu all look and act like they do on Android 7.0 as designed by Google. The one obvious change I noticed is that the app drawer allows you to rearrange the apps however you prefer, as well as easily delete them. That's a nice addition.
The Idol 5 has one neat trick up its sleeve: the UI is reversible. In other words, no matter which way you hold the phone, the user interface reorients itself so you're not looking at everything upside-down. This is a signature feature of the Idol series. If you do hold the phone upside down, the side buttons are even harder to reach and more awkward to use. This is particularly true of the screen lock button, which is now in the very bottom corner on the right. You can turn this feature off if you want. It is useful, however, for answering phone calls. Thanks to mics and speakers at both ends, there's no wrong way to answer a call on the Idol 5.
Then there's the Now Key, which is fully customizable. By default, pressing it opens the Func app. Basically, three app shortcuts will pop out, forming a semicircle on the screen next to the button itself. They are the flashlight, camera, and calculator, but you can configure which three Func apps appear. Alternately, you can map the button to open a single application, such as the camera. Last, you can turn the Now Key off entirely.
Performance is middling at best. The Idol 5's 2.4 GHz MediaTek Helio P20 processor struggles a lot with processor-intensive tasks, such as downloading and installing apps from the Play Store. The meager 2 GB of RAM doesn't help. I'd like to see much quicker performance from this device, but it doesn't quite deliver. My guess is owners will sometimes find themselves frustrated with the Idol 5's lack of spritely speed.
Camera
The Idol 5's camera opens quickly enough, but the app runs somewhat sluggishly. I found it mildly frustrating to use.
The camera interface is crammed with stuff, especially on the right side. Pressed up against the viewfinder you'll see a (sideways) scrollable list of shooting modes called out in text, sort of like the iOS camera. There there are four buttons (front camera, filters, shutter, camera roll), followed at the far right edge by the Android nav buttons. It's too many buttons jammed into too small a space.
The controls on the left include the flash (on, off, or auto), the timer, HDR (on, off, or auto), and the shooting modes.
The Idol 5 includes a significant number of shooting modes, but the interface is terrible. No matter how you happen to be holding the phone, the UI for selecting the shooting mode is displayed in portrait. This bugs me a lot. The modes include slow-mo, video, photo, pano, manual, micro-video, 360 pano (like Photo Sphere), cinemagraph, insta-collage, and light trace.
Like the iOS camera app, each of these modes is accessed by swiping the viewfinder back and forth. It's incredibly slow to switch shooting modes. You can customize which four are accessible from the camera's main viewfinder, which is a nice touch. Most of the modes work as you'd expect them to.
Manual mode allows you to adjust focus, white balance, exposure, shutter speed (up to 1/4 of a second) and ISO.
Micro-video lets you create a longer video from a series of shorts. Using the UI, you dial in either 15 or 60 seconds of capture time and you have to hold the video button down to snag the video. After you've assembled some clips, you can edit them to publish a longer work. It's fun and clearly aimed at Instagram/Snapchat-driven creative types.
Instant collage allows you to take several pictures and put them together into a single image. (Sort of like Layout from Instagram.) There are five options: two vertical photos together, two horizontal photos together, three horizontal photos, three vertical photos, and four photos arranged in a grid. Like Layout, the final image is square in shape. I like this option.
Last, the Light Trace mode would seem to make up for the manual mode's limited shutter speed range. It's specifically meant to help create longer exposures, to capture nighttime cityscapes, light trails, and the like. You can also use it during the day to capture moving water, etc.. It takes some practice to master. I highly recommend a tripod or something similar.
Speed is the camera's biggest problem. It's a hair too slow to do everything: focus, shoot, save images, adjust modes, etc.
Photos/Video
The Idol 5 has a 12-megapixel main camera and it's decent for this class of device. Basics such as exposure, focus, and white balance are generally accurate. Sometimes one of these three will be a bit off, but not by too much. If anything, it's likely to be exposure. Even with the HDR setting on, the Idol 5 had a hard time balancing contrast-y environments. Outdoors, when you have plenty of light, you're more apt to obtain good shots.
If you're a Snapchat fanatic or selfie lover, the Idol 5 does just well enough to get the job done. The 8-megapixel front camera is fairly good at snagging selfies, though they often tend to be a bit soft with respect to focus. The front camera does manage to do well with exposure and white balance. The screen-based flash is helpful when shooting in really dark spaces.
The Idol 5 can record video up to full HD, and it does a pretty steady job of it. The videos I captured were properly exposed, showed good color, and came across sharp.
I'd call the Idol 5 ideal for everyday photography, particularly for casual users, but it's not the best option for advanced photo buffs.
Alcatel / Cricket Stuff
The most noteworthy app is Color Catcher. Using the camera, you can capture colors in your environment and the Color Catcher app will automatically generate a theme based on that color. It actually works really well. I tested on a red Solo cup and it created the perfect red theme. Beyond the color-matching trick, Color Catcher also manages themes, widgets, icons, wallpapers, and other tools you might use to customize the phone.
Cricket includes its Deezer service. Deezer works pretty well. $6 per month gets you unlimited music streaming on your Cricket phone. If you don't mind paying $10 per month, you'll gain things like offline playback and access from more devices. The service has millions of songs and a pretty good user interface.