Hands On with the Alcatel Idol 5 for Cricket
Article Comments
Sep 28, 2017, 3:00 PM by Rich Brome
The Alcatel Idol 5 is a $200 Android phone with a premium design carved from metal and curved glass. It has a few unique features like a reversible display and a theme creator that uses the colors the camera sees. It also has a few extras like stereo speakers, USB-C, and NFC. It's also designed to work with a new VR headset from Alcatel. We check it out in person and share our impressions in this hands-on.
The design of the Alcatel Idol 5 is both refined and distinct. It has a solid metal body that feels premium and refined. The glass on the front has a large curve at the sides, something usually only found on higher-end phones. Shiny chamfers give the phone a bit of sparkle.
A lot of phones these days have metal and curved-edge glass, and even chamfers, but the way everything is put together on the Idol 5 is really just about perfect. This feels like a much more expensive phone. The way the drilled speakers peek out from under the front glass at the top and bottom is an attractive and unique design touch that gives the phone some character.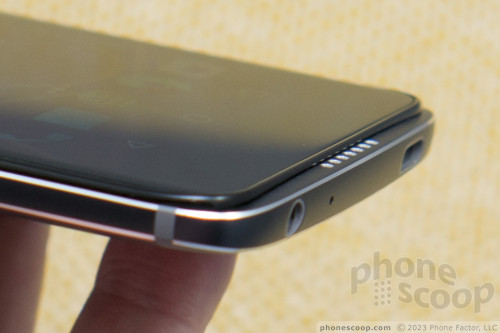 The phone is a good size and weight. The curved shape of the back helps the phone feel very thin.
The build quality is excellent. The phone feels 100% solid, yet very comfortable. The matte texture of the metal feels wonderful. The plastic antenna lines feel completely seamless.
The lock and volume buttons are thin, but work well. The round "Now key" (shortcut button) on the side — which can be customized to perform different actions — is difficult to press, but at least that means you won't press it by accident and activate VR mode or the camera while the phone's in your pocket.
The display is decent, offering full-HD resolution at a 5.2-inch size. Brightness and viewing angles are fine — but not great — for an LCD screen these days. Like previous Idol phones, the whole phone is reversible, meaning if you pick it up upside-down, the screen will flip — along with the active speaker and microphone — so you won't even notice.
USB-C with fast charging is appreciated, as is the 3.5mm audio jack. The stereo speakers have a dedicated amp for extra oomph and face forward. The main camera clocks in at 12 megapixels and the front is 8. I'm glad to see NFC (supporting Android Pay) — that's not a given at this price — but it's a shame there's no fingerprint reader.
The processor is a MediaTek P20, which uses an advanced 16nm FinFET process, meaning it should deliver excellent efficiency. There's only 2 GB of RAM; I'd love to see 3 GB, but 2 GB is expected at this price point right now.
The software is very standard Android in many ways, such as the basic functionality, notification shade, and settings. The important tweaks are a few extra shortcuts on the lock screen, a special theme creator, and an advanced camera app.
The extra shortcuts on the lock screen — there are five total — let you jump right into recording a voice memo or activating the flashlight, for example. You can also assign any of these actions to the dedicated "Now key" on the right, for even faster access. I might make it a camera key, but you could make it a new-email key or a Snapchat key.
The Color Catcher app lets you create your own theme for the whole interface by simply aiming the camera at the colors you want to use. You can use the colors in your favorite room or artwork, something from a magazine that catches your eye, or even the outfit that you have on that day. It's very easy to use and works well. This is a really fun feature. Although since it re-colors all of your app icons, you might get lost trying to find your favorite apps after you change the theme.
The camera app is where Alcatel has put the most effort. It resembles the camera software of a much higher-end phone.
Crucially, it's very easy to use. The main viewfinder is copied from Apple's camera app. (Although everyone else copies it now, too. That's just how camera apps look now, I guess.) Everything else is in the Modes screen, which has a very nice menu of modes, plus an option to customize that screen, and nice big button for the rest of the settings.
The selection of modes is excellent, including standards like panorama, manual, and slow-motion, but also options like 360 Photo, Instant Collage, and Light Trace.
It also has Cinemagraph mode, which lets you create short videos with motion limited to just one area, which limits the file size so they're easy to share. It will intelligently highlight an area of motion, but you can customize it for perfect results, or get creative for more fun results. It works well and is fun to use.
My only gripe with the camera app is that parts of it — the Modes screen in particular — only work on portrait orientation. Having to rotate the phone to pick a mode is annoying.
VR with the UNI 360 goggles
Finally, there's the VR functions. The Idol 5 is designed to work with Alcatel's new UNI 360 VR goggles. They're nicer than good Google Cardboard goggles, but a step below Samsung's Gear 360 or Google Daydream.
The setup is Cardboard-compatible, but it's Cardboard on steroids. It has two buttons instead of one and is cleverly adjustable to fit a wide range of phones.
If you're using an Idol 5 or 5S, you can run Cardboard apps through Alcatel's special VR Home app instead of the Cardboard app. Alcatel's app adds two very neat functions: Live Notifications and Pass-Through Camera. Live Notifications lets you see incoming messages, notifications, and incoming calls right in the VR environment, and even answer calls. Pass-Through is a kind of mixed-reality mode that lets you see the room around you using the camera, so you don't have to remove the goggles to see what's going on around you.
I tried the UNI 360 with the Idol 5, and mostly liked the combo... at least at this price point.
The Idol 5 is a bit underpowered for smooth motion; there's a reason Google Daydream requires a high-end processor. But I got over the jerky frame rate quickly. The same is true for the low screen resolution; Full HD is great for normal viewing, but VR goggles are like a microscope; you'll be staring at huge, obvious pixels with this screen. And the square shape of the pixels on this LCD panel makes them even more obvious. But after a few seconds, you'll probably stop noticing. VR content content can be very engaging that way.
These issues should go away if you use the UNI 360 with a higher-end phone. Unfortunately, you can only use the VR Home app on an Idol 5 or 5S at the moment. Even with the Idol 5, this combo is not a terrible VR experience for the price.
Crucially, the UNI 360 didn't screw with my eyes too much. Most Cardboard goggles force my eyes to focus at the wrong distance, making my eyes hurt and making me feel blind for a minute after I'm done. I didn't have that problem with the UNI 360.
All in all, the Alcatel Idol 5 has a truly premium design that punches above its weight, and a variety of thoughtful and well-executed features that add a lot of fun. It seems like a good value for $200. We look forward to doing a full review.
The UNI 360 VR goggles will sell separately for $50. They're designed to work with any phone with a screen between 5 and 6 inches.
No messages