Review: Asus Zenfone AR for Verizon Wireless
Hardware Software Wrap-Up Comments
Lock Screen
The lock screen could be better. To start, there's nothing like an Always On / Active Display. This has become a table stakes feature on flagship phones as far as I am concerned. I like to be able to glean the time, weather, and basic notification alerts without touching or otherwise interacting with my phone. I found no joy on that front with the Zenfone AR. The screen is always dark.
Press either the home button or screen lock button to wake the display. The lock screen does show you the time and weather along with app shortcuts and simple notifications. Oddly, the clock and app shortcuts are all bunched up in the upper left corner of the display. I don't really care where the clock is, but the app shortcuts would be easier to use if they were positioned at the bottom of the display. You can customize which three apps are accessible from these shortcuts. A shortcut to the camera is always available on the lower right corner.
AD article continues below...
On the security front, the Zenfone AR has you covered. The front-mounted fingerprint sensor is easy to interact with. I was able to set up multiple prints and the reader confirmed them quickly and consistently. If biometrics isn't your bag, you can opt for the PIN, pattern, or password options.
Home Screens
Asus has coated the Zenfone AR's Android Nougat operating system with a tolerable UI skin. The home screens behave like most Android handsets. Out of the box you're going to see a lot of Verizon apps and widgets pre-installed on the home screens, but you can toss it all and customize them however you wish.
The Zenfone AR includes an app drawer. Verizon and Asus packed the app drawer with folders and most of the installed apps are hidden within. That makes for a clean app drawer, but of course you can organize it nearly however you want. Apps can be arranged alphabetically, by download date, by frequency of use, or in custom order. I appreciate that you can alter the grid size and hide the bloatware that Verizon loaded on the phone.
The Quick Settings shade and full settings menus are much more colorful than stock Android thanks to Asus's interface skin. The large icons and pleasing tones leave the usability of these tools intact. As always, you can edit the Quick Settings panel. The settings menu is arranged as expected. You can adjust the size of icons and fonts, as well as most everything else.
ZenMotion is Asus's gesture-based UI tool. It's off by default, but you can switch it on and use it to control various functions of the phone. For example, double-tap to wake the display or turn it off, or draw a "W" on the screen (when off) to open the weather app. You can draw an "S" to open the selfie camera or a "C" to open the main camera. Or, if you wish, customize which letters open which apps. These work well, but I can't say they are any faster than using the lock screen shortcuts.
The Zenfone AR includes a Qualcomm Snapdragon 821 processor with 6 GB of RAM. This is a good combination. The 821 is a fine processor, and is the same chip found in LG's G6 flagship handset. The Zenfone AR has more than enough power to handle augmented reality and virtual reality applications, which means normal operation is incredibly quick.
Camera
The camera app is quite something.
You can open it several different ways: double press the up volume toggle, use the lock screen shortcut, or tap the home screen icon. It opens swiftly.
The viewfinder is fairly typical for most phones. You'll see some basic controls (flash, HDR, selfie cam) on the left, the viewfinder in the middle, etc. The camera defaults to Auto mode. You can toggle the flash and HDR to on, off, or, auto, which I appreciate. There's a toggle for jumping between auto and manual modes. As to be expected, the manual mode lets you take control of just about every aspect of the camera's behavior.
Then there are the shooting modes. The Zenfone AR has 17 (seventeen!) different shooting modes: auto, manual, HDR pro, beautification, super resolution, children, low light, QR code, night, depth of field, filter, selfie, pano, miniature, time rewind, slow motion, and time lapse. The majority of these shooting modes operate as you expect them to.
The "children" mode will snap a shot when it sees your kids' pearly whites. This mode doesn't function very consistently.
Miniature mode is meant to help you make the subject pop, sort of like bohea. It allows you to adjust three parameters: zoom, color saturation, and exposure. Select the item you want to highlight, dial in the rest of the settings, and snap the shot. It will make the subject pop and push everything else in the background far away. The results vary widely depending on how you tweak the three sliders. Here is a look at what it looks like to use the app and the results you'll get.
The depth-of-field tool, which utilizes both cameras, works really, really well. Focus on something close by with something else in the background. You can then select how sharp the background focus is after the shot. I dig it.
The settings allows you to fully customize how the camera operates and what its base functions do (resolution, picture quality, etc.)
The camera is very fast. I didn't have any problems with it at all with respect to performance.
Photos/Video
Asus gave the Zenfone AR a 23-megapixel main camera with an aperture of f/2.0. A secondary rear camera helps with focus, contrast, and exposure, but doesn't produce stand-alone images (such as wide-angle or telephoto).
I was pleased with the quality of photos I captured with the Zenfone AR. The majority of images demonstrated sharp focus, good exposure, and accurate white balance. When used as a regular old camera in everyday environments, the Zenfone AR is on par with many of today's top phones. I didn't see any glaring issues or problems to give me pause. It's a fine camera.
The selfie camera automatically activates the beauty mode. It's intense. Not only can you control the amount of skin smoothing, you can add blush, add effects to change the shape of your face, and dial brightness up and down. A screen-based flash helps illuminate shots in the darkest environments. The selfie cam takes very good photos. I think selfie enthusiasts will be pleased with the results.
Whether time-lapse, slow-motion, or plain old 4K video is your druthers, you'll be pleased with video the Zenfone AR produces. Focus, exposure, and color all looked great.
Asus did a great job with this phone's camera and video camera.
Project Tango
Project Tango relies on the Zenfone AR's cameras and sensors to scan the surrounding environment, create 3D maps, and then place or overlay content on top. The result means you can stick a virtual lamp on your bedside table to see if it matches the decor, or interact with dinosaurs in your living room.
This all differs a bit from Google's recently announced ARCore. In essence, ARCore can roughly measure two dimensions (length and width), but Project Tango adds height for a third dimension. It also takes accurate measurements. This makes a world (literally!) of difference. Virtual objects are actually displayed to scale, and objects can be anchored to the walls or ceiling. You can't currently do that without Tango's depth-sensing hardware.
The Project Tango apps and content haven't changed much since I first reviewed them last year. In fact, the only difference is that now a few more apps are available for download.
Only a single AR app is pre-installed: Measure. As the name implies, Measure is a tool for measuring distances. It's a digital measuring tape that you can use to estimate the distance between points. You can measure straight lines, or multiple lines (forming shapes like squares or triangles), to determine the total length of and/or around something. It doesn't do circles or curves. It's an awkward tool to use at best. The software automatically looks for straight edges and angles to help you set the dots and lines more accurately, but it's flighty, especially if there are patterns or contrasting surfaces/lines in the path you're attempting to measure. It's accurate about 75% of the time.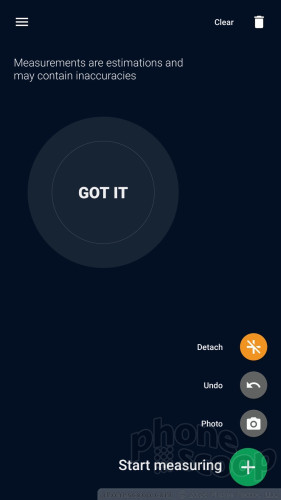 The app called "Project Tango" is actually just a storefront for AR apps. You need to download each one individually. Given that some AR apps are huge in size (>1GB), I can accept that the phone doesn't come with any AR apps preloaded: I'd rather select my own, thank you very much. While the selection is better than before, it's still relatively slim.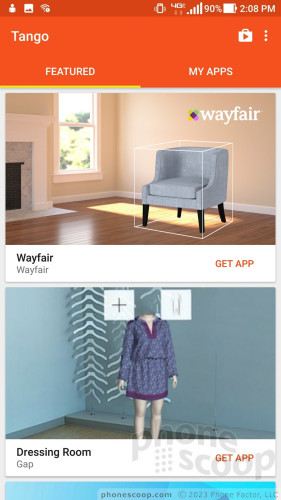 I won't bore you with rehashes of the Dinosaurs Among Us, Wayfair, Lowes, or the Holo apps. Some of the new ones include BMW i Visualizer, Chelsea Kicker, MagicPlan, and Domino World.
Some apps, but not all apps, take a few beats to map the immediate area, whether that's your office, living room, or basement. The apps coax you to move around, rotate the phone, point it at the walls, the floor, the ceiling, etc. You can see a grid appear on the screen as it starts measuring and drawing polygons.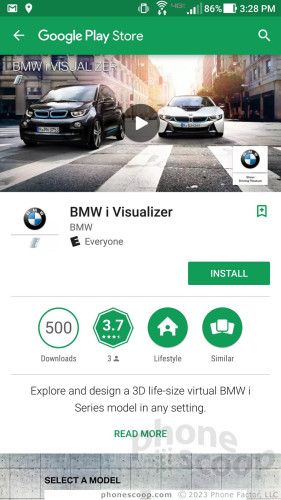 The BMW i Visualizer app is neat and depressing at the same time. It lets you "visualize" what a BMW i3 or i8 would look like in your driveway. You can flip between the interior and exterior color options, as well as select the wheels you prefer. I mean, I get it; it's a way to have some fun toying with the idea of buying an expensive car.
Perhaps a more helpful AR app is Amazon's Product Preview app. This one allows you to shop for a television set and check to see if it will fit in the space you have available. Check out what an 85-inch TV set looks like in my living room wall.
Then there's iStaging, which is sort of like WayFair. You use it to select home furniture items, such as lamps, tables, and chairs. You can then preview what they look like in your living room. I', not sold on the way this couch looks, which doesn't quite fit my home's decor.
Then there's a Gap AR app that lets you preview a handful of outfits. I wish there was a much wider selection of clothes in this app. Moreover, I wish you can somehow overlay the outfit on yourself. Instead, the app merely conjures up a mannequin in your home to show you what the outfit looks like.
I like the base apps offered for Project Tango, but I expected a lot more progress to be made in the wide gap since I last looked at a Tango handset. We have a long way to go. Given the hardware requirements of Project Tango, perhaps ARCore (which doesn't have hardware requirements) will coax more developers to explore AR apps. ARCore includes support for Tango hardware and the better experiences it provides, so it could really jump-start things.
Daydream
Daydream is Google's VR platform. It requires a Daydream VR headset, which is available directly from the Play Store or Verizon and/or Best Buy stores. What I like about Daydream is that it includes a hand controller. (Google's early VR effort, Cardboard, did not include a controller.) Daydream content is readily available, and the Zenfone AR ships with all the necessary software.
I dropped the phone in my Daydream headset and was immediately greeted by the familiar tutorial meant to help you orient yourself to Google's virtual world. It walks you through the basics of using the controller, finding apps, photos, and videos, and even discovering your own 360-degree content.
On the Zenfone AR, Daydream performed on par with every other phone that supports the platform. It does warm up, and will sap battery life noticeably, but Daydream works just as well on the Zenfone AR as it does the growing number of compatible phones.