Hands On with Marshall's Wireless Speakers
Article Comments
Aug 31, 2017, 3:13 PM by Eric M. Zeman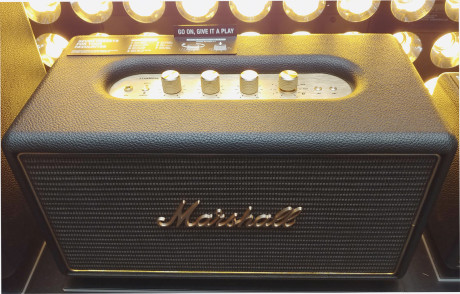 Marshall Headphones, a division of Zounds, debuted a trio of new wireless speakers today. The company took its Acton, Stanmore, and Woburn speaker cabinets and added WiFi radios, giving them incredible powers for streaming media from your mobile device. Here's a quick explanation of what Marshall has under the vinyl lining these attractive in-home speakers.
Advertisements article continues below...
If you're looking for the most flexible wireless speaker around, the new series of in-home noise boxes from Marshall Headphones might be right up your alley. Marshall Headphones is a division of Zounds Industries, which licenses the Marshall brand from the UK amplifier company. Marshall headphones has been making wireless and wired speakers for years, though they've always been limited to Bluetooth. The new generation of speakers announced today are an entirely different animal.
Marshall took its well-known Acton, Stanmore, and Woburn boxes and added WiFi and multi-room capability. That means users can daisy chain a number of Marshall speakers together to get multi-room music playback that's in sync. What's most important here is that Marshall was able to license a number of audio streaming technologies, which make the new generation of speakers incredibly flexible. They support Apple AirPlay, Google Chromecast, and Spotify Connect all vie WiFi. This means you can stream your favorite music from iTunes, Google Play Music, Spotify, and other internet-based radio stations directly to the Acton, Stanmore, and Woburn over WiFi rather than Bluetooth. This saves battery life on your mobile device. The speakers also include RCA inputs for your record player, 3.5mm inputs for your MP3 player, and of course Bluetooth if you wish to connect more directly.
What's even more interesting is that the speakers include dial for selecting presets. Using the dial, you can jump from WiFi, to Bluetooth, to AUX, and finally to as many as 7 internet radio stations. Using the Marshall mobile app, set your favorite channels to the presets, select the preset, and boom you're streaming from that source via WiFi. Very cool.
As far as the range of devices is concerned, you'll find the small Acton at the low end. It costs $350 and includes a single 4-inch, full-range speaker. It's great for smaller spaces. The Stanmore has a 5-inch speaker and two 20mm tweeters for fuller sound. It costs $350 and can easily fill an entire room with sound. The Woburn, at $600, is rather pricey. It rounds out the offering with two 5.25-inch speakers and two 25mm tweeters for the fullest-possible stereo sound. All three are capable of pushing out some serious air and deliver incredibly loud, and clear, music. The Woburn, for example, delivers 110 watts of sound.
In the little time we spent with the new Marshall speakers, we came away impressed with how they handle the various wireless connections and switch between sources in an blink.
Marshall says all three will be available for preorder on the U.S. starting September 1. If you're looking for an old-school speaker with modern conveniences, you can do a lot worse than the latest from Marshall Headphones.
No messages