Review: Ultimate Ears WonderBoom Bluetooth Speaker
Article Comments 1
Aug 11, 2017, 12:00 PM by Eric M. Zeman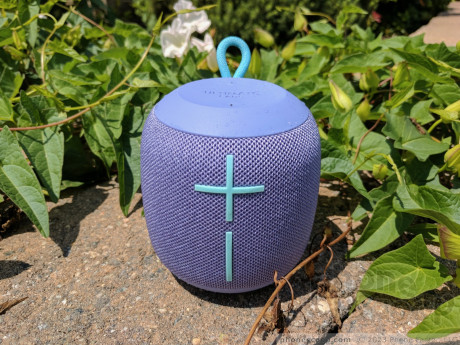 Portable Bluetooth speakers are often great summertime companions, and allow us to add a soundtrack to our warm weather adventures far and near. If you're looking for an inexpensive option to enhance your beach or mountain getaway, consider the WonderBoom from Ultimate Ears. Here's why.
Advertisements article continues below...
Background
In the 1950s, the transistor turned radios into something that could easily be tossed into a beach bag or backpack. Sixty years later, Bluetooth speakers are helping do something similar. With rechargeable batteries and strong connections to our always-with-us smartphones, Bluetooth speakers are portable party machines.
The wave of recent, affordable speakers from the likes of JLab, Ultimate Ears, Bose, Sony, JBL, and others not only let us bring our music wherever we go, but do so without worrying about the speaker itself. Many portable speakers are rugged for protection against abuse and are waterproof (or water resistant) for those splashy days at the pool. Toss in advanced features like chaining multiple speakers together for stereo sound and party-friendly DJ tools for social playlists, and there's no excuse to ignore these fun and life-enriching products.
Ultimate Ears has taken the blueprint from its popular Boom 2 and Roll 2 Bluetooth speakers and merged them into the WonderBoom, a softball-sized speaker that's far more charming and powerful than it has any right to be.
Backyard Party Machine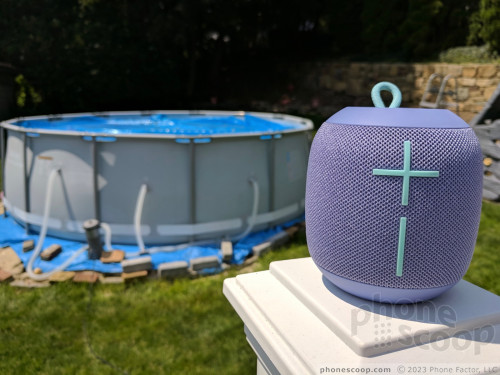 Backyard Party Machine
Hardware
A little design sometimes goes a long way. Ultimate Ears has a wonderful eye for simple and elegant shapes and pairs them with pleasing, yet not over-the-top, color combinations that delight. Last year's Roll 2 — a saucer-shaped speaker — was one of the most unique designs in the market and a good speaker to boot.
The WonderBoom looks a little rotund. If Ultimate Ears took its own cylindrical Boom speaker and squished a bit, you'd get the WonderBoom. It's shaped like a pumpkin. It has flat, hardened rubber surfaces on top and bottom so it will sit firmly on even surfaces. The entire middle section is covered with 360 degrees of mesh that protects the metal chassis. Our review unit is lavender with aqua-colored accents, but the speaker is also available in gray, black, orange, blue, and pink, each with its own contrasting accents.
As noted, the WonderBoom is about the size of a softball. It measures 3.6 inches in diameter and it stands 4 inches tall. It is made from heavy-duty materials and weighs almost 1 pound (15.35ozs). It's not light, but the weight gives it legitimacy and bestows confidence in the build quality.
The controls could be just a little easier to use. Three buttons adorn the top of the WonderBoom, but only two of them are visible. The first is the power button. It's located nearest the front of the speaker and is indented. Press-and-hold for about 3 seconds to turn the speaker on or off. The second is the pairing button. It's located nearest the back of the speaker and is raised a bit. Both these buttons are barely the size of a pencil eraser. I'd prefer if they were slightly bigger. Further, travel and feedback of these controls is a bit tight.
Top Controls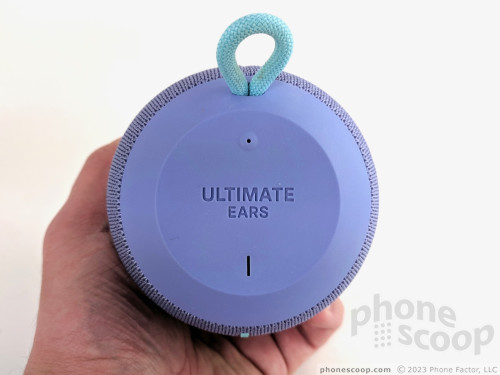 Top Controls
The third button isn't obvious at all. In fact, the only reason I discovered it is because I read the speaker's quick start guide. The button is buried under the Ultimate Ears logo in the center of the top cap. A quick press will pause playback, while a long press will skip to the next track. Like the other two buttons, travel and feedback is miniscule. Such a basic function should be more obvious. You shouldn't need to read the manual to use a product as simple as a Bluetooth speaker.
The volume controls are a different story. They are clearly marked on the front of the speaker by the oversized and colored "+" and "-" buttons. Press the center of either button to adjust the volume. These buttons have better travel and feedback.
A hatch placed at the bottom of the speaker's rear side signifies the location of the microUSB charge port. The hatch, made of rubber, works well enough. I was able to fit the majority of my USB cables in the opening in order to charge the WonderBoom. Sadly, there is no 3.5mm input jack for a direct (non-Bluetooth) connection to the speaker. That means when the WonderBoom's battery dies, so does the party.
Rear Hatch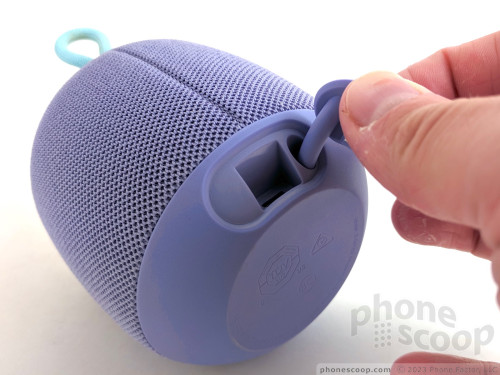 Rear Hatch
Last, a bungee loop is attached to the top surface of the speaker. This lets you hang it from just about anything. I happily listened to music with the Wonderboom hanging in my kitchen, garage, deck, foyer, and more.
Bungee!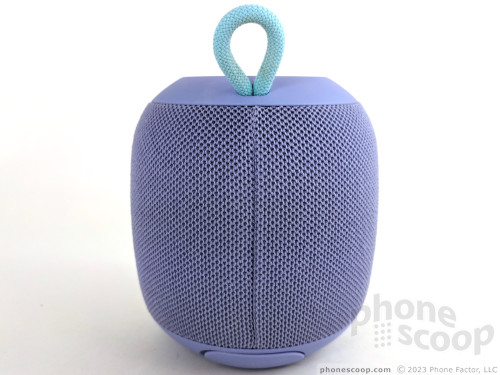 Bungee!
Software
Ultimate Ears' pricier speakers can interact with dedicated mobile apps. The apps allow you to adjust speaker settings (EQ, firmware), setup stereo playback with multiple speakers, and take advantage of DJ and other playback tools. The WonderBoom, being lower-end, does not interact with UE's apps and does not include these more advanced features. That's sort of a let down.
Performance
First up, Bluetooth. The speaker can connect to most any smartphone or tablet. I was able to pair the WonderBoom with a variety of phones with no issue at all. The speaker has a Bluetooth range of 100 feet, and it performed admirably. I dropped the speaker on my deck in the backyard and walked around to the front of my house with my phone. The speaker / phone remained connected to one another from opposite sides of my house, which is made of stone. The music will cut out when you cross the 100-foot threshold, but it resumed immediately once you stepped back into range. Honestly, I was very impressed with the Bluetooth connection. The connection never dropped or wavered while in range.
After a Swim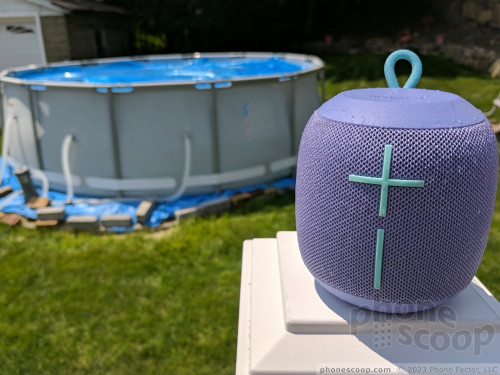 After a Swim
There are some bummers. The WonderBoom does not support voice calls and cannot act as a speakerphone. Incoming calls ring your handset. If you answer the call, you have to take the call directly on your phone. Music playback will pause during your conversation and resume when you hang up.
Further, you can pair two WonderBooms with a single phone, but this does not produce true stereo playback. Each speaker continues to independently offer merged Left and Right channels. Why bother using two together? To spread the sound across a bigger area.
Speaking of sound, the WonderBoom sounds very, very good. The speaker has multiple drivers that deliver 360-degrees of music. It pumps out 86dB of sound, ranging from 80 Hz to 20 kHz.
A few things to note. First off, this speaker requires a bit of run in the very first time you listen. It sounds stiff and muffled out of the box. After using it for about an hour, the sound will begin to open up some. I found it began to sound its best after about two hours of use at high volume. Once you get over this little bump, the WonderBoom delivers punchy, bright tones with plenty of bass. To be clear, you only need to do this once, when you first start using the speaker.
Hanging Around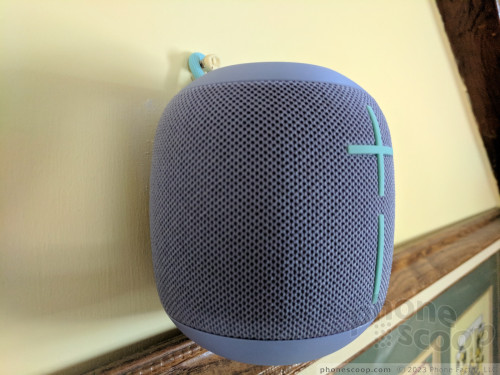 Hanging Around
Further, I had to mess with my phone's equalizer a bit in order to get the best sound. For example, the WonderBoom will struggle if you have your bass settings cranked all the way up. The drivers tend to get flubby and distorted. Dialing in a more balanced EQ delivered the best results for most types of music. If you're an absolute nut for the deepest, most throbbing bass response, you may be disappointed. The WonderBoom produces enough bass for me, but I suspect some people might want more.
Stick It Anywhere!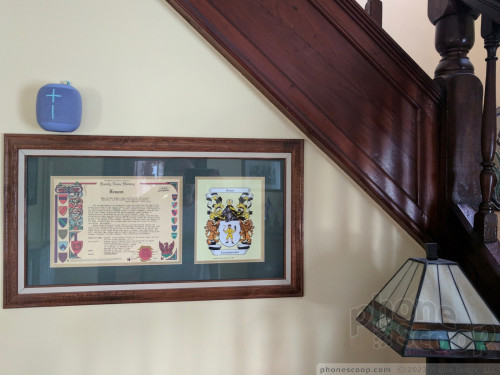 Stick It Anywhere!
I tested the speaker with a wide range of music selections, including rock, pop, metal, EDM, R&B, vocal, and classical. It handles the nuances of each genre well enough. Moreover, I was sure to test the speaker with both Android and iOS devices, using Google Play Music, Spotify, and Apple Music. The controls within each music app provided me with all I needed to find the best possible sound from the WonderBoom.
Bungee Love!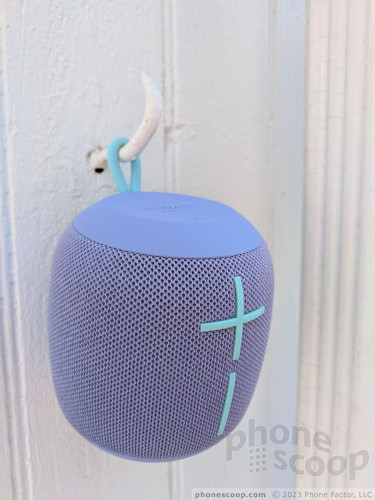 Bungee Love!
The speaker is crazy loud. I easily filled an entire floor of my house with music, enough so to overcome some noisy dinner guests. Blanketing my whole backyard was no problem. In fact, the WonderBoom is so loud I could hear it clearly when standing in front of my house even when the speaker was in the backyard. It's loud enough to annoy your neighbors, for sure, and more than adequate for indoor and outdoor use. The WonderBoom will spread sound evenly across a campsite, beach site, large yard, picnic area, and similar-sized outdoor spaces.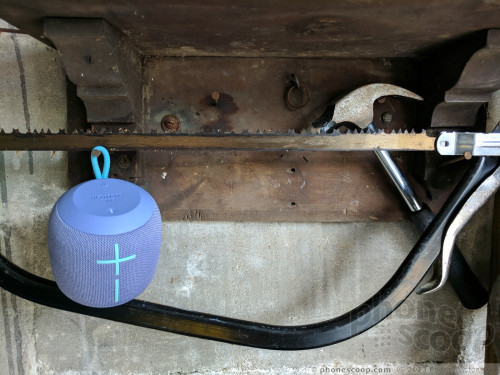 Ultimate Ears claims the WonderBoom provides up to 10 hours of Bluetooth playback and that's about what I got on multiple tests. I noticed at loud volumes the battery was more apt to give out after 9 hours, but most of the time it reached the 10-hour mark without trouble. Charging takes forever: more than 4 hours to go from empty to full. There is no visible way to asses the speaker's charge level, but if you press the volume keys at the same time the speaker will tell you if it has a high charge, mid charge, or low charge through a series of tones. (Yet another feature that you'd never figure out without reading the manual.)
Hanging in the Garage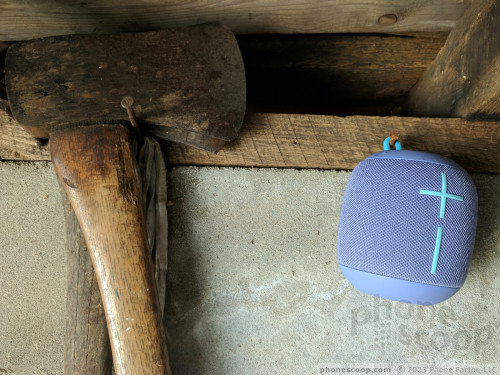 Hanging in the Garage
Last, let's talk toughness. The WonderBoom has an IPx7 rating for protection against water. The speaker floats. It will play music when floating, but obviously it sounds a bit garbled. Ultimate Ears says you can rinse the speaker off if it becomes soiled. Looking for a soundtrack during your weekend whitewater workouts? Feel free to lash the WonderBoom to the bow of your kayak and paddle to some P. Diddy.
Gurgle, Gurgle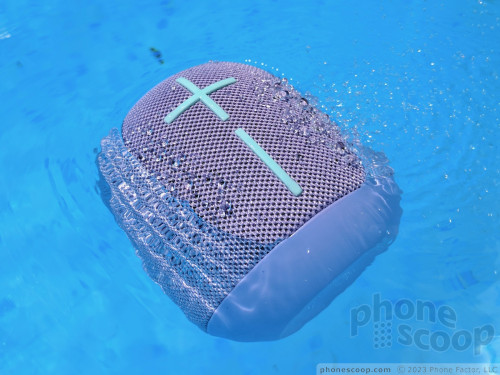 Gurgle, Gurgle
The speaker can handle some measure of abuse, though UE doesn't spell out just how much. I dropped the speaker several times, rolled it down my driveway, and tossed it into my grassy yard, and it came away no worse for the wear. I wouldn't go punishing it on purpose.
Discussion
The WonderBoom from Ultimate Ears is a fine Bluetooth speaker. I like its compact size, big sound, excellent Bluetooth performance, and good battery life. If there are any major detractors, they would include the lack of 3.5mm input jack, lack of speakerphone support, and lack of advanced features. Otherwise, the WonderBoom delivers excellent value at $99.
With dozens of options available at Best Buy and other electronics retailers, it's hard for Bluetooth speakers to stand out. Ultimate Ears' plucky designs help, and the company's speakers have consistently performed well. I heartily recommend the WonderBoom if you're in the market for a portable Bluetooth speaker.
Soaking Up Some Sun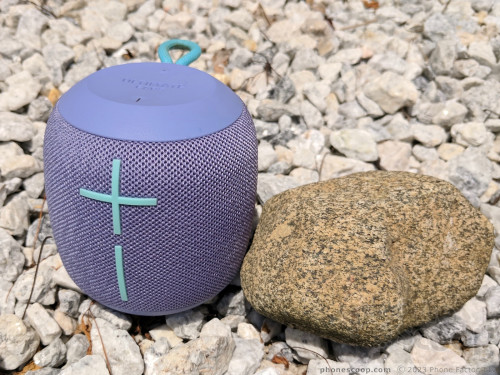 Soaking Up Some Sun
Fake or real?
Why is it written as ULTIMATE EARS on top? The official picture has ue printed on top!