Motorola Gives SLVR An Upgrade
Article Comments 15
Oct 27, 2006, 1:39 PM by (staff)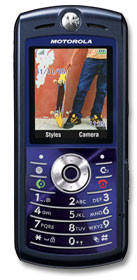 Motorola today announced the SLVR L7e, an upgrade to their iconic candybar style phone. On the surface, the only change noticeable other than the new blue color is a new keypad with actual rows of numbers instead of the previously offset keys. The L7e features quad-band GSM with an upgrade to EDGE data, a 1.3 Megapixel camera with higher resolution video recording and 8x digital zoom, and new software similar to the RIZR and KRZR including better navigation, photo editing, and stereo Bluetooth capabilities. The SLVR L7e has not been picked up by any US carriers; it is not scheduled for launch in the States.
Why??
This phone seems taylor made for Cingular. Why isn't it expected to be released in the U.S.??
f*ck that...T-Mo should pick this one up.
Ah, I wouldn't be surprised if Cingular picks this phone up. What I like about it is it has Stereo Bluetooth!!!!!