Review: OnePlus 5
Hardware Software Wrap-Up Comments 3
Lock Screen
The phone includes Ambient Display, which wakes the screen with simple notifications when messages or emails arrive.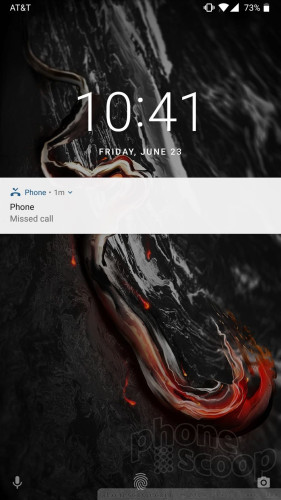 The screen is on for a couple of seconds before it blinks off again. You can double-tap the screen to wake the phone. The lock screen includes the time, date, and list of notifications. It's basically the stock Android lock screen experience. You can get rid of notifications one at a time or en masse. Double-tapping a notification opens the associated app. The notification screen also includes shortcuts to the phone and camera apps. You can't customize these shortcuts, which is a shame.
AD article continues below...
As for security, the 5 includes PIN, pattern, password, and fingerprint. The front-mounted fingerprint reader works flawlessly. I was able to set up several fingers and the phone recognized them each quickly and accurately. The fingerprint reader is top notch and is the quickest way to unlock your phone.
The ringer switch works together with software to help manage notifications. I like that you can map certain types of notifications to certain positions of the switch, such as whether text messaging creates an audio alert or a vibration. You can also select from a wide array of vibration patterns.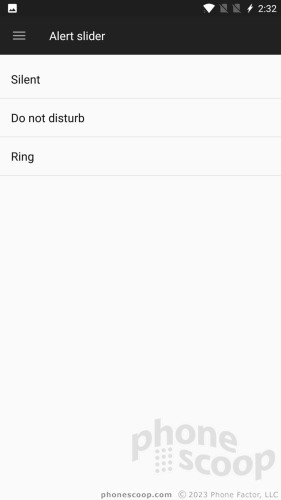 OnePlus gives 5 owners control over the LED indicator light, too, which can be set to blink specific colors for specific types of messages or other notifications. I dig this.
Menus
OnePlus calls its Android interface skin OxygenOS. The OnePlus 5 basically runs a near stock version of Android 7.1 Nougat with small OnePlus flairs here and there. If you've used any Android handset before, you'll know exactly what you're doing on the OnePlus 5. The benefit of OxygenOS is that it tosses in a huge number of settings for customizing the phone's behavior that goes above and beyond stock Android.
The phone has two home screen panels up and running when you first boot the phone with a third, called the Shelf, off to the left. The home screen panels function as they would on any other Android phone. That means they accommodate wallpapers, shortcuts, widgets, and so on.
The Shelf, which OnePlus seems to be downplaying a bit, is a customizable space where you'll find what matters most or what you use most. LG and HTC have similar tools built into their Android skins. It's sort of like Google Now. By default, it shows the local weather, a shortcut for writing a note, and several app suggestions that change over time. You can turn it off completely if you want.
Core interface functions, including the app drawer, Quick Settings shade, and main settings menus all look and work as they do on any stock Android phone.
There are gobs of extras. For example: Dark Mode. You can set the OnePlus 5 to switch to Dark Mode, which is meant for use at night. Dark Mode changes what are normally white screens to black, and black text to white. It primarily impacts menus and other system screens; it does not change apps. I like that you can adjust the accent colors.
OxygenOS provides OnePlus 5 owners with plenty of control over the status bar. You can select exactly which app icons are displayed in the status bar and which are not and even do things like tweak the shape of the battery meter.
Like LG handsets, the OnePlus 5 lets you choose the orientation of the Android controls. You can pick back-home-switch, or switch-home-back. The home button / fingerprint reader and two flanking capacitive keys support long-press and double-tap shortcuts for opening select apps. You can even elect to turn on support for drawn gestures. For example, using your finger to draw a "V" on the screen will turn on the flashlight. The possibilities for customization are nearly endless.
You simply can't ask for better performance. The OnePlus 5 has a Snapdragon 835 processor on board with either 6 GB or 8 GB of RAM. This is the best combination available right now, and is found in more expensive phones like the HTC U11 and Samsung Galaxy S8. The OnePlus 5 absolutely screams. It's lightning quick. I couldn't find any activities that caused the phone to break a sweat, let alone lose its breath.
Camera
OnePlus has redesigned the look of its camera application, but the functionality remains mostly the same.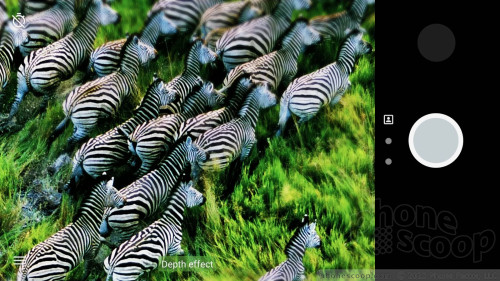 There are a handful of ways to start the camera. The fastest will always be to double-press the power button or fingerprint sensor. You may also use on-screen shortcuts from the lock screen or home screens. The app opens in a flash.
You'll notice controls lined up on the sides of the viewfinder, including toggles for the flash, aspect radio, HDR, timer, and selfie cam. I like that the HDR and flash functions both include an "auto" option. Aspect ratio options include 4:3, 16:9, and 1:1. You'll need to shoot in 4:3 to access the full pixel count of the camera sensor.
Three shooting modes are available by swiping up/down on the home screen: auto, video, and portrait. There are other modes buried in the settings menu, which is accessed by pressing a button in the corner of the viewfinder. These modes include time-lapse, slow motion, pro, and panorama.
The portrait mode is the new, fancy tool and is meant to help you capture great shots of people's faces. Portrait mode relies on the dual camera lenses to provide sharp focus on the subject while heavily blurring the background so the subject pops. The mode is simple to use; just point the OnePlus 5 at your family/friends and hope for the best.
The pro mode is the advanced manual mode for taking full control over the camera's individual behaviors. When in pro mode, you can set exposure (up to 30 seconds), focus, white balance, brightness, and ISO. Easy-to-decipher dials help you select what's best, and the screen previews the type of exposure you should get with those settings.
OnePlus's optical zoom tool is nearly identical to the one in the camera of the iPhone 7 Plus. A button marked "1X" is just to one side of the shutter button. Press it, and it'll jump to "2X". This means you've switched from one camera to the other in order to achieve the 2x zoom. It's straightforward to jump back and forth. Press-and-hold the "1X" button to manually adjust zoom.
In all, it's a fairly straightforward camera application to use. Perhaps most importantly, it's quick and light on its feet. I didn't notice any sluggish behavior from the camera and that makes me happy. It's quick.
It does, however, make the phone crazy hot.
Photos/Video
OnePlus jumped to a dual-camera array for the 5 in order to add features to the phone. The main wide-angle camera has a 16-megapixel Sony IMX 398 sensor at f/1.7 with electronic image stabilization, while the secondary telephoto camera has a 20-megapixel Sony IMX 350 sensor at f/2.6. There's no optical image stabilization. I think it's fair to say the OnePlus 5 takes just okay pictures; it falls far short of what's possible from more expensive handsets like the G6 and S8.
To start, I noticed an unpleasant amount of grain and noise on nearly every shot I took, whether it was indoors or out, telephoto or wide angle, regular or portrait mode. Grain, grain, grain. Focus is acceptable, but not great. I saw lots of jagged edges to subjects that should have been smooth. Everything tended to be underexposed a bit, too, which is just odd. At least white balance was on point most of the time. Honestly, I was expecting much more from the camera.
Zoomed shots are sodden with grain. See the clock and gray house examples below. The grain is inescapable. The portrait shots turned out as they should with a focused subject and blurred background, but even then exposure was a bit dark for my tastes. Exposure can be corrected somewhat after the fact, but grain cannot.
The OnePlus 5 is right on the edge of true "vacation worthiness" for me. Would I trust it to capture the Eiffel Tower, Notre Dame, or Sacre Coeur while on a once-in-a-lifetime trip to Paris? Probably not. Is it fine for a weekend down the Jersey shore with my kids? Sure, it will suffice. Everyday shooting? Yeah, it gets the job done.
The 16-megapixel selfie camera delivers results that will make most people happy. It does suffer from some of the same problems as the main camera, but the shots are more on par with competing phones.
The video camera, which captures footage up to 4K, does a decent job. Like the regular camera, however, video is full of grain, exposure is a bit dark, and focus is a touch soft. On a bright sunny day outdoors, you'll get good, clean footage. Most every other time your results will be average at best.
Maybe OnePlus can correct some of these issues with a software update?