OnePlus Reveals the OnePlus 5 with Dual Cameras
Article Comments 3
Jun 20, 2017, 11:19 AM by Eric M. Zeman
updated Jun 20, 2017, 11:44 AM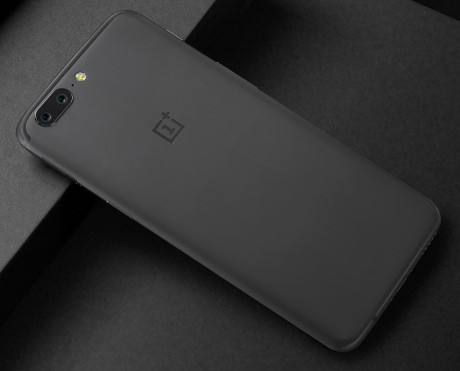 OnePlus today revealed its 2017 flagship handset, the OnePlus 5. The company has long offered high-end Android phones at affordable prices. The OnePlus 5 is the company's most advanced smartphone yet and it still manages to be affordable. The OnePlus 5 boasts a metal unibody design with a slim and rounded profile. The phone carries over the popular alert slider from earlier OnePlus phones and measures 7.25mm thick. Other hardware features include USB-C, a front-mounted fingerprint reader, 3.5mm headphone jack, and dual-camera array on the back. The two Sony camera sensors are 20- and 16-megapixels with apertures of f/2.6 and f/1.7, respectively. The 20MP sensor offers telephoto zooming while the 16MP sensor is better at low-light capture. OnePlus says it uses both lenses and sensors to help sharpen focus for all photos. The phone's optic AMOLED display measures 5.5 inches across the diagonal with full HD resolution. OnePlus picked Qualcomm's Snapdragon 835 processor and the handset comes in two memory configurations: 6 GB of RAM with 64 GB of storage, and 8 GB of RAM with 128 GB of storage. Other specs include a 3,300mAh battery with Dash Charge, Bluetooth 5.0, NFC, GPS, WiFi, and Cat 12 LTE with 3x carrier aggregation and support for 34 worldwide LTE bands. The phone relies on Android 7 Nougat as a base with OnePlus' user interface, which it calls OxygenOS, on top. Some of the features include App Priority, for personal app selection, and reduced latency for quicker input. It also packs Ambient Mode, which relies in sensors to adjust the backlight for eye comfort. The OnePlus 5 comes in black or gray and will cost $479/$539 when it goes on sale June 27. OnePlus says preorders open today.
Price is getting up there
Yes it's a beast of a phone, and it's the best price, but when do we start calling it top tier? It's almost $500 for the low end model.
Looks good
Please add to new phones as soon as you can, so we can easily compare. The included LTE bands and dual-SIM look like a winner for travelers.
8 GB of RAM with 128 GB of storage
Talk about built in storage!!!!!
Phone is going to run like a Bugatti!!!!!