Review: Motorola Z9
Body Basics Extras Wrap Up Comments 15
Music Camera Photos/Video Browse/Customize Extras
Photos
Pictures taken with the Z9 look really good. The 2 megapixel camera does a great job at capturing color, and the results are often sharp and vibrant looking. OF course, the more light you have the better. Shots taken outdoors are simply fantastic. Indoor shots suffer the usual increased levels of graininess, but that can be battled to a certain extend by using the Z9's light. Rather than an actual flash, you can turn on a small light for taking pictures in dark environments. This helped improve quality a lot, especially in really dark places such as bars.
Video
Video also looks really good. Action is smooth, with little ghosting of images, even when the Z9 is panned around quickly or shoots fast-moving subjects. It handled switches from light to dark shooting environments swiftly, and did not have problems recovering from too much or too little light. One weird thing I noticed, if you walk while shooting video, the video becomes slightly warped. I've never seen this before in a video camera. Watch the clip below to see what I mean.
Advertisements article continues below...
Moto_Z9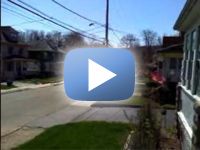 3GPP / MPEG-4 format (viewable with QuickTime)
File size: 1.5 MB