Chrome Gains 'Scroll Anchoring' To Keep Web Sites In Place
Article Comments 1
Apr 11, 2017, 12:18 PM by Eric M. Zeman @zeman_e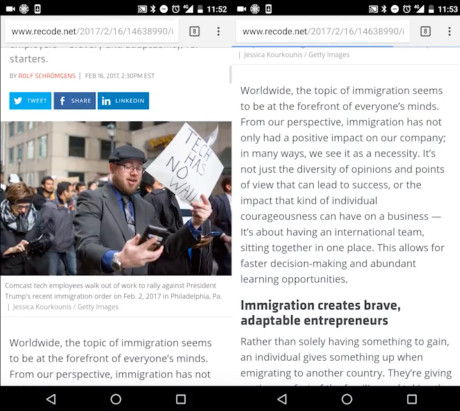 Google hopes the latest addition to its Chrome browser will make reading web sites less frustrating. The tool, called scroll anchoring, will prevent web sites from bouncing users up and down the screen. As Google explains, "annoying page jumps typically happen when the web site inserts an image or other content above the visible area, pushing down what's on the screen." The result is often grating, as it forces people to navigate back to where they were on the screen to continue reading or viewing. "Scroll anchoring locks the content you're currently looking at to the screen, keeping you in the same spot so you can keep reading," says Google. Google suggests web developers check out the technical details on its developer web site. Google didn't specify exactly which version of Chrome carries the new feature. Chrome is free to download from the Google Play Store and is preinstalled on most Android handsets.
Too good to be true
Don't expect this to last. Sounds good for you and me but most of those"pop up content" that causes your page to jump everywhere are ads.
If I'm not mistaken that's how Google makes their money.