CTIA 2008
Part 1 Part 2 Part 3 Part 4 Comments 47
Moto Z9 Sprint Instinct Sprint PTT Kyocera Nokia
Sprint surprised quite a few folks in the industry when it revealed its entire upcoming lineup of CDMA Direct Connect PTT (push-to-talk) phones here at CTIA. People knew a few of them were coming soon, but such a dramatic lineup announcement is rare for a US carrier. The lineup includes the Sanyo PRO-200, Sanyo PRO-700, Motorola V950, Samsung Z700, Samsung Z400, and LG LX-400.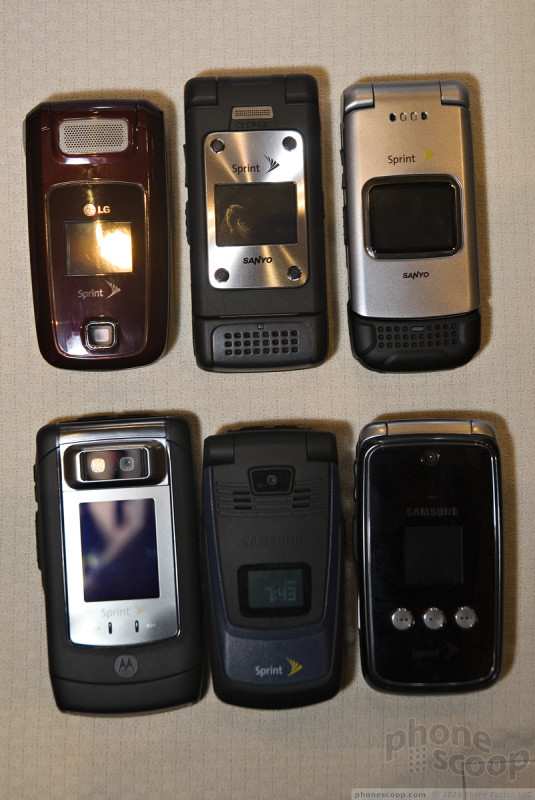 Photo by Russ Hickman
All of the phones feature Nextel Direct Connect service, also known as "walkie-talkie", push-to-talk, or the abbreviation PTT. (At various points, Sprint's specific technology has also gone by "QChat" or "HPPTT".) These are the first such phones that do the walkie-talkie part exclusively on Sprint's CDMA network; there is no iDEN technology in these phones at all. Sprint has created a special interoperability system on the network side that allows these phones to walkie-talkie with iDEN phones and vice-versa. That service will be available right from launch later this month, although the group walkie-talkie functionality will not work between iDEN and CDMA until later in the year.
Advertisements article continues below...
Be sure to check out our video that shows a live demo comparing CDMA-iDEN with CDMA-CDMA and iDEN-iDEN walkie-talkie usage:
All of these phones - regardless of manufacturer - will seem familiar to the Motorola iDEN phones that Nextel users are accustomed to, maintaining the same basic arrangement of two buttons on top, PTT button and volume keys on the left, and of course a large, loud speakerphone. They also have an easy-to-access list of recent PTT contacts that can be called up on the external display.
This new CDMA PTT technology relies on EVDO Rev. A technology, which means any new CDMA Direct Connect phone will automatically have really fast data as well. It also means the PTT service will only work in areas where Sprint has upgraded its network to EVDO Rev. A, although that is a pretty good percentage of the network by now.
The first two phones to launch - later this month - will be the Sanyos. (The others will be launching later, most this summer.) The two Sanyos are extremely similar, the only difference being the ruggedized military-spec housing on the PRO-700. The "guts" are identical.
The Sanyos have an unusual LCD outer display. It's monochrome, but it looks and acts like a high-quality color display. It doesn't show color, of course, but it doesn't look like any other monochrome LCD we've ever seen. Usually the advantage of a monochrome LCD is that it remains readable even in idle mode when the backlight is off. That's not the case here. When the backlight is on, it's quite large, bright, and easy to read, but when the backlight times out, the screen turns pitch black.
The Sanyos have a long, skinny shape that reminds us of the Motorola KRZR a bit, although a tad larger. The keys are all excellent, and the phones both have the solid, durable feel you'd expect from a Sanyo. Both sport a bright-but-small QVGA display. Naturally there's a standard 2.5mm headset jack, and we're delighted to see Sanyo adopting standard microUSB connectors with these models.
The Motorola V950 is exactly what you'd expect from a love child of a high-end RAZR and a rugged iDEN phone. It's quite thin; not as thin as RAZR, but still very thin for a ruggedized phone. The inner display is massive and bright, and the keypad is similarly spacious. The outer display is also quite large. It's not terribly bright, but very clear and easy to read, all the same. The phone overall has a very solid feel to it, thanks to a mix of metal and rubberized surfaces. A 2 megapixel camera is one stand-out feature compared to the other phones in this lineup.
Our one gripe with the V950 is with the keys, at least on the prototype we tried. The d-pad is fine, but every other key - inside, outside, and on the side - was very stiff, with very little movement or "travel", making it more difficult to use than it should be. Of course that could be fixed in the final version, but it's something to look out for.
If you'd prefer a Samsung, their Z700 has a lot in common with Moto's V950. Both have dual color displays, outer music controls, huge QVGA displays, and a number of other higher-end features. Both will support Sprint's full range of 3G services, such as Power Vision and Sprint TV. The Z700 isn't ruggedized, so it's more of a consumer model than the V950.
The Z700's overall size, weight, and feel are fairly average. The keys are huge and great. Where things get slightly dissappointing are the small, dim outer display and the proprietary data connector. With everyone else switching to microUSB as the standard connector, it's annoying to see Samsung still hanging on to its proprietary connector type.
If you want a rugged Samsung, the Z400 is your phone. The ruggedness comes at a price, though, and that's thickness. The Z400 is really thick. The outer display also dsiappoints. It's monochrome, and even smaller and harder to see than on the Z700. The main display is nothing special, but not bad.
The keys on the Z400 are mostly great. The d-pad is a glossy plastic affair that looks terribly out of place and hard to use, but in testing it seemed to work well enough. The soft keys are angled away from the d-pad in a way that feels weird, but they worked well enough in our brief testing.
Moving on to LG, the LX-400 is a solid entry. The size and weight are about average. The color outer display is typical; not huge or great, but better than the one on the Samsung Z700. You'll find microUSB and 2.5mm connectors on the sides, as well as a nice, large PTT key located on the side of the hinge. The main display is bright and clear, but a bit small and low-resolution. The keys are all excellent.
These new CDMA Direct Connect phones will be launching in "select markets" starting this month. Which markets will get them depends on a number of factors, including EVDO Rev. A coverage and existing iDEN coverage.
Now that these phones are launching, Sprint no longer needs CDMA/iDEN hybrid "PowerSource" phones to bridge the two network types, and indeed they told us that no new hybrid phone models will be introduced.
Curiously, these new phones no not mark the end of new iDEN phone models. Sprint insists that they are committed to maintaining the iDEN network and continuing to roll out new iDEN phones. CEO Dan Hesse even announced during his keynote speech that the company will have a new iDEN BlackBerry with WiFi by the end of the year. It seems like an unnecessary and expensive proposition to keep investing in iDEN now that CDMA Direct Connect has seemingly rendered iDEN redundant and obsolete. Plus with WiMAX on the way, it seems odd that Sprint would attempt to juggle three separate national networks at once. At best, it counters conventional wisdom.