Hands On with the ZTE Blade V8 Pro
Article Comments
Jan 4, 2017, 8:30 PM by Rich Brome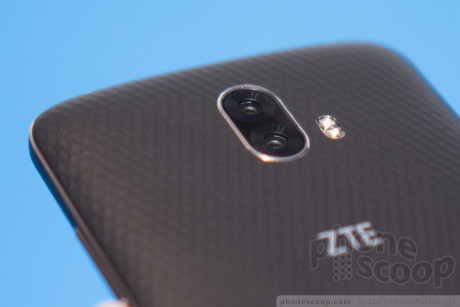 ZTE Blade V8 Pro
The V8 Pro is ZTE's latest attempt to bring U.S. consumers more bang for their buck. This model is the first Blade-series phone to come to U.S. shores. It's one step below the Axon 7, with more mid-range features and a price to match. But with fingerprint reader, NFC, dual-camera, and 3 GB of RAM, it's no slouch, either. Read on for our hands-on impressions.
Article
The Blade V8 Pro starts with a now-standard 5.5-inch screen, and puts a fingerprint reader below it. I personally prefer rear fingerprint readers, but some people enjoy being able to unlock the phone wile its sits on a desk, etc.
Around back are the dual 13 megapixel cameras. The second camera enables features such as portrait mode (blurred background.) There's also a Snapdragon 625 processor, USB-C port, fast charging, and memory card slot.
So far, we're within what you might expect from an affordable Android phone this year. What you don't expect in a $230 phone are features like NFC, dual-band Wi-Fi (802.11a), and 3 GB of RAM. That's a pretty great value.
Speaking of value, the physical design is much higher-end than you might expect for $230. The frame is solid metal and feels great. The front glass has nice rounded edges. The back sports a soft-touch finish (grippy plastic that feels almost like rubber) with a unique texture. It's the rare molded plastic back that actually feels high-quality. It's definitely a phone that looks and feels higher-quality in person than it does in photos.
The side buttons work well. The home button doubles as a fingerprint reader. There are also two mostly-hidden capacitive keys next to the home button. Very dim backlit dots light up briefly to indicate where these are. These could be a bit easier to find and figure out, but these are buttons you'll use by muscle memory by day two.
The software is fairly standard Android, with a skin that changes the appearance slightly and offers themes, but should be familiar for most Android users. A special shortcut grid screen when you launch Settings is the most obvious change to Android.
The camera app looks slick, but isn't very well-designed. Swiping to "Dual" mode throws up a menu with the expected Bokeh option, but also Monochrome and Mono-color options. This isn't very intuitive. Besides requiring an extra step to reach Bokeh mode, I don't know why the average consumer would expect to find "Monochome" under something that says "Dual". Worse, important modes like Panorama and Manual are practically hidden behind a tiny three-dots icon that's easy to miss and difficult to tap.
Still, once you figure it out, the camera has a good list of features. We look forward to reviewing it and letting you know how well it works.
In sum, this is an extremely impressive phone for just $230. The unlocked market is heating up!
No messages