Hands On with the Huawei Honor 6X
Article Comments
Jan 3, 2017, 6:53 PM by Eric M. Zeman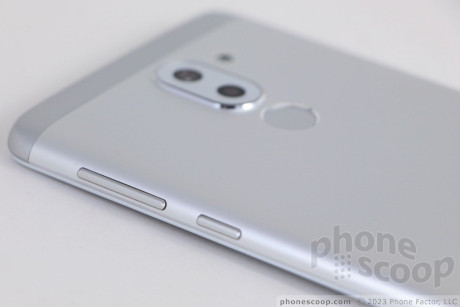 Huawei Honor 6X
Huawei's latest for the unlocked crowd is the Honor 6X. This slim metal-and-glass smartphone has an attractive design and decent set of specs for a phone that costs as little as $200 if you're smart about buying it. Here are our first impressions.
source: Huawei
Huawei's Honor brand is targeting flagship seekers who are on a budget with the 6X. This premium-looking smartphone has the good looks of a pricier device, though its classy exterior covers up only middling specs.
The Honor 6X is an attractive handset, even if it's not overly unique or stylish. It boasts 2.5D curved glass that fits snugly into an aluminum chassis. The materials are nice; I like the white glass face metal shell, which comes in dark gray, silver, or gold. The 6X is slim at 8.9mm, and its weighty feel helps give it that extra bit of something that whispers "I'm expensive" into your ear. I like the size. The phone is easy to hold and use, and it slips into pockets quickly and quietly.
I'd call the face rather plain, as far as smartphones go, but it's not simplistic. There's a slit cut into the glass above the screen for the earpiece, which is flanked by a sensor to the left and a camera to the right. The speaker slit has a black metal grille protecting it, but you have to hold the phone very close to your eyes to see it. The "Honor" brand — not Huawei — is printed in chrome below the screen. The edges of the glass curve just a small bit and the entire panel is fitted into a sub-frame of sorts that is then attached directly to the metal rear panel.
You'll find the screen lock button and volume toggle on the right edge of the phone. These buttons have excellent profiles and decent travel and feedback. Each makes a noticeably "click" sound when pressed. I do wish the buttons had different textures; the smooth shape makes them feel somewhat similar and difficult to tell apart.
The software mirrors that on other Huawei and Honor phones from the past year. That's not entirely a good thing.
The home screen lacks an app drawer, so all of your app icons fill up the home screens. You can, of course, put them into folders, but event your least-used apps must be on a home screen somewhere. Huawei also forces its own custom app icons, which if you don't like them, can be annoying.
The notification shade is split into separate tabs for notifications and quick settings (which they call Shortcuts.) That means an extra step to reach your no-so-quick settings. And even though a whole screen is devoted to those shortcuts, you can only have nine at a time, leaving a large empty area on the screen right at the bottom (just the part that's easiest to reach with your thumb.)
The camera app is packed with features and relatively easy to use. But Huawei continues to keep key parts of the camera interface stuck in portrait orientation, even though most people take most photos in landscape.
No messages