Review: Samsung Gear S3 Smartwatch
Article Comments 1
Dec 14, 2016, 8:40 AM by Eric M. Zeman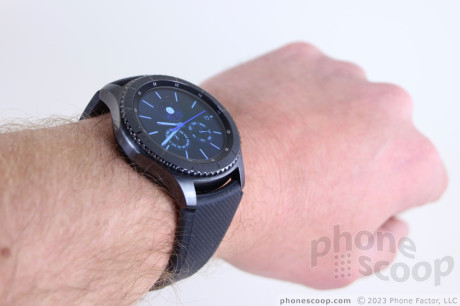 Samsung's Gear S3 is a capable smartwatch that stands on its own thanks to LTE radios and the ability to take calls and send messages. The form factor won't appeal to everyone, but the overall performance is quite impressive. Here is Phonescoop's in-depth report
Advertisements article continues below...
Intro
The Gear S3 from Samsung is a highly-capable, and easy-to-use smartwatch. It works with all Android handsets, but is particularly well-suited to Samsung's Galaxy smartphones. If you're looking for a last-minute gift or simply want a great wrist-born computer, the Gear S3 is an excellent option.
Background
Smartwatches, as a category of devices, appear to be stuck in neutral. Google showed off Android Wear 2.0 in May and initially planned to release it in September or October. Google has since pushed the refreshed platform's launch into 2017. At the same time, makers of Android-based smartwatches have delayed new hardware. Motorola and Huawei have gone so far as to indefinitely shelve their smartwatch products, citing a lack of demand. Even Apple's popular Apple Watch saw a big drop in shipments year-over-year, according to the latest estimate from IDC.
Dedicated fitness trackers, the initial market leaders (FitBit, Garmin), have returned with guns blazing in recent months to steal back share that was temporarily lost to smartwatches. So why is Samsung moving forward full steam with the full-featured Gear S3?
Samsung has always carved its own path with wearables. It's original Galaxy Gear (2013) smartwatch had a camera, for crying out loud! The company's Gear-branded smartwatches run Samsung's Tizen OS, which is based on Linux. Tizen gives Samsung more freedom to tweak the user interface and core features when compared to Android Wear. Moreover, Samsung, still the largest player in the phone market, has a huge customer base it can target with dedicated devices that offer seamless services and experiences.
That's part of what makes the Gear S3 so good.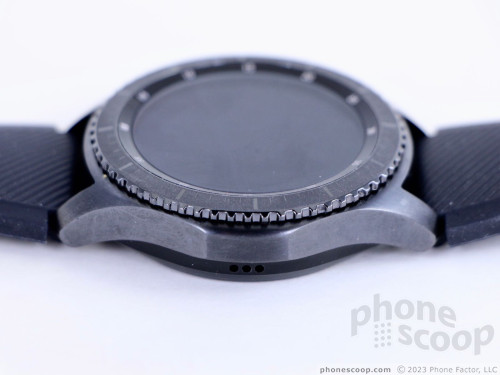 Hardware
The Gear S3 comes in two styles: Frontier and Classic. The Frontier model is what one might call an aviator-style watch with a thick design, aggressively notched bezel, and general outdoorsy appearance. The Classic style is still chunky, but has a smoother bezel and a classier look that's more befitting of business settings. There is no difference in capabilities between the two; they share all specs and features. Samsung lent us the Frontier style for testing.
As far as appearances go, the Gear S3 fits right in with most other active-style watches in the market. It's rugged and tough looking.
The Gear S3 is more than half-an-inch thick. Think about that for a second. Half. An. Inch. It stretches nearly 2 inches edge-to-edge. It's simply massive. It looks enormous on my wrist, and stupid big on the wrists of most women. I imagine female tech enthusiasts won't find the S3's large size appealing. Further, the Gear S3 is only sold in one size, unlike several competing models that come in two sizes. That's unfortunate. The S3 continually pulled at my sweater and coat sleeves and made wearing gloves awkward. It's a big watch.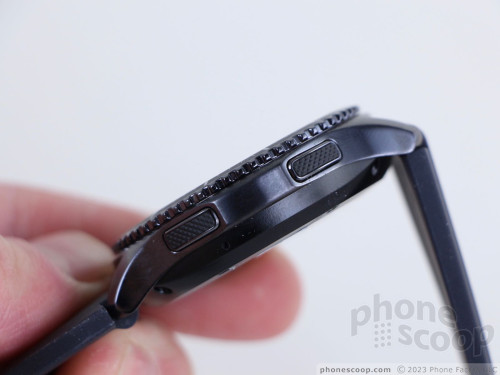 The all-black Gear S3 is set in a black stainless steel chassis and ships with a plastic strap for securing it to your wrist. The strap uses a standard buckle and has enough holes to find a snug-but-not-too-tight fit on your wrist. You can swap the strap out for any standard 22mm watch strap (Samsung has its own collection, of course.) There's nothing fancy about the included strap.
The Gear S3's 1.3-inch Super AMOLED display looks great. It boasts 360 x 360 pixel resolution with a density of 278ppi. The display is incredibly bright, even at lower settings. I had no trouble using it outdoors under the sun with the screen dialed back to 25% brightness. At full brightness, the S3 can serve as a short-range flashlight in the dark. (I'm not kidding.)
A distinct bezel encircles the screen. It has deep notches to help your skin/nails find some bite. The bezel spins with distinct stopping points as you rotate your way through the user interface. Samsung's Gear S2 — which was the first to introduce the rotating bezel — felt a bit cheap. The S3's bezel comes across as strong and well-made in comparison. I really like it.
Samsung put two buttons on the right edge of the watch, one at the 2 o'clock position and another at the 4 o'clock position. Both buttons have big profiles and are easy to locate and use. I like that the rough texture of the buttons contrasts with the smooth texture of the metal chassis. Travel and feedback of these buttons is excellent. There are no buttons on the left side of the watch. This button arrangement works for righties, but lefties (like me) are left reaching over to the far side of the watch to interact with the controls. I wish the watch was reversible, but it's not.
Last, the Gear S3 smartwatch is tough. It is rated IP68 for water and dust protection. Further, Samsung certified the S3 to military grade specification (810G) for protection from temperature extremes, drops and bumps, salt fog, and so on. The S3 can surely handle some punishment. I wore it outdoors in cold weather for the better part of a day and smacked it repeatedly into the trunk of my Christmas tree as I sawed it down. I also relied on the S3 during sweat-filled workouts, and more. I held the watch under running water and dunked it in the sink and it held up fine. (Just don't take the Gear S3 swimming, as it's not suited to repeated and lengthy submersion in water.)
Due (mostly) to its size, the Gear S3 is not for everyone, but otherwise it's a fine piece of hardware.
Software
The Gear S3 runs Tizen 2.3.2. That probably means nothing to most people. Whether or not you own a Samsung handset, you'll need to download and install the Samsung Gear application. This is what manages and controls the Gear S3 smartwatch.
As far as apps go, the Gear app isn't bad. It's rather spartan in terms of design but that works in the app's favor. The controls and what they do are clearly spelled out, making it a cinch to adjust different facets of the S3's behavior. The app manages the Bluetooth connection between the phone and watch, but can also be used to setup WiFi and LTE. The app can dial in new watch faces, control notifications, install and rearrange apps, and much more. It's on par with the Apple Watch app for iPhones as far as functionality is concerned, and is much better than the Android Wear app.
The Gear S3's user interface is something else.
Like many smartwatches, the S3 will wake the display when you lift your wrist. The default screen shows the clock face and a small indicator for missed notifications. The software allows you select from a significant number of watch faces and then tweak each one with the colors or arrangement you prefer. More than a handful of the included watchfaces are fitness-focused and display data such as steps, altitude, heart rate, and such. There are many more available for download.
Much like an Android phone, if you swipe down from the top of the screen you'll be rewarded with a quick settings panel of sorts. It offers basic controls over the radio, brightness, volume, and a few others. Swipe from left to right to see your most recent notifications. Swipe from right to left and you'll see your most recently-used apps along with shortcuts to the settings and app menus. A long press of the watch face brings up to watchface switcher. So far, so good.
The rotating bezel duplicates many of these actions. Turn the bezel counterclockwise to see those notifications and clockwise to see recent apps. Keep rotating clockwise and you'll cycle through up to a dozen running apps. This is pretty cool. Or, open the full app menu, which has a circular interface of its own. All the apps are circular icons that are arranged in a circle along the outer edge of the display. Rotating the bezel moves the app selector from one app to the next. If you rotate beyond the last app on the screen (which is at about the 11 o'clock position) the interface automatically jumps to the next page of apps. You can go forward and backward through pages of apps very quickly.
This interface just makes sense. The combination of the circular menus and rotating bezel makes the Gear S3 one of the most intuitive smartwatches I've used.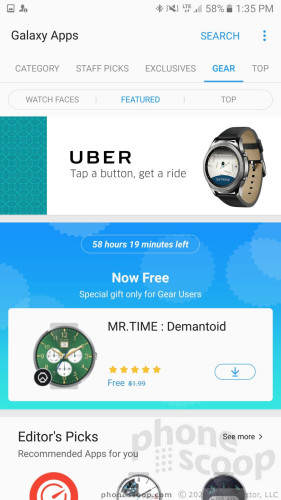 The individual apps are very good. Samsung loaded the Gear S3 with more than two dozen applications, including email, messages, calculator, reminders, find my phone, news/weather, alarms, S Voice, Samsung Pay, DirecTV, and others. You can even sync some photos from your phone and look at them in the gallery app.
S Voice is pretty good and works whether or not your phone is nearby. It's best used for controlling settings, setting alarms, and other such directive behaviors. S Voice is no stand-in for Google Now or Siri. It can handle direct actions, like opening apps, or initiating calls. In that respect it is useful perhaps when driving. S Voice has absolutely no personality, however, and is dry and robotic.
If you're interested in more apps, you'll find them in the Samsung Galaxy Apps app on your smartphone. There's an entire section of Samsung's app store dedicated to the Gear wearables and the number of apps is respectable. I saw titles from USAToday, Yelp, Glympse, ESPN, Uber, The Weather Channel, and Slack, as well as some games such as Atari Jet Fighter. Samsung hasn't really said how many apps there are for the Gear S3, but the selection seem to be decent based on what I saw on the Gear S app.
Performance
Under the hood, the Gear S3 pack some serious technology. The wearable runs on Samsung's own Exynos 7270 processor with 0.75 GB of RAM and 4 GB of storage. The 7270 is certainly up to the task of managing the S3's myriad functions. I have no complaints whatsoever about the speed and performance of the watch. Some might balk at the 4 GB of storage, but today's watches don't need any more than that.
All variants of the Gear S3, including the LTE model we tested, carry a 380 mAh battery. Samsung says the battery will deliver up to 4 days of battery life with mixed use. If you don't do anything other than look at the time, sure, you'll get 4 days. If you use the watch regularly to check the weather, read messages, and make calls via LTE, you can expect to get about 2 full days out of it per charge. That's better than what most Android Wear watches deliver, and it's on par with what the Apple Watch Series 2 offers. The wireless charger that ships with the watch powers it up rapidly, so you can top off the battery in a short amount of time. Last, a power-saving mode will kick in when the battery reaches critical levels. It will continue to show the time for up to 10 hours until it dies completely.
The Bluetooth, GPS, WiFi, and LTE radios all worked perfectly. First, pairing with the Galaxy S7 via the Gear app could not have been easier. The connection between the two was unshakable.
Since the Gear S3 can store music and has its own music app, you can pair the watch with headphones and listen will jogging sans smartphone. Loading music involves beaming it over from your Galaxy phone or dislodging it from a PC (Sorry, Macs not supported.) It takes for-freaking-ever. The music app if straightforward enough. The watch/headphone combo dropped the Bluetooth connection a few times, but music sounds pretty good. You're better off just streaming directly from Spotify via WiFi or LTE, which you can do quite easily.
The GPS radio tracks workouts with incredible accuracy. The watch showed me exactly where I'd been during an afternoon stroll and was as even able to show which side of the street I walked on. The Gear S fitness app has been fine-tuned to take advantage of the GPS radio. It includes an accurate speedometer and altimeter for tracking bicycle rides. It's a little too cold to hop on my bike right now, but the altimeter is on point, which I appreciated during a short hike. The WiFi radio functions seamlessly when coverage is available.
The Gear S3 is one of the first wearables I've tested that has an independent connection to a cellular network. Embedded LTE, combined with AT&T's NumberSync service, allows you to make/receive phone calls and send/receive text messages from your main number even when your phone is nowhere in sight. This is awesome. I purposely left the phone in my car during a shopping trip and was still able to send messages back and forth with family members about Christmas gifts when roaming about the local mall.
The LTE radio also means you can leave your phone at home during runs or walks and not miss any essential communications. The speakerphone is just good enough with respect to volume and quality. It's best used for short conversations to confirm plans, etc. Don't expect to hold hours-long convos with your latest crush via the Gear S3. The Gear S3 includes an SOS function that will automatically reach out to predetermined contacts with a triple-press of the lower control button. The alert sends a text message and records location details. This is clutch for people who prioritize their personal safety.
AT&T's NumberSync delivers on its promise of merging calls/messaging between phone and watch. Anything you do on the phone is reflected on the corresponding app on the watch and vice versa. This is key if you have just the watch and want to look through recent calls for a specific number.
Discussion
Samsung has done a very good job in crafting a powerful smartwatch in the Gear S3. The device pack every possible feature and actually delivers on Samsung's promises.
The Frontier and Classic styles give people two basic form factors to choose from, and the ecosystem of straps allows for some personalization of the watch. The only negative aspect of the design is the sheer size, which may be too large for people with small or slim wrists. The screen and battery life are great, and the watch can certainly take some punishment. I wish S Voice were better.
Samsung has designed what is probably the best user interface on a modern wearable with the Gear S3's rotating bezel and circular menu arrangement. Toss in features such as NumberSync, strong radio performance, a decent selection of apps, and you have a capable stand-alone device that nearly does it all.
Pricing for the Gear S3 is reasonable. The non-LTE models go for $300 and the LTE variants cost $50 more. The Apple Watch starts at $350 and goes up to well more than $1000. With Google's Android Wear platform on hold, the Gear S3 is the only smartwatch I'd recommend to Android users.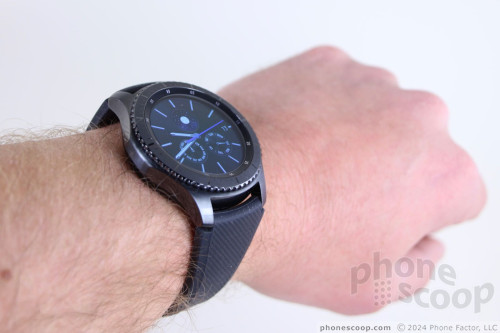 Great successor to the S2
After buying an Gear S2 and using it for a few days I returned it and bought the Gear S3 instead and what a difference.

Samsung may have intended the S2 and S3 to coexist as separate products but I can easily say that after a few days of using the S3 there really is no comparison when it comes to performance and especially battery life. While the two share a common core of functionality that is very similar, the S3 feels so much more refined and works without the hiccups that the S2 was prone to. Despite the claims that the S2 could get two or three days of life between charges, I could only get a day out of it with nearly every feature disabled including 3G.

I am still evaluating the S3 since it's only been a few days but so far I am ...
(continues)