Hands On with the Huawei Mate 9
Article Comments 5
Nov 3, 2016, 8:30 AM by Rich Brome @rbrome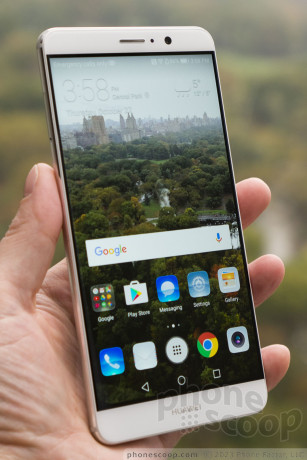 Huawei's Mate series is the company's take on the high-end phablet, competing with phones like the Samsung Galaxy Note7. Perhaps seizing on the opportunity presented by the flaming Note7 fiasco, the Mate 9 marks the first time Huawei will sell its Mate series in the U.S. Past Mate models have impressed us with high-quality hardware and good performance. How does this year's entry stack up? Read on to find out.
AD article continues below...
The Mate 9 has a 5.9-inch screen, putting it solidly at the large end of current phone sizes. Relatively small bezels around the display and a slightly curved back help offset the large size, but it's still a big one.
Huawei has long excelled at crafting high-quality hardware in its high-end phones, and the Mate 9 represents the pinnacle of its efforts to date. Even as unibody metal phones have become common, the Mate 9 stands out with its impeccable attention to detail. It's an absolute delight to hold. The back is curved just the right amount, the front glass has perfect curves at the edges, and the side buttons — while on the thin side — feel good and work very well. It feels like a premium phone should.
The smaller details are where the Mate 9 sets itself apart. The back has a matte finish that feels nice but can be slippery. It's a good thing, then, that Huawei put a more grippy (and very pretty) brushed finish on the sides, where your fingertips will actually spend most of their time. There's also an extremely thin chamfer around the openings on the bottom of the phone (for the USB-C port and speakers.) The chamfer is so fine on the speaker grilles that you can't really see it with the naked eye, but you can see the light it reflects. The metalwork here reminds me of a fine watch, and it's lovely.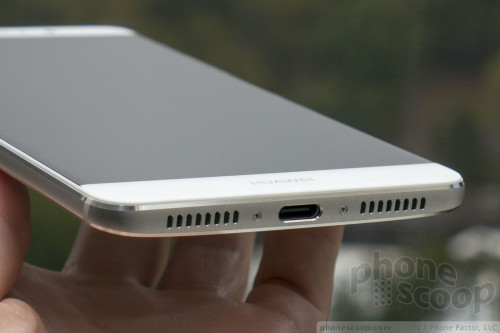 The one minus is the thin plastic panels covering the antenna areas at the top and bottom of the back. It's not a location where you would naturally touch the phone, so it doesn't impact the feel of the phone on a day-to-day basis. But if you hand the Mate 9 to a friend to show off, they'll probably notice it.
The back does have a camera bump, but it's relatively minor. One plus of the bump is that you'll never mistake the camera for the fingerprint sensor when feeling around to unlock the phone. (On some phones, that's all too easy, resulting in finger smudges on the lens that ruin photos.)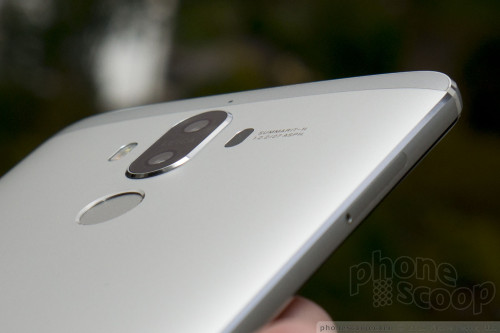 The screen is dazzling. It's not Quad-HD, but even at 5.9 inches, you only need Quad-HD for VR. The full-HD resolution, high-quality panel delivers plenty of sharpness, brightness, and color. I found myself impressed.
The Mate 9 is powered by a Huawei Kirin 960 processor. A couple of years ago, I was skeptical of Kirin chips. But since then, I've spent a lot of time using Huawei phones with Kirin chips in the high-end 900 series, and they've always impressed me with speedy performance and great battery life. Ask Huawei, and they'll go on for hours about the FinFET chip technology they use. What I know is that they're impressive chips where it counts.
Hardware specs are as high-end as one expects from a 2016 flagship, including dual rear cameras with OIS (the second camera assists with exposure), huge 4,000 mAh battery, 4GB of RAM, memory card slot, and NFC. It even has an IR port and a remote-control app for your TV, etc.
The dual-camera setup is similar to the one on the P9, which I've used for a while and liked. The main camera is 12 megapixels, while the secondary camera is a unique 20-megapixel monochrome sensor that assists with exposure, and also enables features such as bokeh and an advanced zoom.
The software is based on Android 7.0 (Nougat), with Huawei's "EMUI" layer of software tweaks. While Huawei excels in hardware, software has long been a weak point, at least in terms of interfaces that make sense and work well for western users.
With that said, Huawei interfaces are slowly getting better. The default home screen we saw does have an app drawer, a welcome change compared to past Huawei phones. The notifications shade looks a bit more standard and familiar, as well, doing away with the cumbersome separate tabs for notifications vs. Quick Settings.
The camera app is quite powerful; it's packed with advanced features like light-painting (long exposure) and RAW mode.
There are a ton of gestures and shortcuts that can be configured for power users. It's a bit overwhelming, but if you take the time to set up and learn the various motion gestures, fingerprint sensor swipes, and knuckle gestures (yes, putting your knuckle on the screen) for things you access often, it can be a time-saver. There is a learning curve, though, and Huawei's knuckle gestures continue to be somewhat unreliable (at least in the pre-release units we've tried so far.)
Power users will also appreciate the one-handed mode that shrinks the whole screen to one corner, and the split-screen multi-tasking.
Huawei's interface changes are moving slowly, but definitely in the right direction.
Huawei is also making grand claims of extensive behind-the-scenes optimizations to make the OS run faster, such as using machine learning (a simple form of AI) to learn which apps you use most often and in which order, so it can cache key data that lets your apps launch faster. It also applies "smart" compression and defragmentation to both RAM and storage, to further optimize performance. We look forward to testing performance in our full review.
In sum, my first impression is that the Mate 9 definitely has potential to be the best phone yet from Huawei, assuming you like big phones. I've long been impressed with Huawei's flagships and wished to see them reach U.S. shores in pure form. The Honor 8 is a good taste of what Huawei can do, but for those looking for a truly premium phone — perhaps to replace a Note7 — the Mate 9 might fit the bill. Look for our review in the coming weeks.
ALL major US carriers? Or...?
Any word if this is heading to ALL major US carriers? Or, is one lucky carrier going to have an exclusive on it? Or...GSM only? CDMA only?
I imagine it will be unlocked-only, although we'll find out when they announce US launch details (...soon, probably at CES.)
Note Replacement?
Many phones are now being touted as replacements for the Note 7.
Does the Mate 9 have a stylus and proper digitizer? If not, how could it be a replacement for the Note 7?
Most Note users I know don't use the stylus. A few do, but a minority. Most just wanted a large-screen, top-end Android phone.

If you do use the stylus, then yes, this is not a good choice.

But for those merely looking for a large, high-end An...
(continues)