Alltel To Launch First FasTap Phone in U.S.
Article Comments 20
Jul 31, 2006, 9:31 AM by (staff)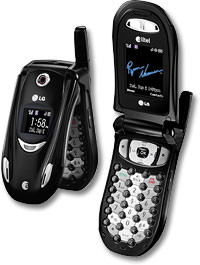 Alltel and Digit Wireless today announced the LG AX-490, the country's first phone with a FasTap text keypad. FasTap speeds messaging and other text entry by adding individual letter keys in-between the number keys of a standard phone keypad. The FasTap keypad also enables one-touch shortcuts to nearly any function of the phone. The clamshell CDMA phone also features Bluetooth, a VGA camera, BREW, a full-color OLED outer display, and speaker-independent voice control. The AX-490 will be available Thursday, August 3rd.
Fas Tap
Iam not very familiar with Fas tap. It does seam the way to go for people that do text alot. Which carriers will this phone be available for?
read the title of the article.
ew
😳 🤨 this phone is ugly. it looks like a shoe.
Where does Telus provide service?? Why would Alltel claim to be the first to bring this technology?? 🤨
Groovy looking handset...
...gotta love that keypad. And OLED...OoooOOoooo.
FasTap
This FasTap technology is very long overdue! 😲

I due hope that Verizon Wireless does get this phone and/or technology...it is AWESOME!!! 😎

Actually, I can't believe that it took this long for some manufacturer to think of this...I would get this phone if it was offered from Verizon Wireless.

Cool phone...cool idea! 😎

Also, I like LG, I think they are a very good brand...they always got high ratings in JD Powers studies and other electronics sites [CNET]. Plus, I like their build quality and heft that distinquishes them as a solid contender.
Cingular
Cingular seems to like those cheap feeling LGs and i hate when thats their new phone announcement,But
today when I saw this phone i was like sh** why didn't cingular release this one I have never heard of this Fas Tap technology but i like it and hope its not left to LG and that smartphone flips like the star trek can implement this technology.
Punctuation would do you a world of difference homeslice.
How Long Before Verizon Gets It?
Since Alltel basically uses all of Verizon's phones (with a few exceptions), how long before VZW gets a version of this? Anybody know? I'd love to get my hands on it....
You don't have to wait if you get your hands on one and flash it to Verizon. ***WEB WON"T WORK***
Hmm
This looks pretty cool but on Alltel? 🙄 I predict seeing more of these kinds of phones coming out in the very near future.
😎