Review: Apple iPhone 7 Plus
Article Comments 1
Sep 21, 2016, 3:45 PM by Eric M. Zeman
The Apple iPhone 7 Plus offers a few tricks that the smaller iPhone 7 doesn't. I particularly like how the dual cameras work together and how the larger power cell pushes battery life past a single day. Together with iOS 10, the iPhone 7 Plus is a formidable smartphone, even if it's hard to distinguish from its predecessors. Here is Phonescoop's full review.
Advertisements article continues below...
Hardware
Is It Your Type?
Like its smaller sibling, the iPhone 7 Plus follows closely in the footsteps of Apple's most recent iPhones. The chassis looks almost identical to the iPhone 6s Plus, but the entire spec sheet has been overhauled with some new and exciting features. If your previous Apple smartphone is aging and a replacement is in order, then perhaps the iPhone 7 Plus will be right up your alley. On the other hand, if your iPhone 6s Plus is still functioning fine, then you may want to stick with it until next year's 10-year-anniversary iPhone.
Body
Editor's Note: Because the iPhone 7 and iPhone 7 Plus are so similar, much of the text in this review is carried over from our review of the iPhone 7. Rest assured, we updated this review to reflect the actual performance and capabilities of the iPhone 7 Plus, which we tested fully.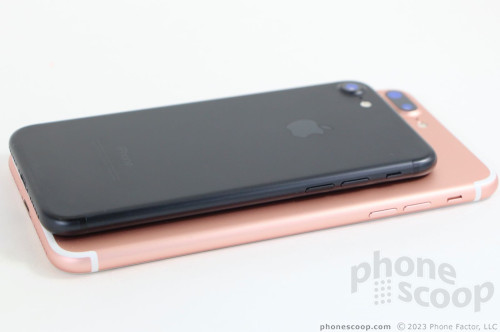 Apple introduced minimal design changes for the iPhone this year, but those changes are just enough to ensure that the new device isn't compatible with many existing iPhone 6s Plus accessories. The company has broken from its traditional tick-tock design cycle, wherein in introduces a brand new form factor one year followed by a spec bump the next year, with a tick-tock-tock design that is largely identical to the previous two phones.
Last year, I complained that Apple's recycled designs are lazy and I feel no differently this year. In fact, I'm even more aggravated that Apple isn't offering its customers something entirely new in 2016. Apple, once the design leader, has allowed its rivals to catch up and in some cases even surpass the iPhone in terms of design. You may love the design of the iPhone 6 Plus and 6s Plus. If you do, then you'll be happy with the iPhone 7 Plus.
(If you're wondering why Apple hasn't given the iPhone a fresh design since 2014, many believe the company has a radically new phone on deck for 2017, the 10-year anniversary of the original iPhone. Of course, that's pure conjecture for now.)
The primary physical differences between the iPhone 7 Plus and the iPhone 6s Plus are the dual camera module, the dropped 3.5mm headphone jack, the waterproof casing, and the altered colors. Otherwise, the phones share nearly identical footprints, shapes, and appearance. In fact, the iPhone 7 Plus and iPhone 6s Plus have the exact same measurements (length, width, depth), but the 7 Plus does weigh a bit less. Even so, those fancy cases for your iPhone 6 Plus or 6s Plus won't fit the new model because the camera shape and location has shifted. You'll have to buy new cases. Again.
The phone is made from aluminum and glass. The metal shell forms the entire rear panel and wraps around to form the side edges. The glass front surface has a slight curve along the edges to help smooth out the joint between two materials. Apple was able to eliminate the two antenna lines that ran across the back of the older 6 and 6s Plus, so the back surface of the 7 Plus is a more complete metal panel. Antenna lines do remain at the top and bottom of the rear panel. They aren't visible on the black models, but can be spotted easily on the other colors. The rounded corners and smoothed-over shape give the phone a somewhat generic look The iPhone 5 and 4 had more personality as far as I'm concerned. There's no doubt the iPhone 7 Plus is a finely-crafted phone, but it's a familiar device that is no longer unique.
The iPhone 7 Plus is the larger of the two iPhones and it stretches beyond one-handed use. The 5.5-inch screen makes the iPhone 7 Plus a bulky flagship that is bigger than many competing devices and awkward to use. I could not reach the entire screen with my thumb without shifting my grip. There's no getting around the expansive footprint of this phone. The curved side edges are smooth against your skin, but the flat rear panel doesn't help the phone find a comfortable home deep in your palm. The iPhone 7 Plus fits into pockets, but is noticeable as you move around throughout your day. (Seriously, you have to be careful getting into cars.) Adding a case only makes it bigger.
The materials and build quality are top notch, and I expected nothing less. I was pleased with the feel of the metal and glass, which are fitted together perfectly. These phones come across as expensive (and they are!) But Apple now has plenty of company when it comes to quality. Samsung and HTC are easily on par with Apple, and others, such as Huawei, OnePlus, and ZTE, are breathing down Apple's neck.
Apple is selling the 7 Plus in jet black (glossy), regular black (matte), silver, gold, and rose gold. The first two options have black glass on front, while the other three have white glass. The earpiece, user-facing camera, and a small sensor are plainly visible above the display. The home button / fingerprint sensor is all but invisible on the black models, while it's called out with a shiny metallic rim on the silver, gold, and rose gold models.
I'm not pleased with the amount of bezel surrounding the display. There are thick lines along the side edges and thick bezels above and below. Looking at the competition, it's clear that you should be getting more screen (or a smaller phone) for your buck. Apple needs to get with the program.
Let's talk about the home button. On every iPhone since 2007, the home button has been a physical key that requires people to press it down. The iPhone 7 Plus trades a physical button for a capacitive one. This forces some behavioral changes upon iPhone owners. The capacitive button works together with a new Taptic Engine inside the phone to provide physical feedback every time you press the button. You can dial in the amount of feedback you receive. I found the first option offered too little feedback while the third option offered too much. The middle option worked best for me. It definitely still feels more like a vibration than a button-press, and it took several days for me to get used to it. By the time I was done writing this review, I had mostly assimilated to the new button, but there's a big "but". (More on that in a bit.)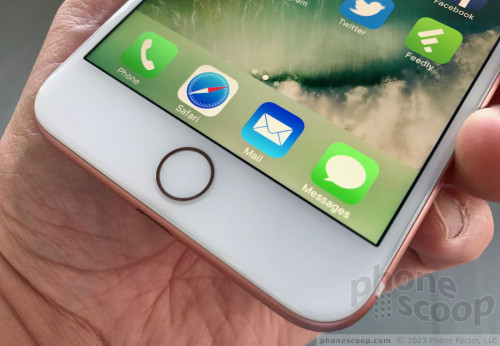 It doesn't help that there are a handful of actions that occur by pressing the home button. A light press wakes the screen. A light press with an extra half-second of pressure will wake the screen and then unlock the phone if you have Touch ID enabled. A long-press opens Siri. Last, a double-press opens Apple Pay. Yes, Apple has defined four different actions based on pressing the home button — and we haven't gotten to the accessibility features that are activated with a triple-press. Seriously, Apple: enough. The number of times I accidentally launched Apple Pay when I intended to wake and unlock the iPhone 7 Plus numbered in the dozens over my first few days with the phone. It's really annoying. (To be fair, however, I've encountered this same issue with Samsung Pay on Galaxy devices. It was annoying on those devices, too.)
As always, the ringer switch is on the top of the left edge. The switch is easy to find and use, and the action is quite good. Few phones have a true ringer switch and it's a nice option to have for quickly switching the ringer to silent/vibrate. The separate volume buttons have good profiles and excellent travel and feedback. They double as shutter buttons when using the camera. I like that the buttons' texture is slightly smoother than the rest of the side edge. The lock button and SIM card tray are housed in the right side of the phone. The 7 Plus's larger size means you often need to slide your thumb up the side to find the screen lock button. Action on the button is perfect. A tool (not included) is required to eject the SIM card.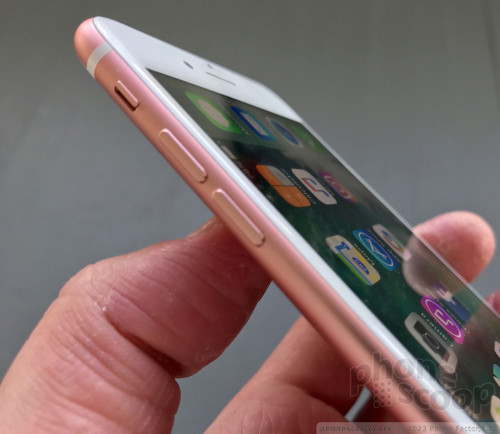 One of the iPhone 7 Plus's biggest departures from normative smartphone design is the loss of the 3.5mm headphone jack. Surely this is a contentious issue for some and a non-starter for others. Speaking personally, I have switched to Bluetooth headphones for the vast majority of my listening no matter what device I'm using. Even so, I'm still annoyed Apple ditched the jack.
If you want to listen to music via wired headphones, you can use either the included Lightning-tipped earpods (which suck) or the Lightning-to-3.5mm adapter with the regular headphones of your choice. I don't like having to worry about carting the adapter around, especially since I listen to music all over the place. The biggest killer for me is my car: the only AUX input my car has is a 3.5mm jack; it doesn't accept USB-based devices. Apple's decision more or less forces me to carry the adapter around with me everywhere I go. It's one more thing to worry about.
Even if you plan to use the included Lightning earpods, there's still a downside: the iPhone 7 Plus can't charge and play music via the Lightning port at the same time unless you spend extra money on a dock of some sort. Again, this is something I often do in my car.
I'd complain a lot less about this issue if Apple used an industry-standard port, such as USB Type-C. Instead, Apple uses its own, proprietary port that other companies have to pay licensing fees to access.
The bottom edge of the iPhone 7 Plus also has a microphone and speaker. A couple of special screws flank the Lightning port and are plainly visible.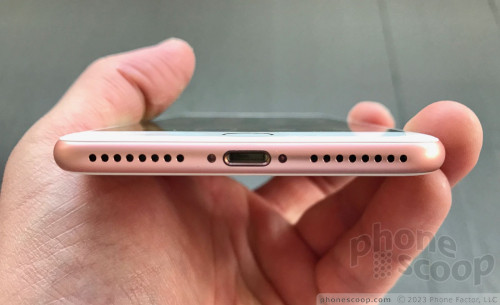 The iPhone 7 Plus's rear panel is perfectly flat, save for the camera module. The module is bigger than ever and protrudes significantly. On the 7 Plus, it accommodates two cameras. A small microphone hole is next to the camera, and the LED flash is next to the mic. You cannot access the battery. This may be a deal breaker for some people, but inaccessible batteries have become de rigueur for today's flagships.
Last, the iPhone 7 Plus is water-resistant. It carries an IP67 rating for protection against dust and water ingress. Technically, it can sit in up to one meter of water for up to 30 minutes with no damage. This does not make the phone worthy of your next barrier reef scuba-diving adventure. It means the iPhone will probably survive a short dunk in the pool, tub, local stream, or toilet. The iPhone 7 Plus is not rugged and the screen is not shatterproof, so don't go dropping it on concrete. I can say that the iPhone had no trouble handling some time under a running faucet, sitting in the river near my house, and resting at the bottom of a sink full of water.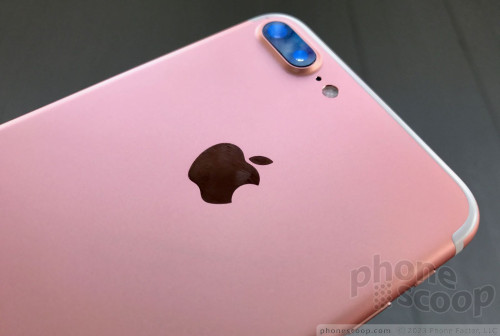 The iPhone 7 Plus is a well-made phone, but is monstrously big. It may be too big for some people. I find the design boring, but you may not. Either way, Apple no longer has a stranglehold on high-quality hardware. I do appreciate the waterproof enclosure, but the loss of the headphone jack is grating all the same.
Screen
Like the iPhone 6 Plus and 6s Plus, the iPhone 7 Plus has a 5.5-inch display with 1080p full HD pixel resolution. Apple uses LCD panels and the 7 Plus's Retina Display looks great. I found it to be bright enough for use both indoors and out, and it delivers excellent color accuracy. The iPhone's screen offers some of the best viewing angles available, with no brightness or color change. Text and imagery appears smooth. I don't have any issue with the resolution, but it is worth noting that the majority of competing flagship handsets have moved to quad HD, which is far better for virtual reality applications. The iPhone's screen still beats most of the competition in overall quality.
Signal
The iPhone 7 Plus is sold in several different wireless configurations. The AT&T/T-Mobile model works with GSM/LTE networks, and the Verizon/Sprint model adds in support for CDMA, too.
I tested the 7 Plus on AT&T's network in the New York City area over the course of several days and it performed above average. The iPhone connected all calls on the first dial and didn't drop/miss any calls. The phone kept a call connected over 30 miles of highway driving, which is no small feat in the NYC area. The iPhone 7 Plus remained attached to AT&T's 4G LTE data network without fail. Not once did it drop the network entirely. The phone didn't drop to 3G, either; even in poor coverage areas it provided 4G LTE service. Data speeds were quite impressive. The iPhone 7 Plus was a champ at streaming YouTube and Spotify and didn't choke on my Instagram feed. Apple has definitely sorted out the wireless technology inside the iPhone so that it is a top performer.
Sound
I'm fairly impressed with the iPhone 7 Plus as a voice phone. Calls are generally clear and free of distortion via the earpiece, though I wish voices had a more pleasant timbre. The earpiece generates enough volume to hear calls in most places you're likely to take the phone. I was able to maintain conversations on busy city streets, and even bustling coffee shops and traveling cars couldn't drown out the iPhone 7's earpiece. People I spoke to through the iPhone 7 Plus said I sounded loud and clear.
The speakerphone introduces a small amount of distortion but also kicks out plenty of volume. You can easily use the iPhone at home or the office, in the car or bus/train with no problem.
Ringers and alarms are very loud, and the vibrate alert is excellent.
The iPhone 7 Plus is the first iPhone to boast stereo speakers. (This is probably why the earpiece and speakerphone push out plenty of sound.) There's a small catch: The bottom speaker is easily putting out two times the sound of the earpiece speaker. Music may be stereo, but it isn't balanced. The bottom end of the phone is much, much louder, skewing the sound towards that end of the device. I tested this over and over with many different pieces of music and there's no doubt in my mind: the earpiece doesn't produce nearly as much volume as the bottom speaker. It's really easy to notice when you hold the phone about a foot from your face, such as when watching video content. It's a little harder to discern if you put the iPhone 7 Plus on a desk or table and take a few steps back.
The quality of music pushed through the speakers is acceptable for low-volume listening, perhaps, but Alcatel did a better job of adding stereo speakers to its $250 Idol 3 smartphone in early 2015.
I am disappointed, especially considering how great the stereo speakers are on Apple's iPad Pro tablets.
Battery
A few changes in the spec sheet lead to much better battery life for the iPhone 7 Plus — not that it was lacking in the first place. First, the battery is ever-so-slightly bigger than those of the 6 Plus and 6s Plus. Second, the iPhone 7 Plus has the new A10 processor from Apple with two low-power cores on board to help conserve battery. On what I consider to be a normal day (email, some music, social networking, taking a few photos, watching some video, messaging, and so on) the iPhone 7 Plus easily managed to last from breakfast to bedtime. I had about 40% or more left at the end of each day — and that's with location services on and a Bluetooth device connected the entire time. The iPhone 7 Plus often didn't require charging until it was well into a second day. That's almost as good as it gets with a modern smartphone, especially one so slim.
The iPhone has a low-power mode to help, if you run into trouble. You can also directly manage notifications, screen brightness, and other behaviors.
The iPhone 7 Plus does not officially support rapid charging, nor does it support wireless charging. It will charge more quickly if you plug it into a higher-wattage iPad charger, but the 7 Plus's battery takes much longer to charge than the smaller iPhone 7.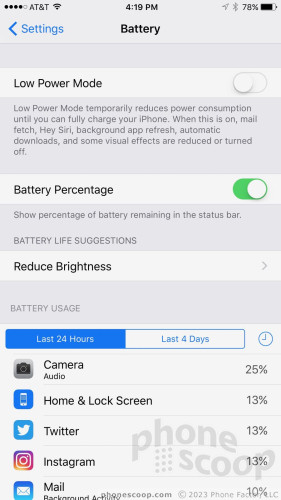 Bluetooth, GPS, NFC, WiFi
The iPhone 7 Plus has Bluetooth 4.2 aboard and it connects to headphones, speakers, cars, and PCs no problem. Phone calls routed to my car's hands-free system sounded very good, as did calls sent to a standard Bluetooth headset. I tested music on a variety of speakers and headphones and can only say that the iPhone 7 Plus produces average-quality music via Bluetooth. I've heard worse and I've heard better. Apple uses its own, proprietary Bluetooth audio codec instead of the more-common aptX codec for wireless music. (Apple's AirPods aren't available yet, so I can't speak to their quality.)
I'm pleased with the accuracy of the GPS radio, which worked well with both Apple Maps and Google Maps. The iPhone 7 Plus pinpointed me quickly and to within 20 feet or so. The device was a fine point-to-point navigation tool and offered accurate directions from A to B. I wish Apple Maps were better at public transportation, but it still covers the basics.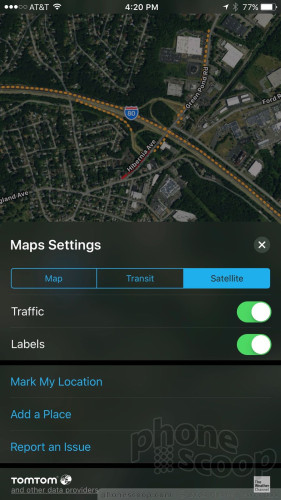 The iPhone has NFC, but it's locked down. The short-range wireless chip is only available to Apple's own Apple Pay service and for pairing with Apple's own AirPod headphones. You can't use the NFC radio to pair with any other Bluetooth accessory.
The iPhone 7 Plus's WiFi radio works fantastically well.
Software
Lock Screen
We've reviewed iOS 10 in depth here. If you're interested to learn about everything that's new in Apple's mobile operating system be sure to check it out. In the review, we speak in detail about the platform's updated, changed, and new features. Below is a less-wordy summary of how things work.
iOS 10 gives iPhone 7 Plus owners plenty of control over the lock screen experience, but managing it takes some patience.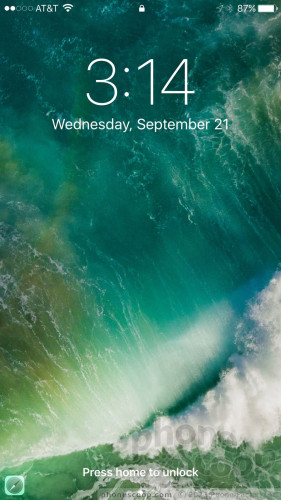 First, there's a raise-to-wake function. If you pick the iPhone up, the lock screen will wake and reveal your notifications. This is perhaps novel to iPhone owners, but this type of tool has been available on some Android handsets for years. Moreover, older iPhones don't have access to raise-to-wake. You can set raise-to-wake on or off to suit your own preferences.
A press of the screen lock button wakes the display and shows you the time. There is no always-on display to show you the time and recent notifications as there is on many Android phones. You can choose which apps are allowed to wake the screen briefly with notifications, and you can dial in just how much information is shared in those notifications. For example, you can elect to light up the screen every time you get a text message and also see the content of those text messages — including image/video previews. That might be a bad idea if you value your privacy or often receive racy messages. Thankfully, you can choose "you have a message"-style notifications instead.
Notifications are all accessed on what I'll call the central lock screen panel. Swipe to the left to access the Today View, which is where you can load up widgets. The widgets include a quick look at your calendar, email, messaging, maps destinations, the weather, stocks, news, and stuff like that. You can activate as few or as many widgets as you wish. You can also access the camera from the lock screen by swiping right.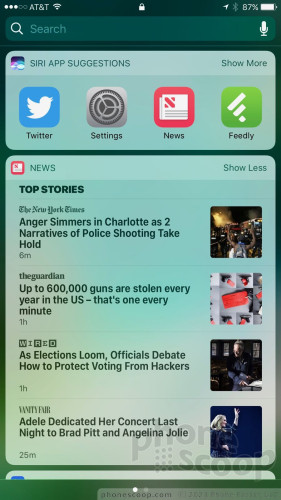 The other two sets of tools available from the lock screen include the Control Center (swipe up from the bottom) and, yes, the notification shade (swipe down from the top). I dislike that the Control Center is now broken into two panels and is much larger than before. It now takes twice as many clicks to access/control music playback, for example. I also wish you could dismiss notifications en masse, but iOS still only allows you to dismiss notifications on an app-by-app basis.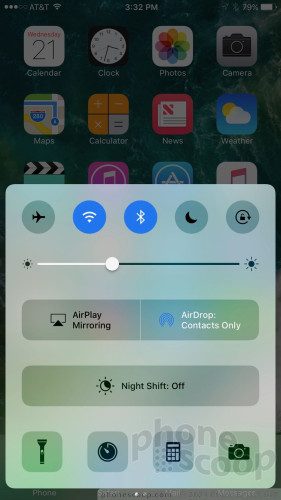 Last: security. I've already covered how the new home button also includes Touch ID. There's simply no faster way to unlock the phone than your thumbprint. The reader recognizes prints in the blink of an eye. I found it to be very accurate, with little need for second attempts. Alternately, you may choose a standard 4-number PIN, 6-number PIN, or a regular alphanumeric password. These still work fine, but take longer to interact with.
I like that Apple allows you to secure iTunes purchases with Touch ID, but it's high time Apple also allowed iOS users to secure apps and files with Touch ID. That's something for Apple to work on.
Home Screens
Nine years after the debut of iOS 1, the home screens of iOS 10 look and behave in almost the same way. Home screens accommodate up to 24 apps/folders on each panel. Folders can contain dozens of apps, and you can populate nearly unlimited home screens with apps as long as you don't mind swiping to the right over and over again. The home screen panels don't directly accommodate widgets, but you can access the Today View (which does have widgets) from the main home screen. As always, apps placed on home screen panels still snap up and to the left into a self-forming grid. Four apps of your choice are always accessible from the dock at the bottom of the screen.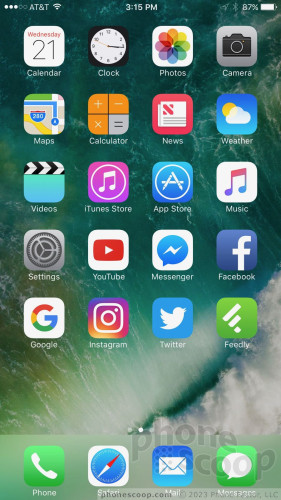 The settings tools grow in number each year, but their organization and usability is about the same as always. It's a cinch to adjust wallpapers, ringtones, alerts, and other custom behaviors. iOS allows you to tweak font and icon sizes, too. The accessibility options are plentiful.
The one trick the 7 Plus includes that the 7 does not is the rotating home screen and apps. You can hold the 7 Plus in landscape orientation and the home screen, menu screen, and a good number of apps will rotate accordingly. More than a few of Apple's apps include user interface adjustments made exclusively for landscape viewing, such as two columns in iMessage. This is particularly helpful if you find yourself using the 7 Plus with a Bluetooth keyboard. It's a shame that Apple hasn't brought split-screen multitasking to the iPhone yet.
The iPhone 7 Plus supports 3D Touch, which means the screen recognizes light touches as distinct from more firm presses. Firm presses made on the home screen and in certain apps call up an action menu of potential secondary options. At the same time, the Taptic Engine produces a micro-burst of vibration so you know you've activated a 3D Touch action.
The actions available in these secondary menus vary by app. On the Twitter icon, for example, you can start a new direct message, new Tweet, or perform a search. iMessage lets you start a brand new message, or respond to one of the last three people who messaged you. The number of Apple and third-party apps that support 3D Touch has grown a lot since last year. In general, the action menus accessed via 3D Touch let you skip a few steps here and there.
The iPhone 7 Plus has Apple's new A10 processor with M10 motion co-processor and 3 GB of RAM. That's an extra 1 GB compared to the smaller model. According to Apple, the A10 has two high-performance cores and two low-power cores. The latter two help conserve battery life. In terms of real-world performance, the A10 delivers a huge jolt. I've never seen apps download to any mobile phone this fast. Seriously, a 100MB app took about 5 seconds to download and install over WiFi. That's really fast. The same app took closer to a minute on an iPhone 6 Plus. The difference in performance is real.
Siri
Siri is better than ever. The iPhone 7 Plus of course carries over the "Hey, Siri" trick from the iPhone 6s Plus, which means Siri is always listening for that catchphrase. Simply utter those words and then ask of Siri what you want.
The biggest change in iOS 10 (more so than just the iPhone 7 Plus) is that Siri can work with third-party apps. As I said in my review of iOS 10, Siri is a capability that developers will need to add on their own. As they do, you'll be able to ask Siri to do things such as request an Uber or pay a friend with Square cash, and much more.
On the iPhone 7 Plus, Siri is incredibly fast and much better at deciphering your natural language commands. I noticed a distinct difference between Siri's performance on my 2014 iPhone 6 Plus when compared to the iPhone 7 Plus. Siri sings on the 7 Plus.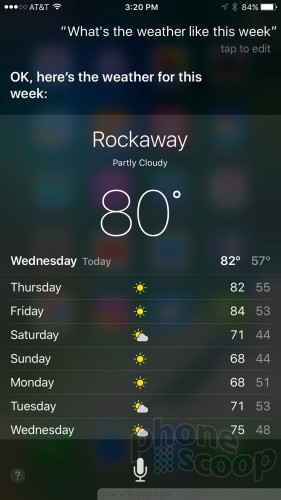 Camera
The camera application is a direct carry-over from iOS 9, which was mostly carried over from iOS 8. The iPhone 7 Plus has exactly one feature the iPhone 7 does not. You can launch the camera from the lock screen if you wish, or from the home screen panels. Either way, it opens in a blink.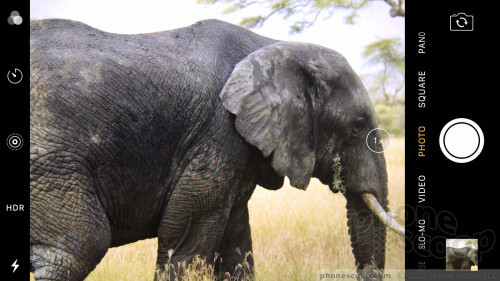 The iPhone camera app offers a handful of basic shooting modes: normal, panorama, and square for pictures, plus normal, slo-mo, and timelapse for video. All six of these are accessed by swiping the viewfinder from one to the next. Several controls are positioned on the edge of the screen. They let you switch to the user-facing camera, toggle HDR and the flash through on/off/auto, as well as set a timer and select from filters.
The 7 Plus includes two cameras, compared to the 7's single camera. The 7 Plus doesn't shoot 3D photos, but it does offer what Apple calls "optical zoom." The main camera features a 28mm lens at f/1.8 and the secondary camera features a 56mm lens at f/2.8. The camera app on the 7 Plus allows you to access this second, "telephoto" lens via software controls.
A little "1x" button appears in the viewfinder. Tap the "1x" button to instantly zoom in to 2x magnification, with full resolution and sharpness. There's also a slick digital zoom that will take you all the way to 10x, although (as with any digital zoom) you sacrifice some size/clarity doing so. Apple's software seamlessly switches the camera from one lens to another to provide a great zooming experience.
The idea here, says Apple, is to let people take better zoomed-in shots. Adding optical "zoom" is certainly helpful and results in better pictures than digital zoom does.
Also worth noting: the increase in aperture between the main lens (f/1.8) and the zoom lens (f/2.8) means the zoom lens is not nearly as good in low lighting conditions.
Apple plans to add a Portrait Mode to the iPhone 7 Plus. It will make use of both cameras to enhance pictures of people by blurring the background so the subject stands out. This effect is often referred to as "bokeh" and many other phones have offered it for years (with varying levels of quality; a very smart algorithm is required for good results.) Apple said Portrait Mode will arrive via software update in October.
The iPhone 7 Plus also shoots Live Photos, as the iPhone 6s Plus did last year. Live Photos capture a short video clip along with each still picture. When Live Photos is turned on, the iPhone automatically captures 1.5 seconds of video before and after you actually press the shutter button. The result is a combined still image / video clip that includes motion and sound. For example, I took a picture of my daughter doing a cartwheel. The image is a still of her in the middle of the cartwheel, but the Live Photo shows the entire cartwheel from start to finish.
Other phones offer this feature, but Apple's is one of the best implementations I've seen. Moreover, Apple has slowly expanded the places to which one can share Live Photos. For example, Facebook and Google Photos now support Live Photos for viewing.
The iPhone's camera has always been dead simple to use, and that's not changed on the iPhone 7 Plus. Perhaps most importantly, the camera is faster than ever.
Photos/Video
Apple updated the iPhone's camera tech in an appreciable way. The iPhone 7 Plus has a sensor with bigger pixels, and a wider aperture of f/1.8. This means it lets in and collects more light, improving low-light performance. Other tech includes OIS (optical image stabilization, which was previously reserved for the larger Plus model), autofocus with Focus Pixels, wide-color gamut, and stabilization in Live Photos.
These all help the iPhone 7 Plus take the best pictures of any iPhone.
I'm truly impressed with the collection of pictures I captured with the iPhone 7 Plus. There's no doubt it surpasses the iPhone 6s Plus. Pictures are a bit sharper and show more color than before. The iPhone 7 Plus does a great job with white balance and exposure. It's still not perfect, but it's better than ever. The only issue I'd really complain about is some grain in low-light shots — but this is more or less negated by the added detail that's now visible in those same shots.
The second camera produces better zoomed-in shots than the main sensor would, but conditions apply. Using just the 2x zoom delivers reasonably sharp images that have correct white balance and exposure most of the time. It definitely suffers a bit in low light, however, with softer images and more grain than what's captured by the main sensor. This is magnified if you also use digital zoom. You can also get away with using it for macro (really close-up) photography on occasion, as long as ample light is available.
When pitted against the Galaxy Note7 and Moto Z Droid, I'd say the iPhone 7 Plus lands in between. The Note7 is just a small amount better, especially when it comes to focus, while the 7 Plus is better than the Z Droid.
The selfie camera got a huge upgrade, jumping from 5 megapixels to 7, with an aperture of f/2.2, wide color gamut, and more. It also carries over the Retina Flash from the iPhone 6s Plus. (Retina Flash will fire off a preflash to detect the lighting around you and adjust the tone of the screen/flash to match the ambient light. A custom chip blasts the display at a brightness that is up to three times as high as the screen can typically go.) Between the improved sensor, aperture, and Retina Flash, the 7 Plus produces much better selfies than the iPhone 6s Plus.
The iPhone 7 Plus offers plenty of video-capturing options, including slow-motion, timelapse, full HD, and 4K. For starters, the regular full HD footage looks great. I have no complaints at all. Apple's slow/fast motion capture tools are the easiest to use, produce fantastic results, and result in easy-to-share files. The 4K results look incredible on my 5K computer monitor.
The iPhone 7 Plus is all the camera most people will ever need.
Apple Bloat
Apple has relented, sort of. To start, the minimum storage available to the entry-level iPhone is now 32 GB, up from 16 GB. That's a welcome relief, though only 27.66 GB of it is available to iPhone owners. Further, Apple is allowing people to delete unwanted apps, or at least remove portions of the apps. You can dump the Stocks, Tips, Podcasts, and other apps at will.
What Apple is doing is allowing iPhone owners to delete each of these apps' data along with the icon on the home screen. No more stuffing unwanted apps into folders. The apps are still there, but basically hiding. If you decide you want to use them you'll have to "re-download" them from the iTunes App Store.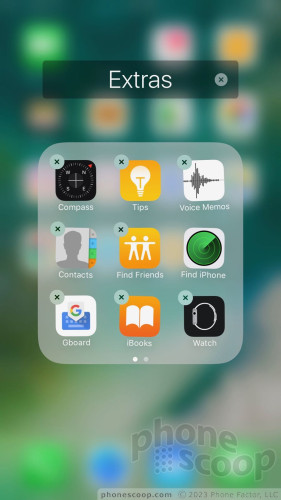 If you want to know more about Apple Maps, Music, News, Photos, and other iOS 10 improvements, be sure to check out our full review.
Wrap-Up
The iPhone 7 Plus is a very good phone and competes well with other large phones in the market. But it's not perfect, and it's certainly not the best phone for many people.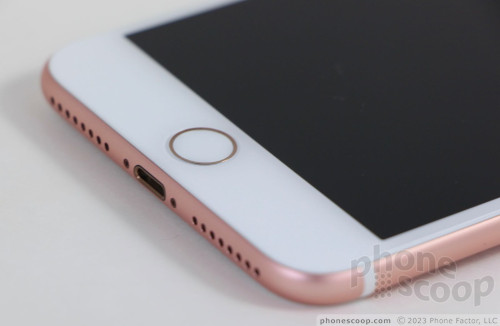 Things I like about the iPhone 7 Plus: it's well-made and has a very good screen; call quality is much better; it's really, really fast; battery life is outstanding; it takes excellent pictures and video; it's water-resistant; Touch ID is crazy fast.
Things I dislike about the iPhone 7 Plus: the recycled design; no 3.5mm jack and proprietary Lightning port; locked-down NFC; poor ratio of screen size to phone size; expensive; poor "stereo" speaker implementation; it's freaking enormous.
If you have a big-screened Android phone (Note 5, Nexus 6p) that you like, then I see no reason to buy the iPhone 7 Plus. If you're ambivalent about what operating system your device runs, then perhaps go to a carrier store and take a good look at the Galaxy Note7 (now that the infamous battery issue is being resolved.) It's probably worth checking out the OnePlus 3 and ZTE Axon 7, too, which are very good big-screened sub-flagships.
If you're upgrading from an iPhone 6 Plus or older, the iPhone 7 Plus makes sense as a replacement. It offers dramatically improved performance over its aging predecessors, particularly as far as the camera, processor, battery, and wireless speeds are concerned. There's less reason to upgrade from the iPhone 6s Plus, which gains many of the 7 Plus's features thanks to the iOS 10 update.
The iPhone 7 Plus starts at $769, which is a bit more than many other flagships cost. Some carriers are offering it for $100 or so if you agree to stick around for 24 payment credits. You're better off selling your old iPhone (to Apple directly, or via Craigslist, etc.) to put toward the cost of the iPhone 7 Plus. Pay the rest yourself, whether that be all at once or over time, to avoid making a commitment to a carrier.
The iPhone 7 Plus may be the best iPhone Apple has made, but it's not the best iPhone that Apple can make. It's the disparity between these two points that bugs me so much.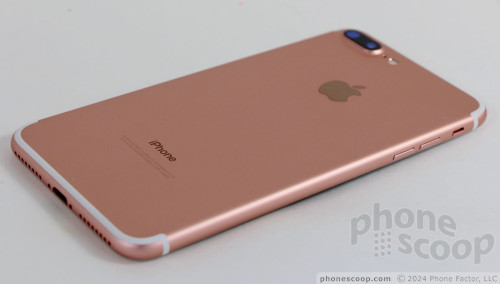 Audio
Short note: the speakers on the phone work well but the voice quality is not as sharp and clear as the 6 series. It's close but not quite as good. Face time is also a little less clear. The person we were talking to said it didn't sound as good as the 6, side by side. Audio in the earpiece also did not sound quite as good. Is it good enough? Still working on that one.