Hands On with the LG X power
Article Comments 2
Sep 2, 2016, 9:46 AM by Eric M. Zeman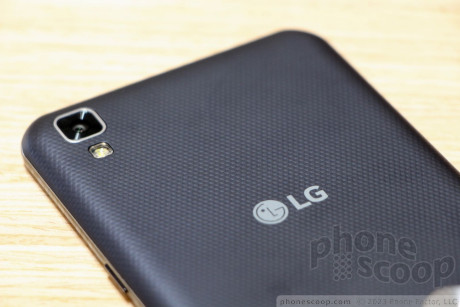 LG announced the X series devices earlier this year, but IFA afforded us the first opportunity to take a look at LG's mid-range devices. The X power packs a huge 4,100mAh battery for extended use.
LG's X series of handsets are decidedly mid-range. The X power is probably the best looking of the bunch. It has more style and panache than any of the others, but that's not saying much.
I was expecting the X power to be bigger and heavier. With a 5.3-inch HD screen, it's still a large device — but it isn't a hand killer, either. All the X series devices are made wholly of plastics; no aluminum here. The frame is a rigid plastic, while the rear is made of a soft-touch polycarbonate that has a dimpled texture to it. I like the feel, as it helps the phone stick to your skin. The combination of colors works well.
The black glass fits tightly into the chrome-colored frame. It has a bit of a thick bezel, but the screen looks great. It really dazzles thanks to the resolution and brightness. There are no physical buttons on the phone's fact, as it relies on software controls.
The volume toggle is on the left side of the phone. It is a thin strip with a low profile. Travel and feedback were rather mushy. The dual-purpose SIM and memory card tray is also on the left edge. The screen lock button is on the right. It has a slightly better profile than the volume toggle, but the action is just as crummy. The USB port and headphone jack are both on the bottom.
LG didn't put much effort into the rear panel. It is flat and, other than the texture, devoid of any styling. The camera and flash are tucked into the top corner. Thank goodness for the coloring.
Beyond the big battery and screen, the X power has a 1.3 GHz quad-core Snapdragon processor with 2 GB of RAM, 32GB of storage, Quick Charge 2.0, 13-megapixel main camera (8-mp in the US), and 5-megapixel selfie camera.
The Android operating system ran well on the phone. I didn't notice ant glitches with the pre-production software.
This smartphone will likely find its home on the shelves of prepaid carriers. In fact, it is already for sale from Cricket Wireless for $160.
WRONG
this is incorrect. its a 1.8ghz octa-core processor and it has 4gb of RAM not 2. please be accurate in your reviews. I work for a wireless carrier and use phone scoop religiously, it on the info page for the phone.
Ant Glitches
e.g., Antennae issues?