Review: Ultimate Ears Boom 2 Bluetooth Speaker
Article Comments
Jul 20, 2016, 8:00 AM by Eric M. Zeman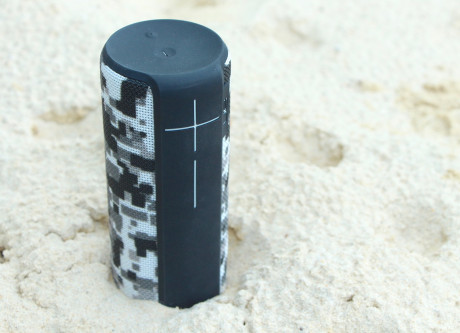 The Boom 2 is a portable Bluetooth speaker that's unique thanks to new support for Siri and Google Now, allowing users to control the music via voice commands. It's also rugged, waterproof, and delivers excellent battery life. Here is Phonescoop's review of the Boom 2 from Ultimate Ears.
Advertisements article continues below...
Intro
Ultimate Ears' Bluetooth speakers are colorful and capable. Now in its second generation, the UE Boom 2 is better than ever thanks to compelling new features, such as integration with Siri and Google Now. If your summer is in dire need of a voice-controlled soundtrack, the UE Boom 2 is ready to take requests.
Background
Bluetooth speakers are a dime a dozen, and rarely exciting. If you haven't checked lately, the shelves of your local Best Buy are crammed with offerings from iHome, JBL, Beats, Bose, Jam, Braven, Marshall, Sony, and dozens of others, at price points that range from $40 to well more than $400.
They come in all shapes and sizes; some resemble teacups more than speakers. Quite a few are relegated to a life indoors plugged into a wall, while others are built to go wherever you go. Since summer is the season of travel, portability ranks high when the sun is shining and the great outdoors beckons.
Standing out in this crowded field is hard to do, but the UE Boom 2 does just that. Beyond its (very) colorful exterior, the speaker is rugged and waterproof, offers solid battery life, and double-pairing for stereo sound.
The Boom 2 takes things a step further by adding support for Apple's Siri and Google's Google Now — allowing you to use your voice to change up the music. That makes the Boom 2 unique enough to warrant a look, so we took it on the road for some wet, summer fun.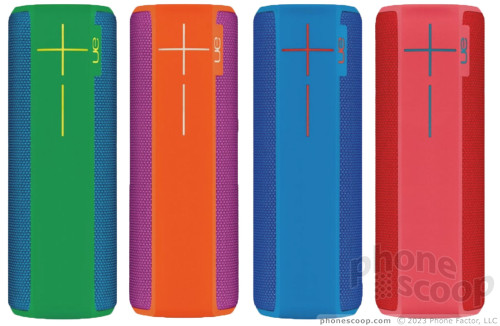 Hardware
The UE Boom 2 is — like many other Bluetooth speakers — cylindrical. It can stand on either end, or roll around on its side. It's 7 inches tall and 2.75 inches in diameter. At 1.25 pounds, I'd call it rather heavy. The end caps are heavy-duty, rubberized plastic and are connected by a fat strip of rubber that runs from end to end. The rest of the cylinder is formed by what looks like standard speaker grille fabric. The fabric is attached firmly to a metal frame of some sort underneath. I'd call the Boom 2 easy to grip and move around, but I wouldn't want to carry it around all day.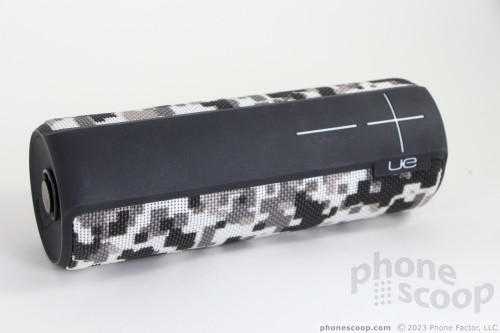 The top is where the power and Bluetooth/action buttons are located. Each button has a light that blinks to life once you've charged the speaker and powered it on. The top is concave, which means you won't accidentally activate the buttons if you stand it up.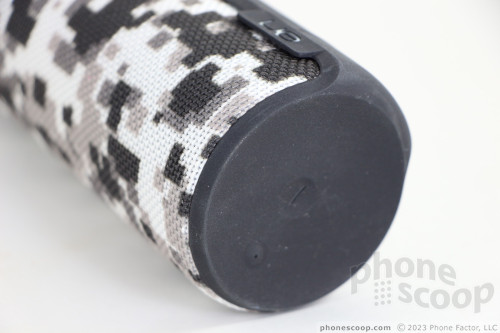 On the bottom, you'll find a flip-out metal loop that makes it easy to hang the Boom 2. Two thick flaps of rubber flank the loop; one covers the micro-USB port and the other covers the 3.5mm stereo jack. They are rather difficult to pry loose and must be pushed firmly back in place to ensure a water-tight seal. The only other controls — huge volume buttons — are embedded in the rubber strip on the side.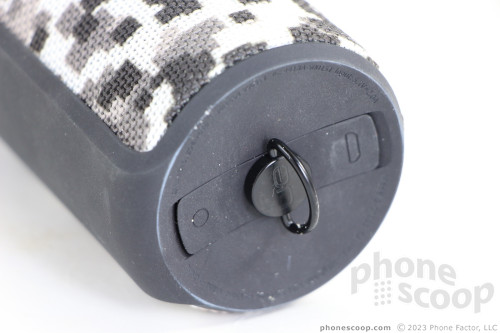 The UE Boom 2 is a solidly built speaker. It comes in black and about a half-dozen bright and loud color combos.
Is it rugged? Heck yeah. I dropped it, rolled it, tossed it, dunked it, soaked it, and left it inside a 125F car for several hours. I sent the Boom 2 down a full flight of steps and tested to see how far I could roll it down my driveway (it doesn't go very far). It stands up to the abuse UE says it can, including some time at the bottom of my pool.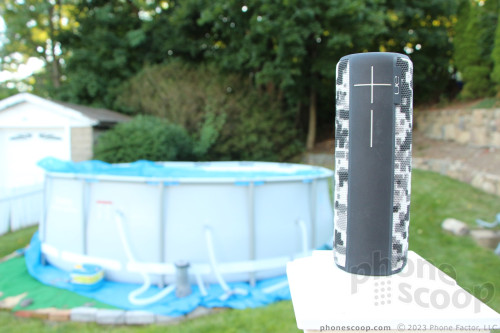 Performance
The UE Boom 2 is a solid speaker, if you spend some time with it. It pairs with Android and iOS smartphones and tablets like any other, but also boasts NFC to streamline the pairing process (Android only). You can choose to plug your phone directly into the speaker via the 3.5mm jack, though you'll need to supply your own cord.
The Boom 2 creates 360 degrees of sound, firing music in all directions. The speaker holds two 1.75-inch, full-range active drivers that push air into two passive radiators. This is what allows the sound to travel in multiple directions at once.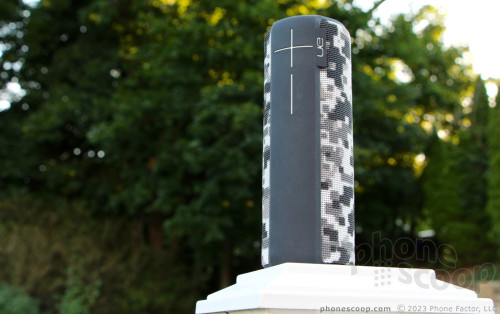 There are pros and cons to "360-degree sound." On the plus side, there's no "back" to the speaker, which means you hear the same quality sound at the same volume as you walk all the way around the speaker. This makes it ideal to hang the Boom 2 in a central spot to disperse sound that everyone can hear. In the minus column, I found the sound lacked the focus and punch that a more traditional, directional speaker produces.
When I first fired up the Boom 2 I thought the sound was pretty rough. Turns out UE has it set to an out-of-the-box EQ curve that it claims is "best for most places." I didn't care for it. You can set the EQ to your own liking (through the app), and this has a profound impact on the sound quality.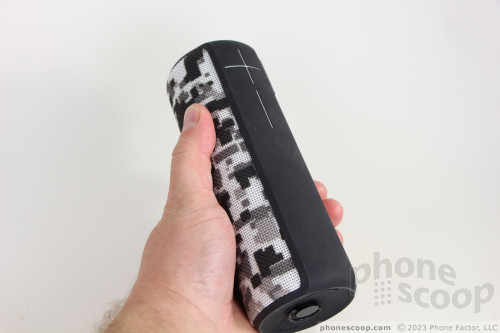 Once I tuned it to my liking, the Boom 2 does a good job, but falls short of great. Music quality was about the same to my ears when streamed from an Android phone or an iPhone, and I didn't notice a dramatic improvement when I plugged the phones directly into the speaker (bypassing Bluetooth). The Boom 2 produces 90dB of sound, which is more than enough to fill a typical back yard with sound during a summer pool party.
UE says the internal battery takes 2.5 hours to charge fully and delivers 15 hours of playback time. This varies a bit, but is basically accurate. I never got less than 12 hours of music playback via Bluetooth, but saw battery life climb to 16 hours when I plugged my phone directly into the Boom 2. The speaker will go to sleep if you don't use it for 15 minutes.
It's worth noting that the Boom 2 supports long-range Bluetooth connections. You can wander up to 100 feet away from the speaker without fear of dropping the connection. That's clutch. I was able to leave the speaker in my detached garage, walk back into the house for a glass of water — phone in pocket — and still hear the music.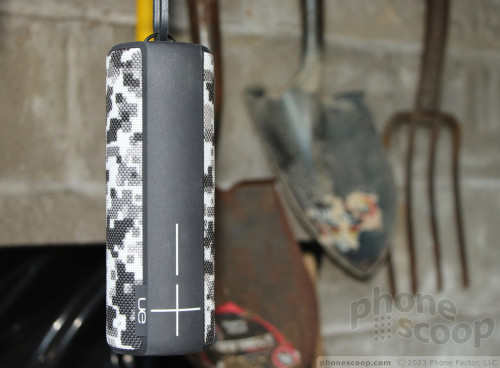 Apps
I was able to do all of the above (except adjust the EQ) without touching an app. By itself, the Boom 2 worked just fine using standard Bluetooth pairing methods from a phone. If you want to do any of the fun things the Boom 2 can do, however, you have to use the app.
The UE Boom app (for Android and iOS) is simple black text on white screens with child-like illustrations, and is dead simple to understand and use. The app lets you adjust the EQ, manage the connections, and even update the firmware. Unfortunately, it is buggy and not always functional.
The first fun thing is pairing two UE speakers for "stereo" sound. On its own, the Boom 2 provides mono playback, but you can connect two UE speakers to the same phone to create a stereo effect. It takes about 10 seconds to set up the connection via the app and, voila, you have two speakers instead of one. The problem is, they're not actually stereo. Each speaker is playing the same signal, rather than distinct left and right signals. UE says the speakers are supposed to work in stereo, but they do not. You can perform this "stereo"-pairing without the app. But not easily. In fact, I couldn't get it to work at all without the app.
The second, and more interesting feature is using Siri or Google Now through the Boom 2. In order to use this feature you might have to update the Boom 2's firmware through the app. It doesn't take all that long to download and install over the air. The basic idea here is to let you control your music directly from the speaker. It's called "Say it to play it."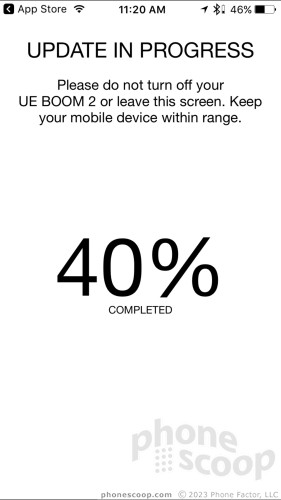 When playing music, a quick press of the Bluetooth button puts Boom 2 is listening mode. The Boom 2's lights blink to let you know it's working, and then you'll hear the signature Siri beep or Google Now chime. (You need to wait until after you hear the corresponding sound to make your request.) Tell the Boom 2 what to song to play, and it plays that track.
I ran into some limitations. First, the delay. There's a significant pause between when you press the button and when you can make your voice request. Moreover, if you wait too long to start talking the Boom 2 cuts you off halfway through your request forcing you to start all over again. On the iPhone, the Boom 2 would only interact with Apple Music, and on Android devices the Boom 2 would only interact with Google Music. The Boom 2 would not interact with Spotify, for example, despite that I have it installed on both phones and asked Siri / Google Now to use Spotify. That's a bit frustrating.
Beyond the music control, Siri and Google Now will answer questions about the weather, your calendar, and can send text messages all through the Boom 2. That's pretty neat. The downside is you still have to physically touch the Boom 2; the speaker won't respond to spontaneous "Hey, Siri" or "OK, Google" voice requests.
The last feature you can use through the UE Boom app is called Block party. Essentially, you allow your friends to connect their phones to the UE Boom and everyone gets a chance to pick some tunes. I found this worked well enough.
Discussion
Ultimate Ears' update to the Boom 2 expands the speaker's usefulness and appeal beyond what it offers out of the box.
This tough speaker takes a beating, and even a swim, with no complaints whatsoever. It is an excellent performer outdoors, making it ideal for camping, trips to the beach, and other on-the-go adventures. The Boom 2 spreads sound evenly around a large area, but isn't as focused as, for example, the UE Roll 2. Further, I found I had to tweak the Boom 2 to get the exact sound I wanted from it.
The additional, app-based tools are welcome, but not perfect. I had trouble doubling-up the speakers to produce true stereo sound, and, beyond the whiz-bang idea of Siri / Google Now integration, the say it to play it feature has a bit of a learning curve to climb.
The Boom 2 costs $199, though it is often on sale for $179. That puts it at the top of the affordable range of Bluetooth speakers. You can probably find speakers at this price point that beat the Boom 2 individually in portability, or sound, or battery life, or toughness — but not all together in one cool package. More to the point, I can't think of any other speakers that have built-in support for Siri and Google Now.
Ultimate Ears did a great job with the Boom 2, making it a bosom buddy to carry when out and about.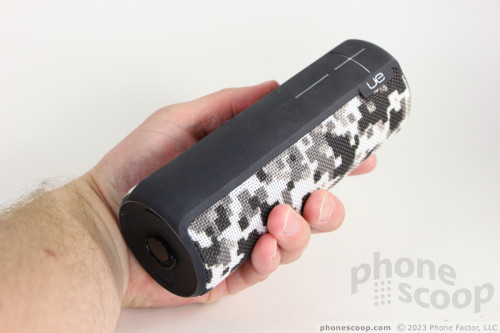 No messages