Review: Ultimate Ears Roll 2 Bluetooth Speaker
Article Comments
Jul 20, 2016, 7:30 AM by Eric M. Zeman
Ultimate Ears Roll 2
Ultimate Ears' Roll 2 is a compact, rugged, waterproof speaker that's ideal for summertime, on-the-go action. Its odd shape and coloring give it some character in a me-too market full of alternatives. Here is Phonescoop's review of the Roll 2.
Advertisements article continues below...
Intro
Ultimate Ears' Bluetooth speakers are colorful and capable. Now in its second generation, the UE Roll 2 is better than ever thanks to compelling new features and completely rugged design. If your summer is in dire need of a soundtrack, the and UE Roll 2 has a song to sing you.
Background
Bluetooth speakers are a dime a dozen, and rarely exciting. If you haven't checked lately, the shelves of your local Best Buy are crammed with offerings from iHome, JBL, Beats, Bose, Jam, Braven, Marshall, Sony, and dozens of others, at price points that range from $40 to well more than $400.
They come in all shapes and sizes; some resemble teacups more than speakers. Quite a few are relegated to a life indoors plugged into a wall, while others are built to go wherever you go. Since summer is the season of travel, portability and some grit rank high when the sun is shining and the great outdoors beckons.
Standing out in this crowded field is hard to do, but the UE Roll 2 does just that. Beyond its (very) colorful exterior, the speaker is rugged and waterproof, offers solid battery life, and plays well with others.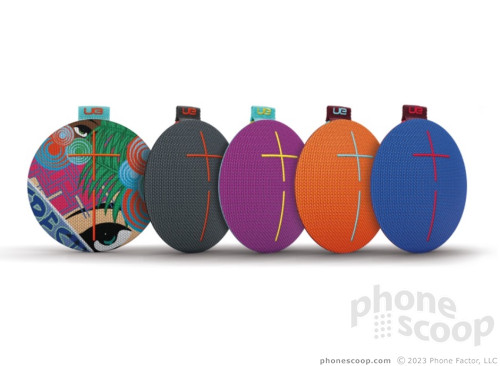 Hardware
The Roll 2 resembles a flying saucer or discus. It measures 5.3 inches in diameter and rests at 1.58 inches tall when on a level surface. It weighs in at 11.6 ounces (0.73 pounds.) The Roll 2 is highly portable, there's no question. It slips into backpacks and suitcases with ease, and it's relatively light.
The top/front is one giant speaker grille covered in meshed fabric. The huge, highly-visible volume buttons are one of the defining features of the design.
The Roll 2's bottom/rear is kinda genius. The whole surface is made of super-hard plastic that has a soft-touch texture. A bungee cord is anchored in one end and can be stored on a notch when not in use. The Roll 2 can hang from just about anything, such as door handles, nails, or hooks.
The power and Bluetooth pairing/action buttons are on the bottom, placed near the bungee notch. A supremely thick flap of rubber forms a single hatch protecting the micro USB charging port and 3.5mm stereo jack. This flap is rather a pain to deal with, and needs to be pressed in firmly to ensure the device lives up to its water-tight rating.
The Roll 2 has more personality than any speaker has a right to. It comes in black and about a half-dozen bright and loud color combos.
Is it rugged? Heck yeah. I dropped it, rolled it, tossed it, dunked it, soaked it, and left it inside a 125F car for several hours. I strapped the Roll 2 to my kayak and enjoyed some tunes while paddling about a local lake. It stands up to the abuse UE says it can, including some time at the bottom of my pool.
Performance
Despite all its enclosure can do, the Roll 2 is, in fact, a speaker. It pairs with Android and iOS smartphones and tablets like any other. You can choose to plug your phone directly into the speaker via the 3.5mm jack, though you'll need to supply your own cord.
The Roll 2 has a traditional speaker design in that it fires sound in one direction. The enclosure hides one 2-inch mid/bass driver and two 0.75-inch tweeters for higher frequencies. The sound radiates outward quite well.
I plopped the Roll 2 on the center of my desk, for example, and heard even sound throughout my office. The same was true when I put the Roll 2 on the table on my deck outside. This was a great way to make sure everyone at the table had a good experience. Using the Roll 2 like this has limitations in how far you can truly hear the sound, but is good when you're close. It's perfect for the coffee table in your living room.
The other way to use the Roll 2 is, of course, to hang it on something. For example, I hung it in my garage and faced it outward while I was doing some yard work. This worked perfectly. I was able to hear it throughout my backyard.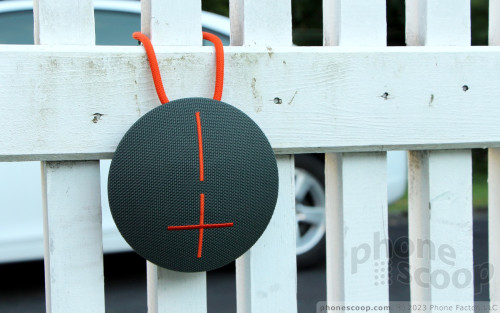 I thought the Roll 2 decent out of the box. It uses a "best for most places" EQ setting from UE, but you can alter the curve to your liking. After adjusting the EQ, the Roll 2 was just that much better. It's not fantastic, but the Roll 2 delivers a lot of punch and character, given its small shape and stature. The Roll 2 pumps out 85dB, which is plenty loud enough for homes or apartments, as well as tailgating or at a picnic outdoors.
The Roll 2 delivers about 9 hours of music playback via Bluetooth and a little bit more when plugged directly into a sound source. Given its size, 9 hours of battery life is decent. The problem is the charging time. It takes more than 5 hours for the Roll 2 to fill up the battery from empty. Five Hours! That means you don't get much if you're in a hurry and have only an hour or two to charge. That puts a dent in the grab-and-go appeal.
It's worth noting that the speaker supports long-range Bluetooth connections. You can wander up to 100 feet away from the speaker without fear of dropping the connection. That's clutch. I was able to leave the speaker in my detached garage, walk back into the house for a glass of water — phone in pocket — and still hear the music.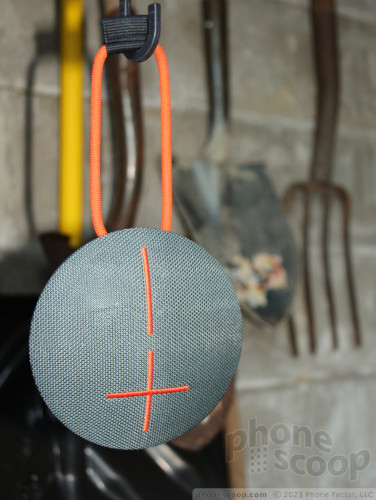 App
I was able to do all of the above (except adjust the EQ) without touching an app. By itself, the Roll 2 works just fine using standard Bluetooth. If you want to do any of the fun things the Roll 2 can do, however, you have to use the app.
The UE Roll App is simple black text on white screens, with child-like illustrations; it is dead simple to understand and use. The apps lets you adjust the EQ, manage connection, and update the firmware. Unfortunately, the app is buggy and not always functional.
The first fun thing is pairing two UE speakers for "stereo" sound. By themselves, each provides mono playback, but you can connect two UE speakers to the same phone to create a stereo effect. It takes about 10 seconds to set up the connection via the app and, voila, you have two speakers instead of one. The problem is, they're not actually stereo. Each speaker is playing the same signal, rather than distinct left and right signals. But hey, more sound in more places. UE says you can do this "stereo"-pairing without the app. But not easily. In fact, I couldn't get it to work at all without the app.
The last feature you can use through the UE Roll app is called Block party. Essentially, you allow your friends to connect their phones to the UE Boom and everyone gets a chance to pick some tunes. I found this worked well enough.
Discussion
The Ultimate Ears Roll 2 looks good, sounds decent, and delivers some fun all at the same time.
I genuinely like the sturdy build quality, and the rugged, waterproof prowess. It is a perfect backyard companion, ideal for camping, trips to the beach, paddling, and other outdoorsy adventures. Sound quality is reasonably good for this class of speaker, and certainly competitive within the price ranges.
The additional, app-based tools are welcome, but not perfect. For example, I had trouble doubling-up the speakers to produce true stereo sound.
The Roll 2 costs $99. You can probably find speakers at this price point that beat the Roll individually in portability, or sound, or battery life, or toughness — but not all together. The Roll 2 is an excellent combination of fun, sound, ease-of-use, and durability.
Ultimate Ears did a great job with the Roll 2, making it a worthy summertime soulmate.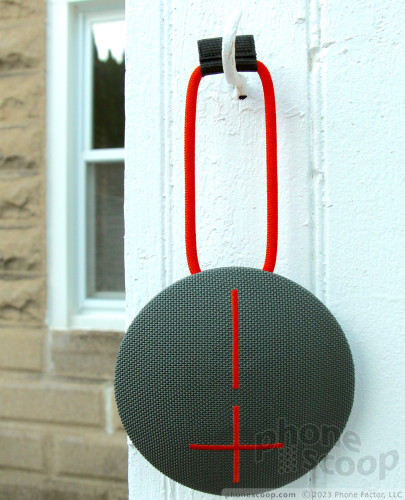 No messages