Review: LG Spree for Cricket Wireless
Hardware Software Wrap-Up Comments 3
Lock Screen
LG was sure to include KnockON and Knock Code for dealing with the Spree's lock screen and security.
Gently rap on the screen two times to wake the phone. This reveals the lock screen, clock, notifications, and four app shortcuts at the bottom. It's a shame the clock is so darned small and hard to read. It's hard to read under ideal lighting conditions and is practically invisible when using the Spree under bright light.
As per the norm, notifications line up in the order they were received. You may choose to view notification content on the lock screen or hide it. The app shortcuts will show badge counts for missed/unread notifications.
AD article continues below...
The Spree offers a standard set of lock mechanisms, but Knock Code is unique to LG phones. With Knock Code, you can set your own, individual pattern of taps on the display to wake and unlock it in one step. Alternately, you can stick with a PIN, password, or pattern.
Home Screens
I hope you prefer Lollipop to Marshmallow. The Spree ships with Android 5.1 and not Android 6, which is a bummer as far as I'm concerned. Along with Lollipop, LG loaded the Spree with its light set of customizations to Android.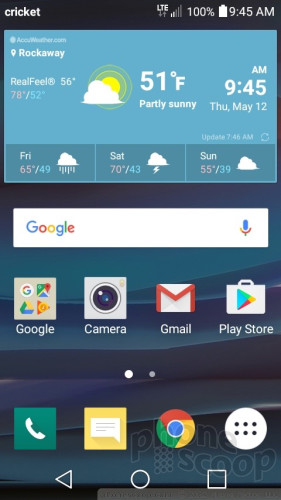 Typically, I discuss interface performance at the end of this section, but I'm going to lead with it here. The Spree is severely handicapped by its processor and RAM. The phone is powered by a 1.1 GHz quad-core Snapdragon 210 (MSM8909) processor — the same chip I just tested in the Kyocera Hydro Reach — with 1 GB of RAM. This combination should be enough to deliver good-enough performance, but it falls far short. The phone is slow to respond, apps take forever to open, and I often had to press the screen two or three times to get the device to recognize input. It was slower than the already-slow Hydro Reach. The sluggish performance really holds the Spree back. It's like I'm testing an Android phone from 2009 all over again — something I'd rather not ever do again.
Beyond the crummy performance, the user interface acts like most other Android phones.
The home screen panels can accommodate widgets, shortcuts, and apps, but you'll have to remove the junk installed by LG and Boost, first. Unlike other LG handsets, the Spree does not include themes. The app drawer is arranged with side-by-side pages, meaning you swipe left or right — rather than up and down — to view your apps. Users can sort apps alphabetically or by when last used, can pick from small or large icons, and can hide and uninstall select apps. The settings screen can be viewed in tabs or a list. The list view is more useful in my opinion. It's arranged about the same as a stock Android device, but LG used its own fonts and colors.
The Quick Settings drop-down shade includes access to radio toggles and other controls. The shade also lets you adjust brightness and volume profiles, and customizing the toggle layout is a breeze.
Capture+, the new version of LG's QuickMemo, is present and accounted for. A press of the button takes a screenshot and then opens a basic editing tool for adding comments and sharing.
LG's EasyHome (a simplified home screen experience for novice users) is aboard. I thought perhaps EasyMode might perform better (speedier) than the standard UI, but it does not.
Camera
The Spree doesn't have a physical camera button, but LG was smart enough to provide a shortcut: Press the volume-up button twice to launch the camera, even when locked. It's a shame the camera is so slow to open. You can forget about whipping out the Spree to catch fleeting moments.
The camera has almost no features to speak of. A strip of controls along the side allows you to open the settings menu, toggle the flash on/off, and switch to selfie mode. That's pretty much it. There are no advanced shooting modes, nor even any advanced settings tools. Users can adjust the image aspect ratio and size, turn on/off a timer, and initiate LG's voice-activated shutter tool.
It's a shame there are so few features on the camera, especially ones that are common to most phones, such as HDR and panorama. About the only really useful tool is the touch-to-focus option.
The worst part of the camera is of course the performance. It's frustratingly slow to do anything. If you're shooting landscapes or other static scenes it doesn't matter much, I suppose, but the LG Spree fails miserably at catching action or moving subjects.
Photos/Video
The Spree is pretty darned bad at taking pictures. I wasn't expected much from the 5-megapixel sensor, but even then it somehow managed to fall short. Focus is soft throughout. I didn't capture a single sharp image with the Spree. Exposure is all over the place. You can see a lot of overexposed areas in the images below. Under-exposure was less common. White balance is the one area the Spree managed to get more right than wrong.
All of these issues are compounded by near-universal grain. Indoor shots, in particular, suffer horribly from grain. Using the flash does actually help clear up the grain a bit, but it can't help improve focus.
The selfie camera is barely worth using.
The video camera is capable of recording video up to 720p HD. It produces adequate results. Focus is better with video, but footage still suffers from exposure issues. Grain is also still a problem, but at least white balance is on target.
The Spree barely suffices as an everyday shooter. It's definitely not a replacement for any standalone camera.
Cricket and LG Stuff
The Spree has just 8 GB of internal storage, of which only 3.3 GB is available to users. I highly recommend you add a memory card, and fortunately, you can. Bloatware isn't overly awful. Cricket's account management app is included, as is its Deezer music service. There are several games preloaded, including Candy Crush, Gummy Drop, and Yahtzee. These are the only apps you can uninstall to make more room, but we're only talking about a combined 200MB.