Review: LG Spree for Cricket Wireless
Hardware Software Wrap-Up Comments 3
May 12, 2016, 2:30 PM by Eric M. Zeman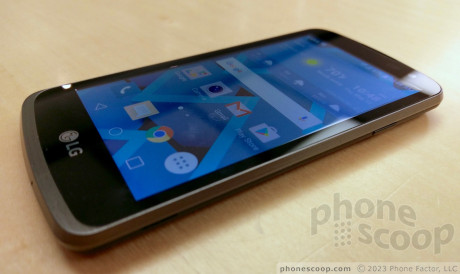 LG's latest low-cost Android smartphone for Cricket Wireless is compact and well made, but it misses the mark in more ways than one. Here is Phonescoop's full review of the LG Spree.
Advertisements article continues below...
Is It Your Type?
The LG Spree is a bottom-of-the-ladder phone. Cricket is selling the device for $40, which means it's aimed at those on strict budgets, or your kids, for example. Phones don't come much cheaper than this. The Spree is a simple smartphone that skips the thrills in favor of lower bills.
Body
This inexpensive Android smartphone adopts some of the design language of LG's pricier handsets. The appearance is straightforward and minimalistic. Importantly, it doesn't look cheap, at least not from several feet away.
The Spree has conservative styling. Black colors the front and back surfaces, and a gray frame borders the outer edges. It seems to me a phone that goes by the name "Spree" should have a bit more whimsy in its design. The gray frame has a brushed metal-like finish, but it is made from polycarbonate. The general shape of the phone is basic; it has nicely rounded edges, but without any odd lines or swoopy curves.
People who have small hands — including pre-teens — will appreciate the compact footprint. The Spree has a 4.5-inch screen, and the overall dimensions are very kid-friendly. At 4.23 ounces, it's incredibly light, too. Everyone should be able to use this phone with no problem. My thumbs easily reached the upper corners of the display.
I found the Spree comfortable to hold and use. The combination of small size and light weight makes it a snap to carry about. In fact, using the Spree was a welcome break from carrying around a much heavier flagship phone. The Spree will fit into the majority of pockets without issue.
The display glass is seated firmly into the polycarbonate frame. The frame forms a very small rim; it's just enough to protect the screen when the phone is placed face down on a flat surface, but not so much that it snags your skin. The rear panel is attached to the phone firmly and forms a tight joint against the back half of the frame. The phone is put together well for this class of device. LG didn't use the highest-quality materials on earth, but the phone manages to avoid feeling cheap
.
Most of today's phones have a display that's black when off, disappearing into a black glass front. It makes for a sleek look. The Spree's (cheaper) display, however, is grey and very visible when off. It's one of those things that tells you you're looking at a cheaper phone. The user-facing camera is just barely visible, but the chrome LG logo always seems to catch your eye. There are no buttons on the front of the Spree, as it uses on-screen controls.
LG skipped its usual rear-mounted buttons and gave the Spree a standard set of side buttons and ports. The volume toggle is positioned on the left edge. The profile is adequate, as are travel and feedback. It sounds a hair cheap when pressed. The screen lock button is on the right edge, closer to the top. The profile is better than the volume toggle and so are travel and feedback. I was pleased with the screen lock button's action. The micro USB port and stereo headphone jack are both built into the bottom edge of the Spree. There are no controls along the top. You won't find a dedicated camera button.
The back surface is rather boring. A ribbed pattern in the black plastic provides some texture. The camera module, which protrudes noticeably, has a chrome rim to help set it apart visually. The basic LED flash is placed next to the camera. Both Cricket and LG saw fit to paint their logos on the back panel. Some small holes cut near the bottom of the panel reveal the grille for the speakerphone. The 2-by-2 pattern of holes is classic LG.
A notch in one corner provides the leverage your thumbnail needs to pry off the rear shell. Once removed, you have access to the battery, SIM card, and memory card. You have to pull the battery to swap out SIM cards, but the memory card slot is accessible any time. Some people prefer removable batteries, so count that as a positive for the Spree.
Taken as a whole, the LG Spree is a respectable little phone. It's clearly not cut from the finest cloths, but it's not dressed in rags, either. The Spree is small, functional, and put together well. Surely that's all a phone need be for some people.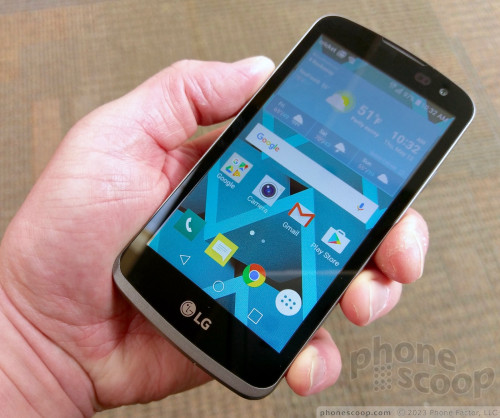 Screen
I'm not that impressed with the display. It measures 4.5 inches and includes a fairly low resolution at 480 by 854 pixels. (In case you're wondering, that's the same screen size/resolution we were seeing on Android flagships about 6 years ago.) LG didn't have much choice, mind you. The inexpensive display helps to keep the Spree's price point down. Nothing on the Spree's screen looks sharp and colors are a bit dull. Brightness is acceptable when set all the way up, but nothing can help beat back glare and fingerprint issues. LG apparently skipped the oleophobic and anti-glare coatings on the glass, and boy can you tell. It's almost impossible to use this phone outdoors.
Signal
Cricket operates on AT&T's network and in that respect the LG Spree performed on par with other phones I've tested on Cricket/AT&T in the New York City region. It demonstrated a good connection to the network and was able to make calls and send/receive messages in both strong and weak coverage situations. The Spree maintained calls when traveling at highway speeds, but did miss some calls when on the road. Data speeds were decent, but far from impressive. Weak coverage definitely impacted data speeds. I often saw 4G drop down to 3G when coverage was at its worst.
Sound
Call quality is a mixed bag. The earpiece delivers calls at incredible volumes when cranked all the way up. It's loud enough that it borders on painful. I was able to hear calls in very noisy environments. The loud volume comes with a heavy cost: the earpiece suffers from distortion in a really bad way. You can drop the volume to the 60% mark and still hear it in most places. Moreover, doing so helps reduce distortion and improve clarity, but there's still some distortion. People I spoke to through the Spree said I sounded far away.
The speakerphone offers similar performance. It's quite loud when set all the way up, but the distortion is so bad as to make the speakerphone unusable. Turning down the volume clears up the calls a bit, but then it's harder to hear them in spaces such as a moving car. There's no sweet spot to balance things out.
Ringers and alerts are eye-poppingly loud. The vibrate alert just barely strong enough to get my attention.
Battery
The Spree includes a 1,940 mAh battery and it does all right. The smaller, low-rez screen and conservative processor don't require as much energy and likely contribute to the phone's full-day battery life. The Spree managed to stay alive from breakfast to bedtime most days with average use, but it usually had less than 10% remaining. If you use the phone heavily, you'll see it peter out earlier in the evening.
LG's software includes a basic battery saver tool. It can be turned on manually, or automatically when the battery reaches 15% or 5%. Users can restrict background app processes and set a few other parameters to help conserve power. It's modestly effective.
The Spree doesn't support rapid charging, nor wireless charging.
Bluetooth, GPS, NFC, WiFi
Some Bluetooth devices paired with and connected to the Spree without issue, but some were problematic. Items such as headphones, speakers, and PCs worked, but for whatever reason Spree wouldn't talk to my car's hands-free system. Calls routed to a Bluetooth headset were downright miserable, choppy and distorted. Music pushed to a Bluetooth speaker was good enough for casual listening while I painted my porch, but I've heard much better.
The phone's GPS worked, but not well. Google Maps often took 10 or more seconds to locate me, and accuracy was never better than about 40 feet. This was a real problem for real-time navigation, as Maps was painfully slow and often lagged behind my actual location.
The Spree doesn't have NFC.
WiFi worked just fine.
LG Spree
Eric,
With all due respect, you need grammar check installed before you write another review; and do make sure to keep things consistent (Cricket is not Boost). Your review is entirely negative and you are comparing a phone that can be purchased today for under twenty dollars to one that is six hundred. I personally would not have paid you for this copy/paste review. Unbelievable.
What a waste of my time to read such dribble.
Moonpup lol you can't critique grammar then close with dribble not drivel