Review: Samsung Galaxy S7 Edge for Verizon Wireless
Hardware Software Wrap Up Comments 1
Lock Screen
Samsung is (finally) taking a page from some of its competitors when it comes to the lock screen. The biggest and most important change is the inclusion of an "always on" screen that shows the date, time, battery level, and core notifications from email, messaging, and the phone. This way you can snag a quick status update without pressing any buttons or waking the phone up. It's truly helpful. Like the Lumia Glance Screen, the S7 Edge's status tool floats around the display sort of like an old-school screen saver. Nostalgia!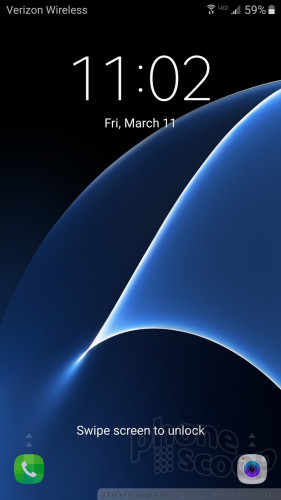 Other than this change, the lock screen works mostly as it does on every other Android smartphone. Pressing the home button or screen lock button will fully wake the display and you'll see the time, date, notifications, and several app shortcuts. I like that you can customize how much detail is revealed by the individual notifications. (If you care to burrow deep into the settings menu you can tweak exactly how each app is allowed to notify you.) The lock screen includes shortcuts to the phone app and camera. You can't customize the app shortcuts, which is a bit of a shame.
Advertisements article continues below...
The physical home button doubles as a fingerprint reader. That means you can use your fingerprint to secure the phone. I trained several prints and found it to be mostly reliable. It's not quite as quick as the print readers on the iPhone 6s or One A9, but it is quick enough for daily use. Other security options include patterns, PINs, and passwords, which can be set to switch on immediately or after a specified interval. Choose wisely.
Samsung did give the S7 Edge one leg up on the S7: the edge screen itself can be turned on indefinitely when the rest of the display is off to show the time, date, and notifications. Third-party apps are able to take advantage of this, too, such as Twitter and Yahoo news, which will show inbound content via the edge screen if you want. Last, the edge screen can serve as a night clock if you want.
Home Screen
The Galaxy S7 Edge runs Android 6.0 Marshmallow. That means it includes some of the core new features from Google, such as Doze and Now On Tap. As expected, however, Samsung once again plastered its TouchWiz UI on top of the base platform. The results are mixed, but not all that different from any other phone Samsung has released in recent memory.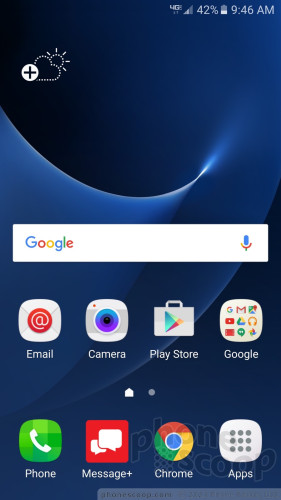 There are just two home screen panels active out of the box and they are filled with an assortment of Samsung and Verizon apps and services. It takes some effort, but you can clear away the junk and customize the home screen panels with the apps, shortcuts, and widgets of your choosing. I like that Samsung allows you to assign which panel is the home panel, such as the middle screen or left-most screen, etc. You can activate the Briefing panel (which is Flipboard) if you want, or ignore it. If activated, Flipboard automatically becomes the left-most panel.
One thing I dislike: the button to access the app drawer is anchored to the far right of the home screen dock. I prefer the button to be in the middle, but Samsung won't let you move it around. Worse, the dock only fits four buttons across where many phones fit five buttons. Oddly, you can adjust the size of the home screen panel grid between 4x4, 4x5, or 5x5 icons, depending on how many apps you want on each screen. Doing this, however, doesn't change the 4-icon limit in the dock. C'mon, Samsung!
As for the app drawer, Samsung organizes it into horizontal panels that move sideways one full screen at a time. I prefer the smooth vertical scrolling of stock Android. Out of the box, there is a single panel that has a handful of folders jammed with Verizon, Samsung, and Google apps. Samsung normally allows users to choose between alphabetical order, custom order, or order based on frequency. Typically, if you choose alphabetical order, which is what I prefer, all of the apps are pulled out of folders and listed individually. On the S7 Edge, choosing the alphabetical arrangement doesn't pull the folder-bound apps out. This is really annoying to me. You can take the time to individually remove the folders. These are small complaints, I suppose, but the S7 Edge is harder to tweak in this regard than the S6 or other Samsung Galaxy phones.
There is no change to how Samsung treats the settings screens. You can choose to add some of your most-used settings tools to the top of the screen; otherwise, all the settings are arranged into the usual clumps (radios, personalization, accounts, system, and so on.) The same goes for the Quick Settings panel and notification shade. Samsung changed up the fonts, colors, and icons, but the underlying functionality of the Quick Settings panel is unchanged. That means you can tweak where the toggles land for controlling various radios, and such.
When it comes to personalization, the S7 Edge includes an expanded set of themes. Themes override everything: fonts, colors, icons, graphics, wallpapers, and more. There are just two alternate themes preinstalled on the phone. If you want more, you'll have to create a Samsung account to download them. That's annoying and pretty much guarantees I won't be downloading more themes. Creating a Samsung account is free, and most of the themes are free, too. The usual tweaks are all available, such as ringers, alerts, yadda yadda yadda.
You can multitask on the S7 Edge by running two apps at the same time in separate windows. Not all apps are supported, but those that are have a distinct icon (two rectangles on top of one another) to indicate their compatibility with the tool. It works fine and takes maybe 60 seconds to master.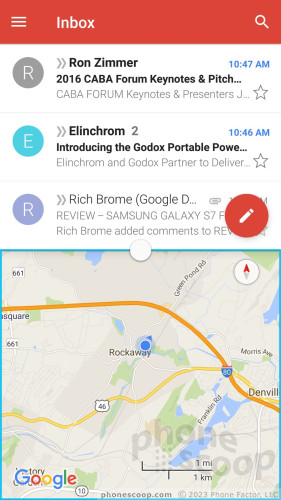 The S7 Edge includes TouchWiz Easy Mode, which gets rid of the complicated home screen panels and app drawer in favor of larger icons and fewer screens through which to navigate. This tool is meant for people who may be new to smartphones, or those who have seriously bad eyes.
You can use a number of different hand gestures to control the phone. For example, you can capture a screenshot by swiping the edge of your hand across the display, or call the contact whose call log, message, or contact details are on the screen by bringing the phone to your ear. Incoming calls can be muted by placing your hand on the screen or turning the phone over.
On the performance front, the S7 Edge has a Snapdragon 820 processor with 4 GB of RAM. The 820 is Qualcomm's top-of-the-line chip, and 4 GB is a whole lot of RAM for a phone. In fact, Qualcomm has been yammering about the 820 for nearly 9 months. The 820 is a SoC that bundles together blazing quick processor cores with a GPU, ISP, and LTE radios. The S7 Edge is one of the first — if not the very first — devices to ship with the 820 inside. (Some international models of the S7 Edge use Samsung's Exynos Octa chip, but all US variants run the 820.) Um, yeah, it's fast. The phone does everything lickety split. You won't see any staggering, slowness, or lagging with the S7 Edge. It performed every task I set before it without hesitation.
Edge Screen
Samsung overhauled the Edge Screen software on the S7 Edge to make it more useful. It is, but it's somehow now also less relevant.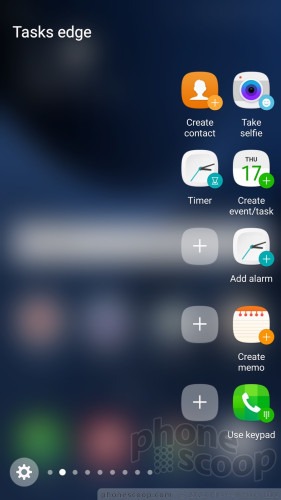 Like before, Edge content is available by swiping a thin tab that appears on the curved part of the screen. You can position the tab anywhere along either side of the S7 Edge's screen. You can choose how large the tab is, as well as how transparent it is. When swiped open, the Edge panel now accommodates two rows of icons for apps or contacts, and can handle more usable (i.e., readable) content, including actual articles. In other words, Samsung went with MOAR. Great.
The phone ships with 11 slices of content for the Edge panels: app shortcuts, more app shortcuts, contacts, headlines, Milk Music controls, profiles/settings for ringers and alerts, stocks, scores, compass, calendar, and weather. Each of these panels can be customized to suit your individual tastes and needs. More Edge panels are available for download from Samsung (Samsung account required) if you feel these 11 aren't enough. For example, I'd replace Yahoo news with CNN, and dump the stocks for a messaging window. Only 9 Edge panels can, however, be active at any one time.
The panels work fine, and I like the flexibility afforded by the revised Edge screen behaviors. They each offer a snapshot of the content you want as well as the option for accessing more content, notifications, or details. The original idea behind the Edge screen was to provide a "snapshot" of information; a set of quick, glanceable data that could be digested and dismissed. Now, you can read more, see more, do more and that raises the question: why not just open the full app instead?
It essentially boils down to a matter of multitasking and how you choose to handle it. Everyone has a preferred way to deal with certain activities and interruptions. The Galaxy S7 Edge does offer more flexibility in handling multitasking and interruptions than other devices. Don't forget, the S7 Edge already allows you to run two full apps at the same time. The Edge panels are simply a variation on a theme — and are less powerful than half-screen apps on the S7 Edge.
In this case, I'm not sure that "more flexibility" in handling some tasks necessarily equates to "better." To put an even finer point on it, are curved glass and enhanced notifications worth an extra $110 to you? I'd argue that for most people, they aren't.
Camera
The camera app is a carry-over from older Samsung phones, but has a wider array of shooting modes and tools than most. The best way to launch the camera is to double tap the home button. You can do this when the phone is locked. The camera jumps to life quickly so you can capture a shot.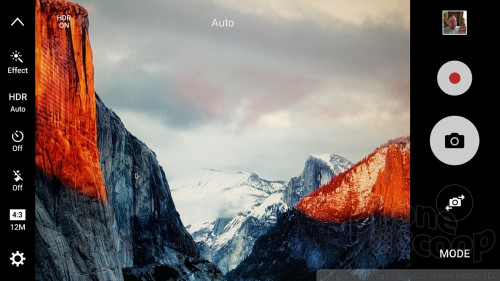 The S7 Edge's camera includes shutter controls and access to the shooting modes and recent photos on the right side of the viewfinder. There are two shutter buttons, one for pictures and one for video, and the shooting modes include auto, pro, selective focus (bokeh), panorama, video collage, live broadcast, slow motion, virtual shot, food, and hyperlapse. None of these modes is really new. I'd recommend most people stuck with the auto settings, as it is the easiest to use, and takes great photos.
The "pro" mode is a manual mode that adds control over white balance, exposure, and ISO, which are not available on the auto mode. You can choose your own shutter speed, too, up to 10 seconds for creative night shots, as well as fiddle with metering and color correction. Select focus allows you to alter which subject is in focus after you've taken the photo. The video collage tool automatically assembles a handful of photos and videos (based on time, location) to create shareable moments. Live broadcast lets you push live video directly to YouTube. The Food tool lets you take close ups of your fancy food and makes the colors look more vivid. Slow motion and hyperlapse do what you expect them to. The virtual shot tool lets you take 360-degree images of stationary objects. For example, you can use it to walk around Michelangelo's statue of David and then see the statue from all sides on your phone. It's tricky to use and takes practice. The rest of these shooting modes are a snap to figure out, and Samsung provides a tutorial if you need it.
An arrow on the left side of the camera UI will drop down a set of icons that let you access effects (sepia, etc.), the timer, flash, HDR, and full settings. You can play with the resolution, location tags, grid lines, and so on, but there are a few more-advanced settings. For example, you can turn on the Motion Photo capture mode, which captures video and images at the same time (like HTC's Zoe and Apple's Live Photos). It works well. The S7 Edge also has a tracking auto-focus feature that lets you select a subject and keep it in focus even if it moves around.
The user-facing camera includes several imaging tools. The basic selfie mode includes a beautification tool that's rather extensive. For example, you can make your face slimmer, make your eyes bigger. add a heavenly shine to your face, as well as play with your skin tone. The selfie came includes a wide-angle mode to fit more people into that group shot, and you can use the live broadcast function when taking selfies, too.
The camera app is very fast. The Snapdragon 820 — along with its dedicated image signal processors and Samsung's software — provide flawless performance of the app itself. You can keep it simple for basic photography if you want, or take advantage of the wide number of features to more creative. It's got something for everyone.
The S7 Edge camera doesn't offer any functionality different from / or additional to the standard Galaxy S7.
Photos
Samsung took a different approach to the camera sensor this year. For a while it seemed as though Samsung might fall victim to the megapixel wars, amping up the number of pixels indefinitely in order to appear more powerful. But photo pros know that megapixels aren't everything, and that has apparently sunk in with the folks over at Samsung. That's why the S7 Edge trades in the 16-megapixel sensor from the S6 for a higher-quality 12-megapixel sensor. Samsung says the pixels are larger to improve low-light capture, among other advantages.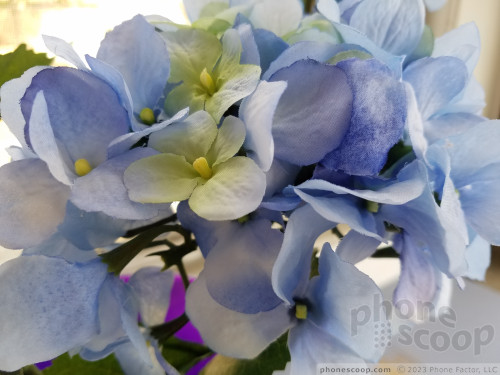 The phone takes darned good pictures. It's probably the best camera available from a modern smartphone, and it definitely goes toe-to-toe with the iPhone 6s and 6s Plus.
Focus is sharp, exposure is dead-on, and colors are accurate. I was very pleased with the results I saw from the camera. The phone does well in bright and dark environments. Shots taken in darker spots were free of grain and noise. The f/1.7 aperture and optical image stabilization help a lot here. It's a fine, fine camera.
The front camera has a 5-megapixel sensor and an f/1.7 aperture and it produces excellent selfies. I find many phones take grainy selfies that look soft and drab. The S7 Edge takes highly accurate selfies (warts and all!) that are crisp, clean, and properly exposed. You're going to be able to take your selfie game to a whole new level with the S7 Edge.
The phone captures video up to 4K, but as always I recommend you stick with the 1080p HD settings. Full HD provides all the pixels you need and the S7 Edge does a great job at delivering sharp, accurate video.
Going on vacation? Leave the dSLR at home. The S7 Edge can handle most of your photography and video needs.
Samsung / Verizon Stuff
The Verizon S7 Edge has 43 apps pre-installed. That's 15 to 20 fewer than past iterations of Samsung's flagship devices. The issue isn't so much volume as it is how aggressive Verizon's apps are. They assault you during the device setup process and, even when dismissed, come back later with reminders to sign up, download this, install that, sync here, and push there. It's way over the top. Verizon's apps border on malware, they're that intrusive.
Verizon also has an app deal with Amazon, which means all Verizon's phones come preloaded with a number of Amazon apps that people may or may not want.
Samsung toned down the presence of its own apps, but they are still there hidden in a folder. (S Health, S Voice, Milk Music, and so on.)
My biggest gripe with all these is that hardly any of the unwanted apps can be uninstalled. Only six of the total can be stripped from the phone, cleaning out space for more. By the way, the phone ships with 32 GB of storage, but only 20.5 GB of that is available out of the box. The system image and preloaded apps consume 11.5 GB. That's kind of absurd. Thank goodness the phone supports 200 GB microSD cards.
Gear VR
Samsung is offering the first wave of S7 Edge buyers the Gear VR headset for free. Don't dismiss this offer, as the headset normally costs $99. In order to get the S7 Edge and Gear VR to play nicely together, you have to download the Oculus Android app, create an account, and all that nonsense. Once you do, you can insert the S7 Edge into the Gear VR headset and explore virtual worlds.
It's pretty darned neat. The software is designed in such as way that you navigate by moving a pointer with your head. A small button on the right side of the Gear VR lets you make selections, and there's a "back" button to help you navigate backward through the menu. The small button takes some practice to use effectively.
The free content that's available in the Oculus app can provide hours of exploration. There are sweeping panoramas of the real world and virtual worlds. Some video content is there to watch, as well. It's truly enveloping and goes far beyond what I've seen from Google Cardboard.
Samsung (and I) recommends that you sit down when using the Gear VR. A spinning chair works best. This makes it easy to see all 360-degrees of the virtual worlds.
Using the Gear VR will take a toll on your battery, but it's worth it for the entertainment.