Samsung Galaxy S7 Clears FCC with Single Approval
Article Comments
Feb 4, 2016, 1:44 PM by Rich Brome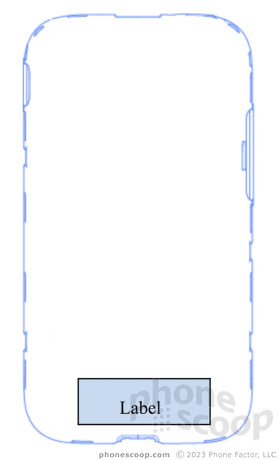 The FCC this week approved a pair of new Samsung phones that are almost certainly the new Galaxy S7 and Galaxy S7 edge (or equivalent). Unlike previous generations of the flagship phone, Samsung was able to have all U.S. carrier variants approved under a single FCC ID, indicating a new level of hardware standardization for the company. The phone will still come in specific variants for each carrier, each restricted to certain LTE bands, among other differences. The FCC documents reveal much about the network band and feature support of each variant. The phones are widely expected to be announced at a Samsung event scheduled for February 21st.
FCC documents reveal certain features similar to the Galaxy S6, including MST (Samsung Pay) and NFC.
The first new phone approved the FCC bears the model number SM-G930. Last year's S6 had the model number SM-G920, and the S5 was the SM-G900.
Similarly, the Galaxy G6 edge had the model number SM-G925, and the other new phone approved by the FCC this week is the SM-G935.
FCC documents for both phones mention label information laser-engraved on the back of the phone, indicating high-end, sealed-battery construction, similar to last year's Galaxy S6.
Both phones have distinct model numbers for all four top-tier US carriers, such as SM-G930V for Verizon, even thought they share one FCC ID. The common FCC ID means a very standard hardware design across all carrier variants. FCC documents indicate that the carrier variants will be sold in a state limited to that carrier's network bands, presumably via low-level firmware.
S7 bands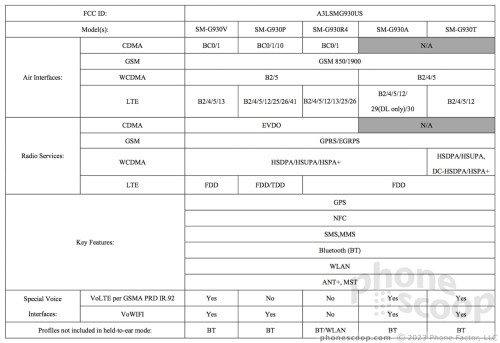 S7 bands
The Verizon version supports LTE bands 2, 4, 5, and 13. The T-Mobile version supports LTE bands 2, 4, 5, and 12. The Sprint version supports LTE bands 2, 4, 5, 12, 25, 26, and 41.
S7 edge bands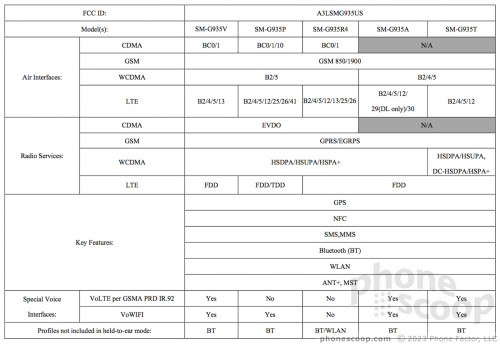 S7 edge bands
The AT&T version supports LTE bands 2, 4, 5, 12, 29, and 30. (AT&T recently switched its phone requirements from band 17 to band 12, to improve interoperability with T-Mobile and smaller networks, after the FCC started inquiring about the issue. Band 12 is a larger band that includes the frequencies of band 17, so AT&T is using the same frequency band but identifying it differently.) Bands 29 and 30 will be used by AT&T in the coming years to boost LTE speeds.
Both the AT&T and T-Mobile variants will supports WCDMA bands 2, 4, and 5 (1900, 1700, 850 MHz). (AT&T recently started allowing WCDMA band 4 support on its phones, alongside the move from band 17 to band 12.) The Verizon and Sprint variants will support only bands 2 and 5.
Naturally, only the Verizon, Sprint, and U.S. Cellular variants support CDMA networks.
Only the Verizon, AT&T, and T-Mobile variants support VoLTE. Sprint has promised to support VoLTE but has not yet launched it. All versions (excluding U.S. Cellular) support Wi-Fi Calling.
Curiously, label information submitted to the FCC show different manufacturing locations for different US carrier variants. Verizon and AT&T units will apparently be made in Korea, Samsung's homeland. Sprint's units will come from China, while T-Mobile units will be made in Vietnam.
No messages