Part 1 Part 2 Part 3 Part 4 First Look Comments 35
UTStarcom OpenMoko
UTStarcom surprised us at this year's CES with a few quite interesting new phones in addition to their usual parade of lower-end CDMA clamshell phones.
In UTStarcom's lineup, the 8000 series are manufactured by Pantech, with UTStarcom essentially acting as Pantech's representation in the North America, handling the carrier relationships, marketing, and branding. New 8000-series phones here at CES include three clamshell-style models, a standard slider, and a slider messaging phone.
The standard slider - the 8965 - is a fairly stylish number, available in a number of color combinations.
Advertisements article continues below...
The 8965 also sports a respectable feature set, including EVDO, Bluetooth, a memory card slot, and a 1.3 megapixel camera. The 8965 is slated for a summer launch with regional carriers and/or MVNOs.
Moving up the new 8000-series lineup is the 8970, a thin clamshell with a couple of unique features.
The first unique feature is the oversize external display. An array of LEDs can display the time, scrolling text messages, and more, at a size than can be read from across the room.
The next unique feature of the 8970 is the scroll wheel built into the hinge. This clever innovation puts a physical wheel right at the tip of your thumb for easy scrolling and/or volume control (they haven't nailed down what it will control yet.)
Other features of the 8970 include EVDO data, Bluetooth, a 1.3 megapixel camera, and a microSD memory card slot. Don't expect to see this one until the second half of 2008, though.
The oddball phone in the new 8000-series is the TXT8010, which sports a very rare type of sliding-keyboard form factor. The only other phone we've seen with a landscape display and keyboard that slides out from the bottom is the Samsung i620 for Europe. This curious form factor creates a phone that is almost square when closed, not unlike the new iPod nano.
Other than the unique form factor, the features are mostly basic. It does have Bluetooth and a memory card slot, but the camera is only VGA and there's no EVDO data. It's a basic messaging phone for the price-sensitive youth market, so it will compete with phones like the LG Rumor / Scoop and Samsung R410.
The TXT8010 is one of the few phones UTStarcom would confirm is slated to be offered by a major US carrier. It's currently planned to debut in June.
UTStarcom is also launching three AWS phones in 2008, including two made by UTStarcom (7000 series) and one from Pantech. These are tri-band CDMA phones (CDMA 850/1700/1900,) so they support today's CDMA networks as well as new CDMA networks launching in a few months that will use the new AWS (1700 MHz) frequency band.
As one might guess, the first AWS phone to launch will be the most basic one, and then UTStarcom will work their way up to models with a few more features. That first one is the 7126, which is an extremely basic clamshell model with a set of indicator lights on the outside in leiu of a full external display.
Moving up the lineup slightly is the 7176, which adds a true external display and a camera, but is otherwise similar to the 7126.
Both the 7126 and 7176 are 1xRTT-only, so they don't support EVDO (3G). Both phones are also based quite closely on existing models; they're basically just the 7125 and 7175 with AWS support added.
The Pantech AWS phone is the 8076, which was first shown off at the fall CTIA show a few months ago.
The last new 8000-series phone is the 8950.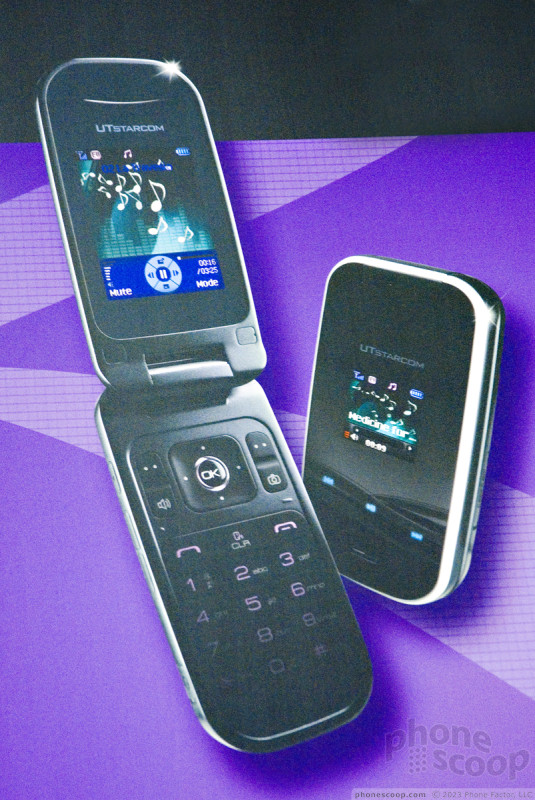 Photo by Russ Hickman
UTStarcom wasn't discussing many details of the 8950, but we did find out that it will sport EVDO and launch with a smaller carrier in late summer. There may not be much more to say about it; it appears to be a fairly typical mid-range clamshell CDMA phone. Like some recent LG phones, it seems to take styling cues from the iPhone, with a black glossy face framed by a chrome edge.
This article is sponsored. Sponsorship is a form of advertising. It is our promise to you - our loyal readers - that our editorial objectivity is never influenced by sponsors and/or advertisers.