Motorola Announces E8 and Z10
Article Comments 8
Jan 7, 2008, 1:01 AM by Rich Brome @rbrome
updated Jan 7, 2008, 1:16 AM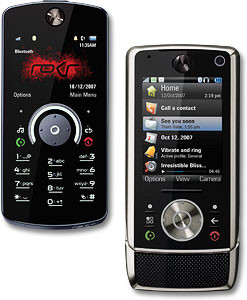 Motorola tonight announced two new high-end phones.
ROKR E8: A bar-style quad-band GSM phone with a unique morphing keypad that only has music keys in music mode and only camera keys in camera mode. A new kind of haptic feedback allows the flat, smooth surface of the keypad to emulate the real feel of individual key presses. Other features include Linux/Java software, 3.5mm headphone jack, 2 GB of built-in memory plus a memory card slot, EDGE data, a 2 megapixel camera, stereo Bluetooth, and a physical key lock switch.
Z10: An upgraded version of the Z8, which shares the same UIQ software and "kick slide" design. Upgrades include in-phone video editing, support for microSD memory cards up to 32 GB, 30 fps video capture, and a 3.2 megapixel still camera with 1.5 second start-up time.
Both phones will be available later this quarter.
source: Motorola
Will at&t get one, if not both, of these?
🤤
Why would you want a carrier branded version when unbranded is available?

Leave carrier branded phones to the newbies, cheapskates, and fools. Unbranded are for people that want the real deal and aren't afraid to pay for something nice.

If you'r...
(continues)
Its too early to tell,
But MOTO seems to be listening to the cries of their many loyal followers.

These phones are nice, as are some of their most recent releases.
So I have to figure initial availability will be for GSM carriers. I just hope for once the CDMA side wont have to wait 8-12 months to get their version. New Sprint CEO promisses to be more aggressive on getting new phones. Here's his chance to prove ...
(continues)
I'm impressed by. . .
I'm very hard to impress when it comes to mobile phones, but when I read that the Z10 has a memory card slot in addition to 2GB's, I was like "WOW".
Because most of the time when theres a large amount of internal memory, they minus the memory card slot, and personally, I prefer removable memory over internal memory.

I hope this becomes a trend of both GB's of internal memory, and the microsd slot!
at CES, specs on phone
This phone, the "banana slider" phone is specifically targeted to "Generation C" (c stands for "connected") Kids that have grown up totally connected to electronic devices and use those to talk to one another.

What's amazing about this phone is 30 fps recording, with on phone video editing and other capabilities. (Video editing: Think text overlay, music video creation, Youtube uploading)

Overall, it's extreme fancypants phone that only a kid would love. Anyone over 30 (mostly) will absolutly HATE this phone.

I think it'd be fun, but I still want the iPhone.
Poor Ed Zander, Good for MOTO, Great for Us
I have to say both of these phones get me excited, even though there is alot of Moto bashing in the industry, I personally love Moto. Their OS, the design of their phones, and they just have that nice, slick feel to them that appeal to my age group (early 20's).

Anyways besides the fact that I am excited about these devices, I feel bed for Ed Zander, these devices were surely planned and in dev (along with the new ROKR's, RIZR's, W385s etc) long before he resigned. I feel a change in the wind for Motorola this year, unfortunately its too late for 'ole Ed. Man, the wireless industry is fickle with its presidents is it not?