Nokia Adds One More To Eseries
Article Comments 8
May 18, 2006, 10:50 AM by (staff)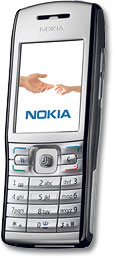 Nokia today announced the smallest Eseries business-oriented S60 smartphone so far. The E50 is slightly smaller than the E60, but is not just a stream-lined version of that phone. Like all Eseries phones the E50 has software to sync corporate email using a number of different solutions, including Blackberry and Visto. The E50 also inherits the QVGA screen of the other devices. Features includes quad-band GSM/EDGE, Bluetooth, MicroSD card slot, 1.3 MP camera and a document viewer. The E50 does not have Wi-Fi or UMTS like some Eseries phones.
2 Numbers in 1 phone?
The press release said that it hs "the ability to have two phone numbers in one phone". What exactly does that mean? Some GSM operators allow 2 lines on 1 phone but this seemed different. (How I wish it allowed two SIMs to work simultaneously...)
a data number and a voice number is what i suspect they mean.