Review: Nextbit Robin
Article Comments 2
Feb 18, 2016, 9:00 AM by Eric M. Zeman @zeman_e
updated Feb 18, 2016, 5:55 PM
Nextbit hopes the Robin will convince people to jump into the cloud feet first. This Android smartphone prioritizes which apps and files get to stay on the phone, and which are relegated to Nextbit's servers. It's a unique approach looking to solve the problem of too much content, and not enough space. Here is Phone Scoop's in-depth review.
AD article continues below...
Hardware
is It Your Type?
This is a tough question to answer right off the bat, but I will say this: The Nexbit Robin is a curiosity. It was developed by a company that started out working on cloud software and believes people need a smarter solution for storing files. It's a KickStarter hardware project, which means the company used customers' money to fund making the phone. Right now, I'd say the Robin is for people who hoard digital files, love large apps, and have an eye for high design. Here's why.
Body
I like the idea of the Robin more than I like the Robin itself. From a distance, the pale green and off-white coloring look good. So, too, do the squared-off corners and balanced design. Up close, it's easier to see that the phone was manufactured on a shoestring budget. But let's not get ahead of ourselves here.
The Robin is made from polycarbonates. I genuinely like the look and feel of the central piece of polycarbonate, which forms the side edges and most of the rear panel. The green end caps are well matched with like-colored buttons on the side. (There is a black version available, too.) The symmetry of the phone pleases my eyes immensely. There's no doubt of that. Both my daughters think the Robin is very pretty.
With a 5.2-inch screen, the length and width are pushing into phablet territory. Like the One M8, the Robin is a bit oblong in its dimensions (5.87 by 2.82 inches). The green end caps hold circular speakers and probably each add three-quarters of an inch to the overall length of the phone. It's a tall drink of water, as the saying goes. The good news is that the phone is narrow, and slender at 7mm thick. I'm going to say the Robin may be too big for some people, but it should be usable for many.
You're either going to love the phone's shape — and thus in-hand experience — or hate it. The Robin is a solid handset. It feels as though every square millimeter of the internal space is crammed with electronic goodness. That much I like, but the phone is truly rectangular, complete with sharp corners. The right angles that form every joint can be uncomfortable. The Robin is thin enough that you can drop it into most pockets, but those corners get old after a while. The Robin jammed the inside of my leg badly several times getting into a car while it was in my jeans. A smoother phone would have moved, or at least hurt less.
The materials used to make the phone are good, but the assembly process is not so great. I've played with the Robin several different times over the last few months. The first was a handmade prototype. The review unit we have on hand now is from among the first assembly runs. Even on this unit, I noticed a rough seam where the end caps meet the core of the phone. The joints are easily found without looking because they are uneven. I really wish these joints were tighter. For me, it interrupts what should be a seamless experience. Beyond this, my particular review unit is slightly (and I mean slightly) bent. When set on a flat surface, there's a small pocket under the middle of the phone, enough that I can slide a business card under it. Nexbit says this is not normal and probably a fluke with my review unit.
Robin's face is friendly enough. The green end caps and white side edges help frame the screen. The stereo speakers are round and indented a bit with a number of teeny-tiny holes. Above the screen, the user-facing camera and sensor are quite obvious thanks to the black circles in which they sit. There are no front buttons — capacitive or physical — as the Robin relies entirely on screen-based controls to navigate through the UI.
Nexbit chose to use two small nubs for the volume controls, which are placed on the left edge. I like the shape and feel of the buttons; they're easy to find and use. I wish they didn't feel so cheap to press. The green coloring helps them stand out visually from the white frame. I truly dislike the screen lock / power button, which is located on the right edge of the phone. The button is flush with the surface, making it hard to locate in a hurry. The button must be depressed into the chassis fairly deep, meaning the action is a tad too much. The screen lock button doubles as a fingerprint sensor. I like that a lot, but you have to press the button to wake the screen before it will scan your thumb. It could be better.
The SIM card tray is located just under the screen lock button and has a similar profile and feel under the thumb. I won't lie: I definitely mistook the SIM tray for the screen lock button a few times. That's a design misstep.
The rear surface is sealed up, so there's no swapping batteries. The camera is a small black circle in the top corner. It's joined by an identically-sized two-tone flash. You'll see a picture of a cloud just below the camera module, with four little lights below the cloud. These lights let you know when the Robin is sending data up to the cloud. That's the only time they come on.
Nextbit chose a USB Type-C connector for the Robin. It's tucked into the bottom edge. As I've said before, USB-C is great thanks to its convenient, reversible design, but accessories and compatibility with other gear is limited for now. Nextbit wisely stuck a little notification light on the bottom edge of the phone, too. I love this. Whether the phone is laying on a table face down or face up, you can see the light blinking when there are notifications to be checked. The headphone jack is on top.
The Robin is an attractive handset that aims high, but doesn't quite reach the level of quality I'd like to see for a $400 phone. Nextbit made some pretty design choices, and it's possible quality will improve in later manufacturing runs.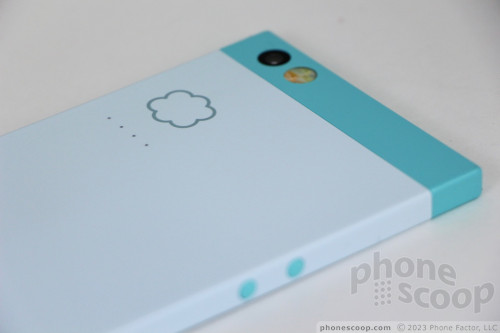 Screen
The Robin's screen measures 5.2 inches across the diagonal and has full HD resolution (1920 by 1080 pixels). The screen looks really nice. Everything on the display is sharp and smooth. The LCD panel puts out an excellent amount of light. It works perfectly indoors, but suffered just a bit when under sunny skies. Even then, however, I was able to use the camera to take pictures and so on. Viewing angles are quite good. It's a quality display.
Signal
Nextbit is selling two major variants of the Robin: GSM and CDMA. We're testing the GSM version, which is compatible with the LTE networks of both AT&T and T-Mobile. I used the phone for a week on AT&T's network in and around New York City and found the device did a great job. I didn't run into any trouble making calls, sending email, or watching YouTube videos. The phone handles calls made in moving cars and never dropped calls when hurtling down the highway. Data speeds were about average and I never found myself impatient with the Robin.
The CDMA version of the Robin, which will work with Sprint and Verizon, isn't due until April.
Sound
I'd rate the Robin's voice performance as average. The earpiece speaker produces good volume when set all the way up and clarity is decent. I found I was able to keep the volume around 75% for a good balance, but any moderately noisy space will require you to max out the volume. Doing so introduces just a bit of distortion in the earpiece. People I spoke to through the Robin said I sounded just okay.
The speakerphone is another story. It's not loud enough, not by far, and the quality is pretty poor. I took a conference call via the Robin's speakerphone and struggled to hear it when in my quiet home office. Ringers and alerts are plenty loud, though. The vibrate alert borders on too subtle. I felt the Robin vibrate when it was in my pocket when sitting still, but missed it a few times when moving around (like walking around the mall).
Battery
The Robin has a 2680 mAh battery and I found it delivers a full day of productivity. I wasn't able to run the Robin's battery down to 0 during my review. I typically unplugged it around 7am, used it all day, and found it still had 15% to 20% left at midnight. I left the screen brightness at about 50% most of the time and was sure to enable all the wireless radios. The Robin's battery did well.
Nextbit is relying solely on the built-in Android battery saver tool to manage battery life. It can be turned on manually, or set to kick in when the battery reaches either 15% or 5%. It helps a little by reducing screen brightness, dropping notifications, and cooling down the processor a bit.
I'm grateful the Robin supports QuickCharge 2.0, but I have to take issue with the Robin's charger. Nextbit sent us what is the standard retail packaging for the Robin. That means we received what regular people will receive. The phone doesn't include a charger at all. (A placard in the box says "charger sold separately".) The packaging includes a USB-C to standard (full-size) USB cable and that's it. You're on your own to find an actual charger. It's true that most people probably have a spare charger or two (or 10) they can use with the Robin, but you can't take advantage of QuickCharge 2.0 unless you have a compatible charger. It's a cost-savings measure for Nexbit, but feels a bit too cheap to me.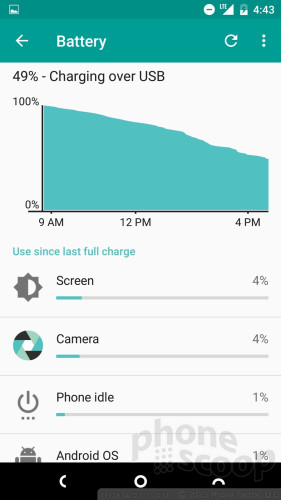 Bluetooth, GPS, NFC, WiFi
Robin's radios all worked perfectly. I was able to use the on-board NFC radio to help pair the Robin with headphones, speakers, and other phones. The Robin's NFC radio doesn't yet support Android Pay, but Nextbit says it will soon. Calls sent to my car's hands-free system were pretty rough in terms of quality, but calls through a dedicated headset were good. Music sounded average when pushed to my favorite Bluetooth speaker.
The GPS radio worked in concert with Google Maps to locate me in a jiffy. It generally centered in on my location in about 5 seconds, and was accurate to within 20 or 25 feet. The Robin was great for navigating to a far-away restaurant and helped me avoid an accident that would have otherwise made me late for a dinner engagement.
I had no trouble using Wi-Fi on the Robin.
Software
Home Screen
I usually start with the lock screen because that's what people first see when they wake their phone, but the Robin deserves some background first. This device ships with Android 6.0 Marshmallow and user interface skin from Nextbit. The UI isn't overly onerous, but does make some changes worth calling out.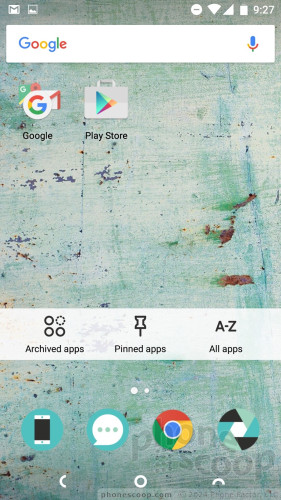 The Robin uses home screen panels, to which all Android users should be accustomed. There are three significant differences in the home screen experience.
First, Nexbit has done away with the app drawer completely. It doesn't believe in the app drawer, which means all the apps installed on the phone are laid out on the home screen panels. (A number of manufacturers do this now.)
Second, Nextbit has permanently placed an app-sorting tool on all the home screens, tucked into the bottom-right corner. Pressing this button lets you quickly see your archived apps (apps that have been offloaded to the cloud), your pinned apps (apps you want to remain local on the device at all times), and all apps (whether they are in the cloud or on the phone). This app-sorting button cannot be moved to another spot on the home screen, which I find kind of annoying.
Third, the Robin doesn't use widgets the way you may be used to. In fact, it doesn't really support widgets at all because the home screen panels are packed with all your apps. There is one exception at launch: pinch inward from any home screen and the Robin will show you a calendar widget that lists your agenda. That's it. Nextbit says it will add support for more widgets over time, but for now all those fancy widgets you love are a no-go.
Beyond these elements, Robin's version of Marshmallow is themed to match the colors of the hardware. That means lots of soft greens and pale whites throughout the UI. Thankfully, the Robin uses a nearly stock version of Quick Settings / notification shade, and general settings menu. (If you look closely, you might notice that the Robin's hardware colors are pretty much those of the settings screens.)
The Robin does support third-party launchers. That means if you want to download and install the Google Now launcher, for example, you can supplant Nextbit's user interface with the Google Now UI (which is closer to stock Android). If you choose third-party launchers, you'll regain access to widgets. Nextbit says you won't lose the core app-offloading behavior of the platform if you use third-party launchers, but you will lose some of the animations and other effects around the process of off-loading apps to — and re-installing apps from — the cloud. The core storage management features remain.
Users can still adjust all the standard customizations, such as wallpapers, ringtones, alerts, and so on.
Performance
The Robin uses a Snapdragon 808 processor clocked at 2 GHz with 3 GB of RAM. It should be a powerful setup, and it is most of the time. I didn't have any problems during normal usage of the Robin and the phone's UI was fluid and quick. The one issue I did experience was prolonged app installation times. This is probably more a result of Nextbit's software/storage manipulation than the processor itself, but FYI app installs from the Play Store are slower on the Robin than other phones with a similar processor.
Lock Screen
Given all the changes to the home screen experience, you might be worried for the lock screen. You can chillax. The lock screen makes use of Nextbit's fonts and themes, but is otherwise on par with other Android handsets in terms of raw usability and functionality.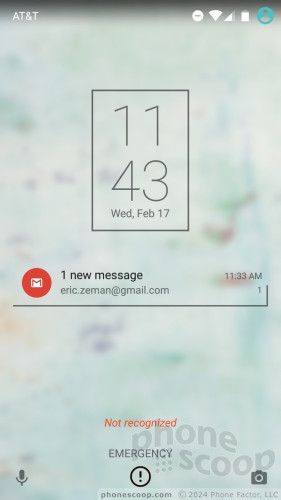 Pressing the screen lock button wakes the screen and reveals an attractive clock that is almost impossible to read outdoors. I really like the clock's appearance, but thin, black text on a bright background isn't the most practical combination. Your notifications stack below the clock as you expect them to, with shortcuts to Google Search and the camera in the bottom corners.
You have control over how much info is revealed by notifications (everything, not a whole lot, nothing at all). I'm glad the Quick Settings shade is available from the lock screen, too.
As far as security goes, you can choose none, a PIN, a password, a pattern, or a fingerprint. During the initial setup process Nexbit suggests people add a thumbprint. That's what I did, and it works wonderfully. Like most modern fingerprint readers, the Robin's takes a few moments to train. Once you've stored a print, it unlocks the phone almost instantly. This means you can generally wake and unlock the Robin with a single press of the lock screen button.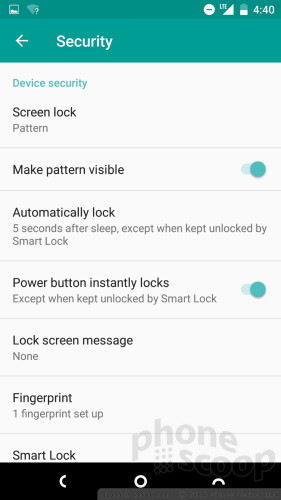 Nextbit Stuff
The crux of the Robin's appeal is how the phone manages storage. The phone ships with 32 GB of internal storage, of which about 24 GB is available to end users, but Nextbit (originally a cloud company) also gives Robin owners access to an additional 68 GB of online storage. That makes Robin's "total storage" 100 GB, with 32 GB local and 68 GB in the cloud. The value proposition of Nextbit's software is that it can automatically offload rarely-used apps and files in order to make room for new apps and files, and then dynamically recall those apps/files when needed. How does it do this?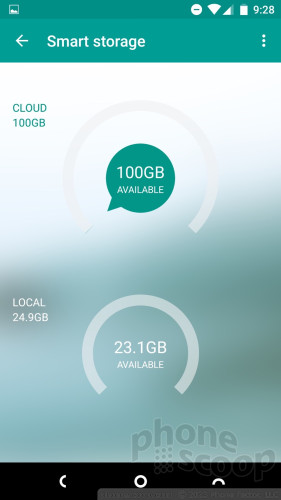 Nextbit prioritizes apps and files based on how often they are used. That game you downloaded over the holiday break but haven't touched since? Yeah, Nextbit will earmark that one for the cloud. Same goes for photos or music files you haven't looked at or listened to in a while. The software is smart enough to know that you might check that one photo-sharing app every week and leave it alone.
Every time the Robin decides to offload an app, you'll see the little lights on the back start to pulse. On the screen, the app icon itself will transition from its full-color shortcut on the home screen to a grayed-out, transparent version of the shortcut. When you decide you want to play that game again, the Robin can reinstall it to the phone. Just tap it an it will reinstall. The Robin's best trick is that offloaded apps save their settings, account logins, and so on. That means if you offload Instagram, you'll still be signed in ready to share when the app is re-installed on the phone.
It all performs seamlessly in the background. As noted earlier, you can "pin" some apps as too special to offload, and they'll never be sent to the cloud. The phone also backs up everything that's on the phone, and you can select to backup only over WiFi, only when charging, and so on.
The idea is really neat, I'm not going to argue about that. I do question the real-world usefulness, however, and here's why.
First, most $400 phones (which is what the Robin costs) come with 32 GB of storage and perhaps support for memory cards. Many in that price range offer 64 GB variants and memory card support. Moreover, today's mid-range and flagship phones often support memory cards with capacities up to 128 GB or even 200 GB range. That's an incredible amount of storage for a phone and more or less negates the need for cloud storage of any kind.
Second, there are plenty of online tools that let you offload content to save local storage. The Robin is unique in that it offloads entire apps, there's no doubt about that, but only games truly take up ridiculous amounts of storage on phones. To cite an example, consider the iPhone. We all know it is limited to 16 GB, 64 GB or 128 GB of storage. People who buy the 16 GB model can use Google Photos to offload and store all their images (for free), and stream music (rather than store it locally) from Apple Music or Spotify. There's also Amazon, Dropbox, OneDrive, Box, Google Drive, iCloud, and on and on. Each of these has their pros and cons, of course. Moreover, these services allow people to access their content from nearly any device, including desktop machines. Nextbit does not.
Third, there's the pesky idea of offline access. What if I forget to reinstall a game or movie or vital file before I get on an airplane? Then I'm screwed.
Speaking personally, I've moved nearly all my content to the cloud (files, photos, music, movies) and can comfortably use a 32 GB phone without worrying about how much room is left on the phone. Maybe the downside of that is I am more beholden to wireless access, but at the end of the day using the cloud is more freeing.
As I said, I like the idea of the Robin more than I like the Robin itself.
Camera
You can launch the Robin's camera from the lock screen or the app on the home screens. Alternately, a quick double-press of the screen lock button will open the camera, even if you've secured the phone with a password or print.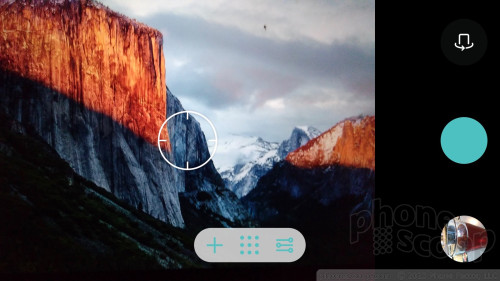 I rather like the camera UI; it's simple and to-the-point. The shutter button is nice and large, but there's no separate video capture button.
A small control strip floats along the bottom of the screen. The strip lets you adjust the flash, timer, grid, and HDR settings. It also lets you switch shooting modes, or adjust additional settings. Those settings are limited to setting camera resolution and turning location tagging on/off.
There are three shooting modes: auto, manual, and video. The auto camera mode is simple point-and-shoot. That's it. The manual mode lets you adjust white balance, exposure, ISO, and focus. Notably, you can opt for manual focus if you really want to be creative. There's no panorama.
If there's any app on the phone that's slow, it is the camera. The camera is sluggish during focus and image capture enough to the point where you can easily mess up shots by moving the camera before it does its job. Nextbit said there are a few bugs impacting camera performance in general (the app, not the images) that it hopes to resolve soon.
Photos
The Robin's 13-megapixel shooter is an average camera at best, and is often below average in overall results.
The slow performance really messes with focus. If you're holding the camera absolutely still the exact instant the shutter fires, then yes, it can produce sharp images. Pulling this off in the real world is more of a challenge than it should be. White balance was almost always accurate, and exposure was mostly decent, but the Robin nailing focus, exposure, and color all at the same time was a rare event. You're most likely to get good results when outdoors on a sunny day, (like most every other camera.) Indoor photography produces images that are saturated with grain. The flash helps when you're up close.
The selfie cam isn't too bad. It is fairly good when it comes to focus and exposure. My biggest complaint would be grain.
The video camera can capture up to 4K footage. The results were, on average, better than what the camera produces. Focus, color, and exposure were all pretty good.
If you own the Robin, you can rely on the phone for day-to-day photo/video needs, but I'd use better gear if you're interested in more enjoyable memories.
Wrap-Up
Nextbit has fielded an interesting handset in the Robin. The company wants to help solve the notion that we can't fit our digital lives into our pockets any more (if we ever could). The Robin handset exists to further that end.
Nextbit's smartphone offloads little-used apps and files to help free up room on the phone itself. The software is powerful and able to function on its own in the background. While plenty of third-party apps let you offload images and other files, few allow you to offload entire apps. Gamers may find this appealing, and games often run up to 1 GB.
The Robin is an attractive handset that offers compelling features such as stereo speakers, rapid charging, and a nice screen. It performs well on AT&T's network and delivers solid battery life. I wish the body was put together a bit better, and would love to see better results from the camera.
As much as I'd like to say otherwise, the Nextbit Robin is not for most people. It's available online for $400 in limited quantities. It certainly does what Nextbit's marketing claims, but it's hard to recommend for to average consumers. If you're keen on an unlocked handset, don't mind less-than-perfect hardware, and are willing to take a gamble on a very young company, then perhaps the Robin is worth a gander.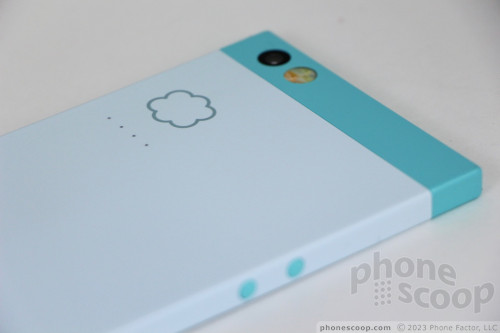 Is the phone gonna have a case and screen protector?
Is a case and a tempered glass screen protector out now for the Robin or is any manufacturer including Nexbit going to make any? I ask cause this is an interesting phone. It's my style and I wanna buy it. The Galaxy S7 and G5 can move aside, they have company cause the Robin is here to stay. Super impressive phone!