Second Smartphone Revealed for Verizon
Article Comments 10
May 5, 2006, 12:47 AM by (staff)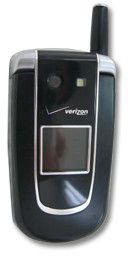 The FCC today approved a new Windows Mobile Smartphone for Verizon. The Pantech PN820 or PC-8200N is a clamshell style phone with dual color displays and a traditional numeric keypad. It features a 1.3 Megapixel camera with flash, Mini-SD card slot and Bluetooth. This model will also be Pantech's first high-end model for Verizon, as to date the carrier has only sold Pantech's entry level models. Current Pantech models on Verizon use PN- model numbers, however the second PC- model number appeared in the user manual and FCC filings. It is not clear which the phone will launch with.
Is this still going to be released? If so, when?
Is this still going to be released? If so, when? I saw some news that said it would be in Dec '06, but nothing on the verizon site yet...
When?
I am thinking about moving to vzn. Is there a rule of thumb as to the length of time between FCC OK and availability?

This phone looks like what I want - a smartphone in a small package.

Thanks.
Guesstimate would be 4-6 months.
Finally A Clamshell CDMA Smartphone
I own a VX6700 becuase I tried it out and got hooked on the Outlook auto-sync, nominal web browsing ability, and e-mail retrieval. It's a cool unit but a lot larger and heavier than what I'm used to and because I'm more of a data reciever than sender the QWERTY keyboard that adds some of the bulk isn't a necessity. In this Pantech, Verizon is introducing a small clamshell that retains all of what I like about the 6700 while sacrficing those features that I also like, but do not need (QWERTY, large scren) for those that I like even more (clamshell, smaller form factor).

It's obviously not for the power user as it's a phone first and couldn't really be classified as a PDA, but this phone should find a niche with those who want some of the...
(continues)
I agree w/ behind the times on dated phones and great coverage. No doubt the best...
This new clamshell I hope to see, it does have a haunting resemblance to the dropped Samsung i-645 which we all waited for a year. Only to be disappointed...
Hopefu...
(continues)
Having sold Verizon for years they have always been second to market with most of their phones.
With all the features that are available for our phones most of us quickly forget that its a phone first and and when it comes to phones first Verizon's c...
(continues)
I've been waiting for a clam shell smartphone forever. I would buy this in a second....

Does anyone know of any others coming to VZW (clam shell style)?
Design...
does anyone but me think this design looks interestingly similar to the moto v600/v620/v635? [more like the v620, but with the 635's screen]...