Review: Kyocera DuraXE for AT&T
Article Comments 5
Jan 25, 2016, 4:00 PM by Eric M. Zeman @zeman_e
Kyocera's latest rugged clamshell for AT&T boasts LTE and mobile hotspot powers, in addition to its in-your-face attitude and truck-like build. This compact phone may include only the most elemental functions, but it has a few tricks up its sleeve. Here is Phone Scoop's in-depth review.
AD article continues below...
Hardware
Is It Your Type?
The Kyocera DuraXE is a rugged, waterproof clamshell with several unique characteristics. Its feature-phone-style skillset is best suited for people who work outdoors and don't need a smartphone. Impressively, it runs on AT&T's LTE network and can serve as a mobile hotspot. This makes it ideal for managers or foremen looking to keep a work crew connected out in the field — or anyone who might prefer to use a feature phone paired with a tablet.
Body
Kyocera's line of "Dura" branded clamshells hasn't changed much over the years. The DuraXE borrows design elements from the 2015 DuraXV, which in turn was based on the DuraXT. There's nothing surprising about the DuraXE's rugged looks, which are chunky and brutish.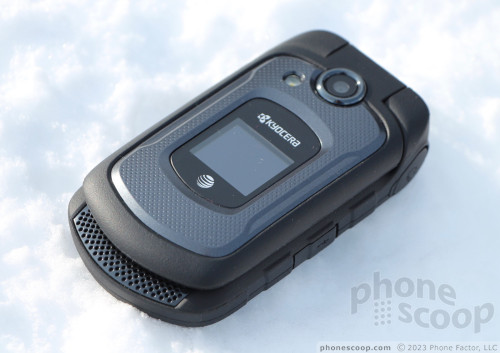 Meeting mil-spec ratings requires a certain amount of material to form the protective skin. The XE's plastics are coarse and lined with different textures to give your skin something to grip. There are dimpled surfaces on the front and back, and blunt ridges that wrap about the back from side edge to side edge.The majority of the plastics are matte black, which the exception of a gray frame that encompasses the external display on the front face. The only color is a red accent on the walkie-talkie button.
The XE has a don't-mess-with-me attitude.
Despite the bulky build, the XE is still relatively compact. Feature phones are simply tiny when compared to today's phablets. I could easily grip and hold the XE tightly, even when the phone was wet or when I was wearing gloves. The profile is rounded just enough that there are no hard edges. The weight is substantial, but not overly so. The XE is a breeze to use one-handed. It fits in pockets well enough, but the puckish shape may not be comfortable for everyone, especially in tight pants.
The XE's front surface nearly packages up the expected set of features. A small, monochrome display is buried deep in a black frame. The front has a dimpled texture. The rather large camera module is positioned close to the top of the front surface, just below the hinge. The bottom half of the phone is longer than the top half, so it juts out a bit. The chin is covered in a speaker grill.
Every external surface has some form of control, button, or screw. The left edge is where you'll find the volume toggle and walkie-talkie button. The volume toggle is stupidly small. It might be a centimeter in length. The up directional is fairly easy to find if you slide your finger down from the top corner of the phone, but the down directional is all but impossible to find without looking. I had trouble finding the button with gloves on. Travel and feedback is mediocre. The PTT button is recessed a bit within a frame. I found it easy enough to find and use with gloves on, and travel and feedback are excellent.
The right edge holds the headphone jack and USB port, both of which are protected by substantial hatches. I didn't have any trouble with the hatches, but you have make sure they are closed firmly in order to maintain the phone's waterproof rating.
As is typical for PTT-oriented handsets, two small buttons adorn the top edge: one for the speakerphone and one for end/silence. Each button is but a nub. The profiles make them easy to find with bare fingers, but harder to locate with gloves on. Travel and feedback is OK.
A substantial groove separates the top and bottom halves of the XE, which makes it a cinch to flip open, even wearing gloves. The top springs open quietly. I like that the hinge feels solid. It's just loose enough that you can snap your wrist to flip it down Captain-Kirk-style.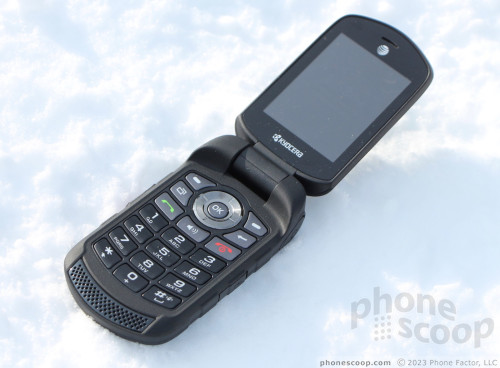 Kyocera laid out the XE's physical buttons in the traditional way. A circular d-pad is just below the hinge and it is surrounded by seven other buttons for controlling and accessing different aspects of the user interface. I like the d-pad, which has excellent travel and feedback in all directions. The center button is particularly easy to use when wearing gloves thanks to its good profile. The rest of the nav cluster includes soft keys, a back key, send/end keys, a speakerphone key, and a multitasking key. These buttons are all a little flat, which makes them harder to find when wearing gloves. The same is true of the number buttons on the dialpad. While I had no issue at all finding and using them with bare fingers, gloved use was much more of a chore.
Like many rugged phones, the back cover is removable, though you'll need a coin to loosen the screw first. The battery cover is fitted tightly and includes a gasket to keep water out. With the cover off, you can remove the battery, access the SIM card, and add a memory card.
Just how tough is the DuraXE? Extremely. The mil-spec 810G rating means it's largely protected from shock, vibration, temperature extremes, fog, salt, and liquids. I brought the DuraXE outside for several hours during the snowpocalypse that recently blanketed New Jersey and found it had no trouble with the cold, snowy weather. I left it in a snow bank while I cleared my driveway and it shrugged off the cold white stuff with no problem. I held it under running water, threw it up and down my snowy driveway, kicked it a whole lot, and let it sit in a bucket of water for about an hour. It's still working just fine.
The Kyocera DuraXE is a nice little handset and lives up to its billing as a rugged pocket monster.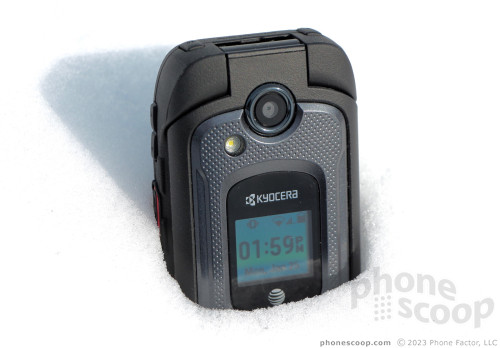 Screen
The XE's small outer screen is meant to serve up notifications. It measures 1.08 inches across the diagonal with 102 by 90 pixels. It's a monochrome number, but it's plenty bright for use indoors and out. I found it worked great for checking the time, various indicators, and of course incoming notifications.
The main display measures 2.6 inches across the diagonal and has 320 x 240 pixels. Pixels are easy to see with the naked eye and text/icons look a bit rough along the edges, but this is fairly common for feature phones. It's roomy enough that the UI doesn't look squished, and I found it to be bright enough for use wherever you may go. The glass is a bit reflective, but it didn't impede outdoor viewability overmuch.
Signal
The XE is novel in that it runs on AT&T's LTE network (in addition to WCDMA and GSM). Most feature phones have until this point stuck with just 3G network support. Operating on LTE gives the XE a distinct advantage over 3G rivals.
The phone connected to AT&T's signal everywhere I took it, including northern New Jersey and parts of New York City. The XE was always able to connect calls, even under the weakest signal connections, and it never missed any nor dropped any. The XE maintained a call at highway speeds without problem.
Even with LTE 4G, I can't say that surfing the web via the XE feels very fast. We're talking about a low-powered device with a crimped OS here, so it's unfair to ask too much. However, the LTE radio allows the XE to function as a mobile hotspot. In this capacity, it worked great. I was able to surf the net from several other devices when connected through the XE. Speeds were quite good, all things considered. This is an awesome feature for a clamshell to offer.
Sound
The XE is an excellent voice device. Calls set to maximum volume can be heard through the earpiece just about any place you might take the XE. As long as you're not standing right next to a colleague using a jackhammer, you'll be all right. Quality is a bit scratchy when the volume is set all the way up, but smoothes out at lower volume settings.
The speakerphone also cranks out a decent amount of volume. I was able to maintain clear conversations through the speakerphone in a moving car. Clarity is about average via the speakerphone. All callers I spoke to through the XE said I sounded good.
I didn't miss any calls thanks to the XE's loud ringers and alerts, but the vibrate alert is a wee bit weak.
Battery
I was consistently able to get two days out of the XE's 1,500 mAh battery under normal usage. We can thank the smaller, low-resolution screens and lack of advanced, data-hungry apps for this. Putting the XE into hotspot mode, however, definitely impacts battery life. The XE's battery gave up the ghost after one full day when I used LTE connection to surf the web on my iPad for a couple of hours.
In general, the XE delivers what most people expect from a feature phone.
Bluetooth, GPS, NFC, WiFi
The XE includes support for a solid set of Bluetooth profiles. I was able to connect it to headsets and speakers no problem, as well as other phones. Calls sent through my car's hands-free system were surprisingly good. It's a bonus that the XE supports stereo Bluetooth. The music player app is total crap, but with some effort I was able to push tunes to my favorite Bluetooth speaker and they sounded pretty good.
GPS is on board, but there's not much you can do with it. Surprisingly, AT&T's navigation software is nowhere to be found. Once I turned the location setting on, I noticed that the browser pegged my location to within a few miles. This was especially helpful when performing Google searches online.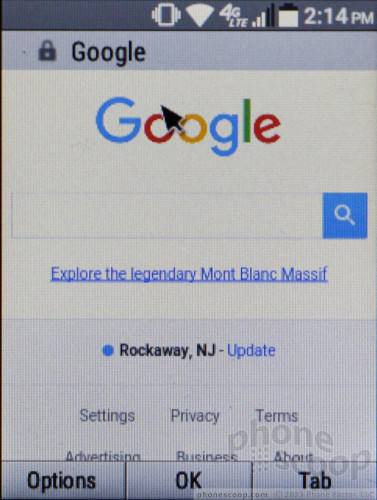 The XE's WiFi radio worked great. I was able to connect to my home network with no problem, and of course it served well as a mobile hotspot on its own.
The XE does not have NFC.
Software
Home Screens
The XE runs Android, but not in the way you might be used to. Crucially, you can't download and run third-party Android apps. That's what makes this still a feature phone despite running Android as its OS. The mobile hotspot and ePTT features require software not available from aging feature phone operating systems. Also, AT&T is now requiring that its phones support VoLTE (phone calls over LTE), another thing old feature phone OSes don't support. So the XE's core kernel comes from the Android Open Source Project (Android 5.1 Lollipop), but the user interface and apps are customized to work like a typical feature phone.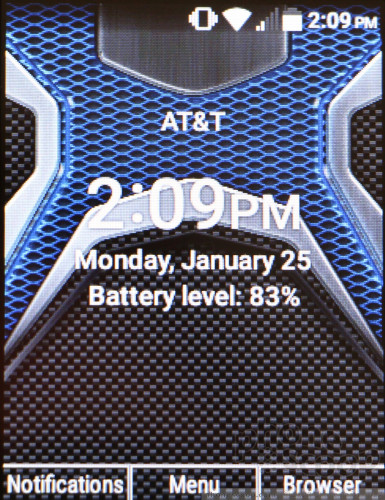 All this means the XE has a basic UI that makes heavy use of the d-pad for navigating through the various menus and screens.
The external screen sort of functions as a lock screen, if you will, and can be used to view notifications. It always shows the time, date, signal strength, battery life, and volume indicators. Incoming calls and messages light up the external screen and will identify the caller/messager. Notifications interrupt whatever you're doing. That's about it.
You can secure the XE if you wish. The default setting is to automatically unlock when the phone is flipped open. You can choose to lock the XE with a PIN or password (sorry, no fancy biometrics here).
The main home screen is simple to a fault. You may adjust the wallpaper and select whether or not the clock appears in large or small font. Three choices are available across the bottom: notifications, main menu, and browser. The d-pad can be customized to open select apps when pressed in any of the four directions.
You can view the main app menu in a grid or list. It's a monochrome affair and doesn't have much flair to it. Like most feature phone UIs, once you get past the main grid everything is organized into lists that require endless pressing of the d-pad to move through.
Personalization options are limited to fonts, ringtones, and similar tools.
The software's Android heritage does offer a few advanced functions worth calling out. For example, the XE has a dedicated multitasking button that allows you to easily cycle through recently used apps. Similarly, a notifications tab on the home screen make it a cinch to jump to all your recently received calls and messages. The XE supports POP, IMAP, and Exchange email accounts, and you can encrypt the device, lock the SIM card, and set device administrators.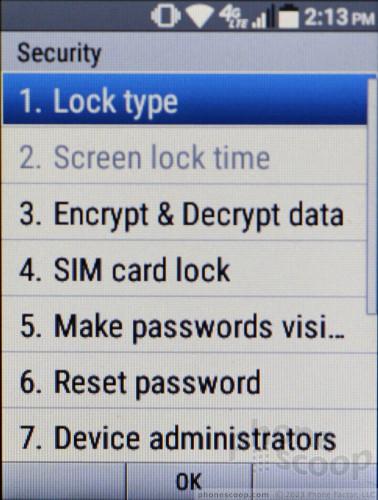 A 1.1 GHz Qualcomm Snapdragon 210 processor is under the hood, but you wouldn't know it. The XE performs in line with every feature phone I've tested in recent memory. In other words, don't expect the Snapdragon CPU to give this thing wicked 3D gaming prowess. It ain't happening.
Camera
The XE does not have a dedicated camera button anywhere, but you can assign the programmable action key on the side to open the camera if you wish. This is the fastest way to get the camera to open.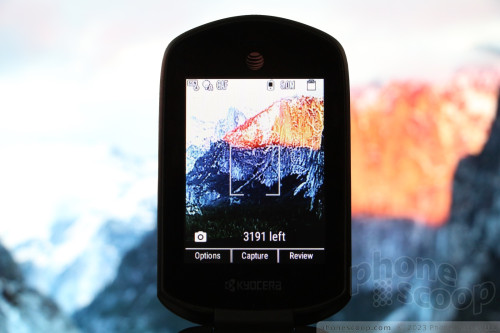 The camera app offers a surprising number of imaging tools, but finding and adjusting them is a real pain in the rear. The viewfinder fills the upper 80% of the screen, while the lower 20% is reserved for the controls. Small indicators line the top of the screen to let you know what the camera's current settings are, such as the flash, metering mode, and scene.
The main settings menu lets you adjust the resolution; choose from a handful of scenes (landscape, food, night, sports); turn burst mode on/off; set the flash, timer, and zoom; tweak brightness, contrast, and exposure; and even apply some effects (sepia, B&W, negative). Alternately, there are shortcuts assigned to the dial pad. Press 1, for example, to adjust the flash, or press 2 to adjust contrast. Learning these shortcuts is worthwhile.
The biggest issue is how long it takes the camera to focus, take, and save each shot. It's painfully slow. This can lead to missed or blurry shots. I was expecting the camera to perform just a bit faster with the Snapdragon aboard, but no luck.
Photos
The DuraXE has a 5-megapixel camera. By default it's set to the 4:3 aspect ratio in portrait orientation. You can choose to crop it to 16:9 (wide-screen) at 3.2 megapixels, but you'll have to remember to hold the phone sideways to capture images in landscape (wide) orientation.
The XE's camera does a decent job, all things considered. Focus is generally decent, as are white balance, exposure, and contrast. A little know-how goes a long way here, and planning ahead (picking the right scene, etc) improves your chances of getting good shots. However, planning ahead is often impractical, if not impossible, which makes the XE not a good choice for snapshots that unfold quickly. This phone can handle basic needs, but I'd switch to a smartphone or an actual camera for vacation and other shots.
Amazingly, the XE can record 720p HD video. Like the still camera, however, it records portrait (vertical) video when held normally. You have to awkwardly hold the phone sideways if you want to capture landscape orientation video that will fill your TV or PC screen properly. The 720p footage I shot looks decent, but it doesn't compare to what even mid-range smartphones can do, let alone today's flagships. (The XE isn't competing with these devices, not by a long shot; I'm simply trying to give you a frame of reference.)
Bring dedicated gear if you need to capture anything other than everyday, disposable video.
Apps
The DuraXE comes with a limited set of tools. Remember, it's not really a smartphone. There are no real apps installed, and there's no app store. It's almost a blank slate. You're limited to things like calendar, email, messaging, calculator, world clock, notes, browser, alarm, stopwatch, and so on. That might be fine, although the lack of any map/navigation app is a bit puzzling. Kyocera hasn't yet told us if it plans to add more apps to the phone.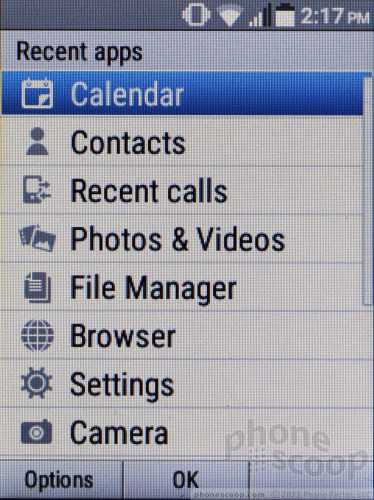 Wrap-Up
The Kyocera DuraXE is an enigma. This rugged clamshell is a tough little beast, no question there. It covers all the survivability traits needed by today's outdoor workforce, including resistance to abuse and water damage. Kyocera did a great job nailing the basics, such as call quality, battery life, and usability. Signal performance was very good.
The XE goes further than other clamshells with LTE 4G on board, which allows it to serve as a mobile hotspot as well as access AT&T's advanced ePTT services. The Android-based software also adds some beyond-the-feature-phone powers, such as multitasking and encryption. On the flip side, the phone has almost no apps beyond the most basic set of core functions.
I'd easily recommend the Kyocera DuraXE to any mobile professional who needs a simple, but capable, communications device. As long as you don't need anything past simple Call Me, Message Me, Email Me powers, the DuraXE delivers a solid experience. If you require a device that's a little more capable, perhaps a rugged smartphone, such as Kyocera's DuraForce or DuraForce XD, are more appropriate.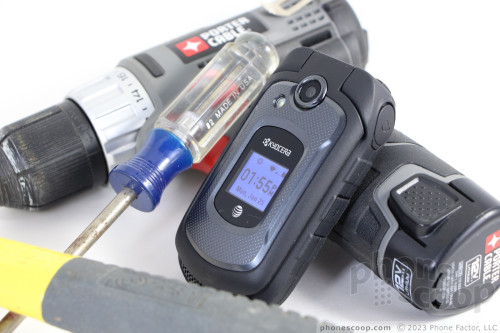 No messages