Review: Kyocera DuraXE for AT&T
Hardware Software Wrap-Up Comments
Home Screens
The XE runs Android, but not in the way you might be used to. Crucially, you can't download and run third-party Android apps. That's what makes this still a feature phone despite running Android as its OS. The mobile hotspot and ePTT features require software not available from aging feature phone operating systems. Also, AT&T is now requiring that its phones support VoLTE (phone calls over LTE), another thing old feature phone OSes don't support. So the XE's core kernel comes from the Android Open Source Project (Android 5.1 Lollipop), but the user interface and apps are customized to work like a typical feature phone.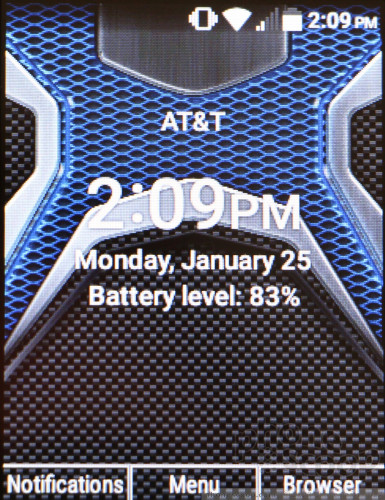 All this means the XE has a basic UI that makes heavy use of the d-pad for navigating through the various menus and screens.
AD article continues below...
The external screen sort of functions as a lock screen, if you will, and can be used to view notifications. It always shows the time, date, signal strength, battery life, and volume indicators. Incoming calls and messages light up the external screen and will identify the caller/messager. Notifications interrupt whatever you're doing. That's about it.
You can secure the XE if you wish. The default setting is to automatically unlock when the phone is flipped open. You can choose to lock the XE with a PIN or password (sorry, no fancy biometrics here).
The main home screen is simple to a fault. You may adjust the wallpaper and select whether or not the clock appears in large or small font. Three choices are available across the bottom: notifications, main menu, and browser. The d-pad can be customized to open select apps when pressed in any of the four directions.
You can view the main app menu in a grid or list. It's a monochrome affair and doesn't have much flair to it. Like most feature phone UIs, once you get past the main grid everything is organized into lists that require endless pressing of the d-pad to move through.
Personalization options are limited to fonts, ringtones, and similar tools.
The software's Android heritage does offer a few advanced functions worth calling out. For example, the XE has a dedicated multitasking button that allows you to easily cycle through recently used apps. Similarly, a notifications tab on the home screen make it a cinch to jump to all your recently received calls and messages. The XE supports POP, IMAP, and Exchange email accounts, and you can encrypt the device, lock the SIM card, and set device administrators.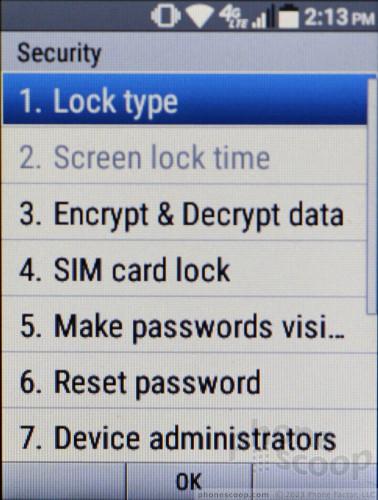 A 1.1 GHz Qualcomm Snapdragon 210 processor is under the hood, but you wouldn't know it. The XE performs in line with every feature phone I've tested in recent memory. In other words, don't expect the Snapdragon CPU to give this thing wicked 3D gaming prowess. It ain't happening.
Camera
The XE does not have a dedicated camera button anywhere, but you can assign the programmable action key on the side to open the camera if you wish. This is the fastest way to get the camera to open.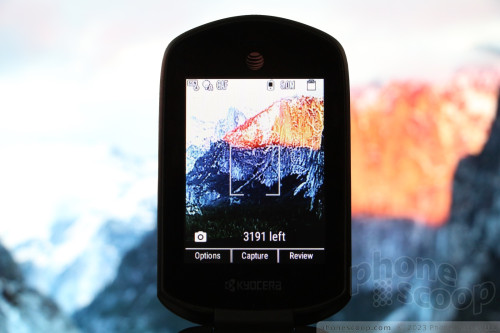 The camera app offers a surprising number of imaging tools, but finding and adjusting them is a real pain in the rear. The viewfinder fills the upper 80% of the screen, while the lower 20% is reserved for the controls. Small indicators line the top of the screen to let you know what the camera's current settings are, such as the flash, metering mode, and scene.
The main settings menu lets you adjust the resolution; choose from a handful of scenes (landscape, food, night, sports); turn burst mode on/off; set the flash, timer, and zoom; tweak brightness, contrast, and exposure; and even apply some effects (sepia, B&W, negative). Alternately, there are shortcuts assigned to the dial pad. Press 1, for example, to adjust the flash, or press 2 to adjust contrast. Learning these shortcuts is worthwhile.
The biggest issue is how long it takes the camera to focus, take, and save each shot. It's painfully slow. This can lead to missed or blurry shots. I was expecting the camera to perform just a bit faster with the Snapdragon aboard, but no luck.
Photos
The DuraXE has a 5-megapixel camera. By default it's set to the 4:3 aspect ratio in portrait orientation. You can choose to crop it to 16:9 (wide-screen) at 3.2 megapixels, but you'll have to remember to hold the phone sideways to capture images in landscape (wide) orientation.
The XE's camera does a decent job, all things considered. Focus is generally decent, as are white balance, exposure, and contrast. A little know-how goes a long way here, and planning ahead (picking the right scene, etc) improves your chances of getting good shots. However, planning ahead is often impractical, if not impossible, which makes the XE not a good choice for snapshots that unfold quickly. This phone can handle basic needs, but I'd switch to a smartphone or an actual camera for vacation and other shots.
Amazingly, the XE can record 720p HD video. Like the still camera, however, it records portrait (vertical) video when held normally. You have to awkwardly hold the phone sideways if you want to capture landscape orientation video that will fill your TV or PC screen properly. The 720p footage I shot looks decent, but it doesn't compare to what even mid-range smartphones can do, let alone today's flagships. (The XE isn't competing with these devices, not by a long shot; I'm simply trying to give you a frame of reference.)
Bring dedicated gear if you need to capture anything other than everyday, disposable video.
Apps
The DuraXE comes with a limited set of tools. Remember, it's not really a smartphone. There are no real apps installed, and there's no app store. It's almost a blank slate. You're limited to things like calendar, email, messaging, calculator, world clock, notes, browser, alarm, stopwatch, and so on. That might be fine, although the lack of any map/navigation app is a bit puzzling. Kyocera hasn't yet told us if it plans to add more apps to the phone.