Review: Blu Studio Selfie
Hardware Software Wrap-Up Comments 1
Lock Screen
The Selfie has a rather simplistic lock screen experience.
Press the screen lock button to wake the display. You'll be greeted by the time/date with notifications listed beneath. You can select how revealing the notifications are. For example, I set the Selfie to show me that I have new text messages, but not to display who the message is from nor its contents.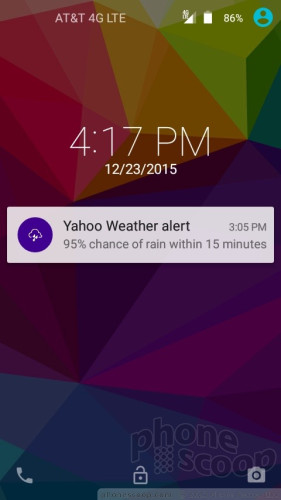 AD article continues below...
There are no fancy tapping or other gestures to wake the screen. Only the lock button turns it on/off. You can choose a PIN, pattern, or password to lock the phone, or leave it exposed. There are no advanced locking mechanisms, such as a fingerprint reader.
As always, you can jump to the phone or camera via lock screen shortcuts at the bottom. I appreciate that you can access and use the Quick Settings panel from the lock screen.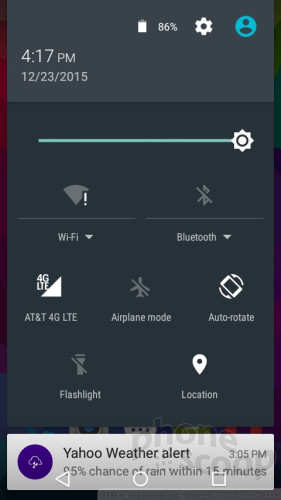 Home Screens
Blu was smart to leave the Android 5.1 Lollipop platform unmolested. I'm always happy to see stock Android when booting up a phone for the first time.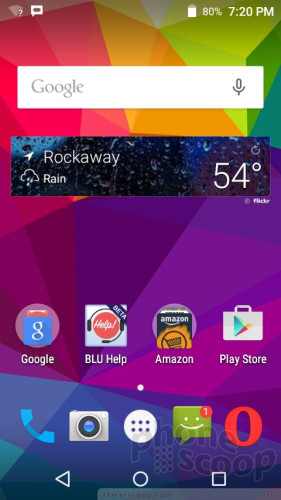 With Lollipop forming the core home screen experience, the Selfie can be customized at will with app shortcuts, widgets, and so on. The app drawer is arranged alphabetically. You can't customize the app drawer, but you can slap folders onto the home screens if you wish. The Quick Settings panel and system settings all behave as expected for a Lollipop phone. Blu didn't dress any of it up and I'm happy to report it all functions just fine.
The Selfie isn't going to set GeekBench on fire, but it performs smoothly enough that I didn't notice any real hiccups. The phone has a 1 GHz quad-core Snapdragon 210 processor with 1 GB of RAM. Apps open swiftly and screen transitions were seamless. About the only thing I disliked was the length of time needed by the Selfie to download and install apps from the Play Store. Updates were painful.
Camera
The Selfie has a decidedly simple camera application. There's no camera button, so you need to open the app directly. There's a shortcut on the lock screen if you're in a hurry.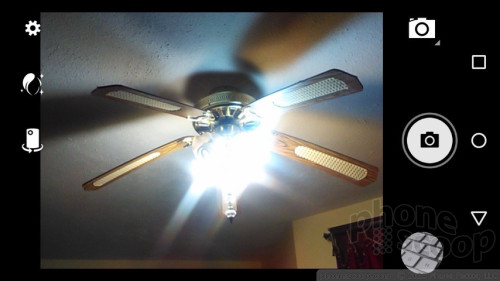 The tools are simplistic. The main shooting modes include auto, panorama, and video. There's a beautification feature that is best put to use when taking selfies. It allows you smooth out wrinkles and hide blemishes, but I find the results look pretty gross and unrealistic.
Thankfully, the Selfie lets you tweak a fair number of settings. For example, you can select image size/aspect ratio, whether or not the burst shot is on, as well as futz with exposure, focus, and red-eye reduction. The phone supports touch-to-focus, but you still have to press the shutter button to capture images. I wish it had HDR.
The camera app is quick enough. I was worried it would be sluggish, but those fears were unfounded. It opens quickly, focuses in a blink, and saves images in a snap.
Photos
The Selfie has two 5-megapixel cameras. The front-facing camera delivered consistently superior shots when compared to the rear-facing camera. Don't ask me how.
Having a flash facing users is truly helpful for taking selfies at night and/or in dark spaces. I was concerned the flash might blow out the image, but it often delivered just the right amount of pop to help get the image in focus and reduce grain.
Speaking of grain, all the images I took with the Selfie include a fair amount of noise. More to the point, I thought focus was a bit soft. Exposure and color are accurate most of the time, but the lack of sharp focus degraded image quality more than I would have liked.
The Selfie suffices if you're taking everyday shots, but I would not trust it for important events that require good results.
The same goes for the video camera. The Selfie captures video at 720p. There are no fun video modes, such as timelapse or slow-motion (though you can download apps that duplicate these features if you wish). I was not impressed with the video results at all. You can score some usable footage when outdoors in daylight, but indoor footage is almost universally crummy. Focus, exposure, and color are decent, but there's a ton of grain and noise in the end results.
It's not good enough to replace stand-alone gear, but I wasn't expecting it to produce professional results.
Blu Stuff
There's no carrier bloatware, but Blu did stick a few extra apps on the Selfie. To start, the Blu Help app is on board, which can be used to seek out answers to any usability issues that might crop up. The Selfie also includes a few Amazon apps, an FM radio, TouchPal 2 (keyboard software), and the Opera browser. You cannot delete any of these, which is a shame. The Selfie has just 8GB of internal storage and only 3.5GB of it is available to end users. In other words, a memory card is more or less mandatory if you want to carry around large games or a real music collection. Fortunately, memory cards are quite cheap these days.