Review: Android 6.0 Marshmallow
Intro Major Features Minor Features Tweaks Wrap-Up Comments 4
PC/USB
Marshmallow introduces the option to select what type of connection your phone makes when plugged into a computer. The default behavior is to simply go into charge-only mode. If you want to transfer data between the phone and PC, you'll have to pull down the notification shade and select the computer connection.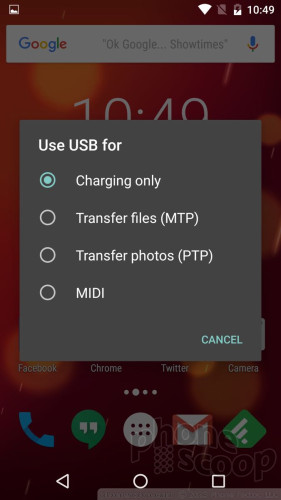 This may not sound like a big feature, but sometimes PCs react oddly to phones. Many computers will "see" the phone's internal storage or memory card and open the photo app. This can be a hassle. Now, you can plug your phone into your computer for charging and that's all it will do; no need to worry about windows and apps popping open.
AD article continues below...
iPhones often launch iTunes and iPhoto when plugged in if you don't adjust the behavior of the desktop apps. It's nice that Google is putting this bit of control in the hands of Android owners.
Moreover, Google has added a basic file explorer to Marshmallow. Now, under storage settings, you can select "explore" to see individual folders and files that are located locally on the phone.
App Drawer
Google has revised its default app drawer. The drawer now exists as a single, vertical list of apps in alphabetical order.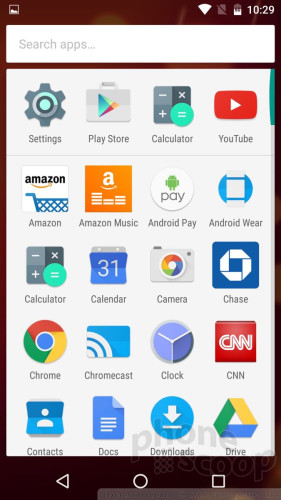 Previously, it was arranged horizontally. I really like that it supports inertial scrolling and lets you move up and down freely without jumping from screen to screen. Aside from the app arrangement, Google now suggests four apps at the top of the drawer. These suggestions change throughout the day depending on where you are and what you're doing. This feature is sort of like one Apple added to iOS 9 this year.
I can't say the app suggestions made any real sense in practice. Every now and then I noticed that an app I wanted to use was up there, but since I put most of my favorite apps on the home screen it doesn't make much sense for me to open them from the app drawer.
It's worth pointing out that phone makers often redesign or completely overwrite the app drawer. I like the changes Google made here, but the likelihood that most devices will adopt it is small.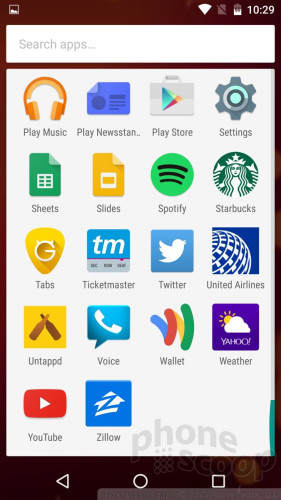 Memory
Android 6.0 has a much simpler memory manager tool. It shows you in huge numbers just how much RAM is being used and what's using it. A drop-down tool can show you what's been using system memory over the last 3, 12, or 24 hours so you can view a bigger picture with respect to app and device performance.
Another new tool, called Flex Storage, lets you encrypt and manage SD cards or other external storage devices. This means you can protect apps you've pushed off of your system memory onto a memory card.
Apple doesn't like to say how much RAM is available in its iPhones, let alone help you manage it, so this is a leg up for Android. And as we all know, iPhones don't even have memory card slots. Android wins this round.
Bluetooth/WiFi
Marshmallow gains standard Bluetooth stylus support, including pressure sensitivity and modifier keys. This is chiefly for Android-based tablets.
Overall Bluetooth performance should be more power efficient, thanks to Bluetooth Low Energy scanning for nearby beacons and your accessories. Android 6.0 adds Bluetooth SAP, which will let people make calls from an actual carphone using your phone's SIM. (This has the advantage of using a more powerful cellular antenna built in to your car.)
On the WiFi front, Marshmallow adds support for Hotspot 2.0, which should ease the process of connecting to open hotspots around the world. Also, if your phone supports 5 GHz, your phone's mobile hotspot function can now operate over 5GHz frequency bands. A settings tool allows you to select either 2.4GHz, 5GHz, or both, so you can specify which type if you really want.
Unchanged
Some things never change.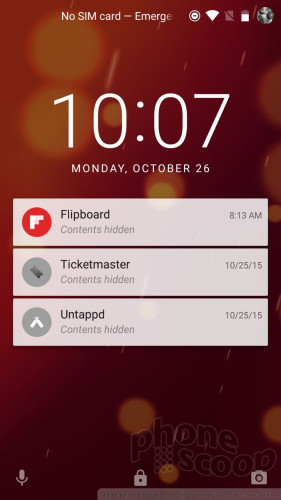 The Android lock screen is or less the same, if you put Lollipop and Marshmallow side by side. It's functional enough, but I'm sure Google could have found some way to improve it. You can access the notification shade and view on-screen alerts, as well as access the camera or phone apps thanks to shortcuts in the lower corners.
Perhaps the biggest omission is the camera. The Google camera has always been a disappointment, and I was hoping to see some change in Android 6.0. Nope. The camera app has been carried over from Lollipop to Marshmallow — at least on the Nexus 5. There are no obvious new features, though I will say it performs better on the N5 than it used to.
The bulk of the core apps are carried over from previous versions, which includes Maps, Gmail, Hangouts, Google+, YouTube, Calendar, News/Weather, Photos, and so on. Google has separated these apps from the operating system itself and pushes out updates more frequently. That said, I was expecting Google to make some adjustments here and there. It left most of them alone.