BlackBerry Priv Runs Android, Costs $699, Ships November 6
Article Comments 10
Oct 23, 2015, 9:50 AM by Eric M. Zeman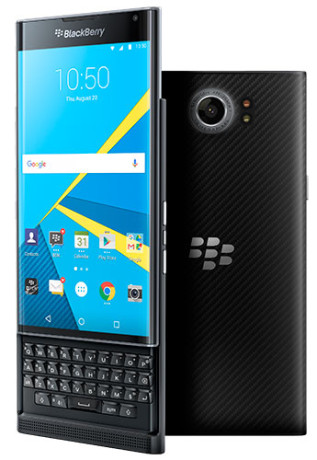 BlackBerry today made the Priv, its first Android smartphone, available for preorder. The device is a vertical slider that includes a touchscreen and a physical QWERTY keyboard. Like the BlackBerry Passport, the Priv's keyboard can be used to move the cursor around and scroll through web sites, emails, and documents. The Android operating system includes exclusive BlackBerry apps and DTEK for managing privacy. DTEK gives owners granular control over device permissions and what personal data is shared with third parties. The phone includes BlackBerry Hub for managing email, BBM, text messages, and other communications. The Priv has a 5.4-inch quad HD screen with curved edges. The phone is powered by a Snapdragon 808 processor with two cores at 1.8GHz and four cores at 1.2GHz. The processor is accompanied by an Adreno 418 GPU, 3GB of RAM, and 32GB of storage. The camera has an 18-megapixel sensor with an aperture of f/2.2, optical image stabilization, two-tone LED flash, and HDR, panorama, and burst modes. It can capture 4K video. The user-facing camera has a 2-megapixel camera with wide-angle selfie mode. The Priv packs an integrated 3,410mAh battery, which supports rapid charging and provides more than 22 hours of mixed user. Wireless radios include Bluetooth 4.1, GPS, NFC, WiFi, and LTE (AT&T/T-Mobile). The phone costs $699 and will begin shipping Nov. 6.
Wondering?
I'm wondering if you have the option of using swype, or provided screen based kb instead of the regular slider kb?
Yes you can, you don't have to use the physical keyboard if you don't want
Did you see those specs? This is equivalent to those high-end Android phones like the Galaxy Note 5 or the Galaxy S 6, this is not a $499 bargain basement phone.
$700?
This phone is DOA. That's too bad because a $499 price point could have put Blackberry back on the map.
Can you explain? The full price Verizon is charging for the Galaxy s6 edge and Galaxy s6 edge+ are $672 and $768, respectively. I'm looking at these phones because of the curved displays, obviously. So if we look at the display size alone, the price o...
(continues)
Interesting
Too bad they refused to integrate Android on the Playbook.